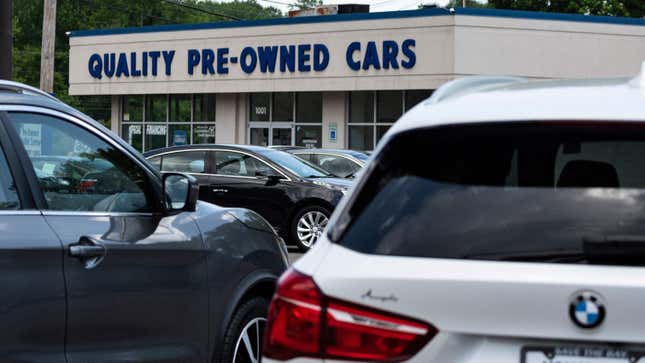 The used car market is improving. While the predicted crash due to rising interest rates and a shaky economy never materialized buyers are starting to find pre-owned prices to be a bit more reasonable. Of course, when markets start to tip towards the buyers, dealers increase their level of nonsense to make an extra buck.
When the used car market was super inflated, most dealers would just post their high price with an attitude of "There it is, take it or leave it." Now that the market is slowly cooling, forcing many dealers to sell their pre-owned units at more competitive prices, I am seeing an influx of the pre-pandemic tactics where used car stores try to "game" the online pricing system. What they do is advertise a number that looks really good only to make up for it with a bunch of caveats in the fine print.

A reader sent me an ad from a Kia store, which is absolutely shocking given the brand's reputation and commitment to professional and honest dealers.

"The dealerships finance income is carefully factored into our low prices. Management reserves the right to charge up to 7% extra for a vehicle that is to be financed outside of the dealership. Management reserves the right to reject certain transactions."
This is just another instance of how being a cash buyer does not give you any leverage and may result in a higher price if you happen to be working with one of the shadier dealerships.

I was shopping for a used Mazda 6 for a customer in New York and came across this one on a car that seemed suspiciously cheap. Emphasis mine:

The Internet Price is reflective after 1995 down. Price subject to change. Subject to primary lenders approval. All prices exclude tax, title, $695 dealer fees, tags, license & DMV. Must finance through dealer when applicable & take same day delivery. Sorry but we cannot extend special Internet pricing without a printed copy of the on-line pricing, and your in-store price may exceed our special on-line pricing. To take advantage of our special Internet discounts, please print this page and present it to your salesperson.
Essentially, the "real" price but only if you print this ad out is actually $2,700 higher than the advertised price and that price can change at any time. Of course, like the previous ad, you would have to finance with the dealer at what is likely to be less-than-competitive rates.

If you thought those extra charges were a bit much, an Infiniti dealer in Florida really went the extra mile with these disclosures.


I'm willing to roll with the $279 electronic filing fee but the others total up to a whopping $5,385 in additional charges on top of the advertised price.
Unlike my argument with a Texas Infiniti dealer that was trying to charge extra for an Infiniti Certified warranty when the car was advertised as an Infiniti Certified car, the dealers that pull these kinds of tactics technically may not be violating FTC regulations when it comes to advertising. The reason is that they actually disclose the games they are playing. This is sort of a good thing for consumers that pay attention to the details, because when you see these kinds of caveats you should probably just take your business elsewhere.

---
Tom McParland is a contributing writer for Jalopnik and runs AutomatchConsulting.com. He takes the hassle out of buying or leasing a car. Got a car buying question? Send it to Tom@AutomatchConsulting.com