Toyota will not be building this adorable, durable, compact cargo-mover they call the Urban Utility Concept, but they are promising it's amazing features will make their way into upcoming models. Did you see that the tailgate is a ramp!?
With the butt of the dearly-departing FJ Cruiser, a face that looks vaguely like a Range Rover wearing a football helmet, and what might be the most useful interior of any vehicle its size, Toyota Urban Utility concept is pretty much awesome.
Toyota's Calty Design Research shop in Newport Beach, California cooked up the Urban Utility (or "U²") to showcase not so much the next thing they're going to build, but hint at the next... things.
Kevin Hunter president of Calty, Toyota's North American design studio:
"Calty keeps a number of projects concealed while exploring ideas and products. Revealing a project like the U2 gives people a window into the constant innovation that happens inside Toyota and our Calty studios and one possible future for urban mobility."
G/O Media may get a commission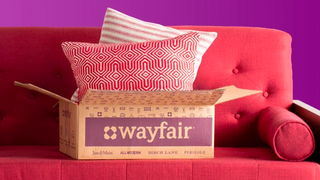 Big deals
Wayfair Surplus Sale
Basically, we might see some of the U²'s features in upcoming models. Damn shame they're not committing to this, because with some aggressive tires I think this would make one hell of an overland adventure rig.
Turns out Toyota had nerdier ideas in mind, and have chose to showcase the U2 at the "World Maker Faire" in New York City on Sept. 20 and 21. Any time I see an extra "e" where it don't belong, I reckon we're in for some folks dressed up in ruffled tunics talking like Robin Hood. But it turns out this event is actually has more of a futuristic spin.
As World Maker Faire organizers describe it:
"Part science fair, part county fair, and part something entirely new, Maker Faire is an all-ages gathering of tech enthusiasts, crafters, educators, tinkerers, hobbyists, engineers, science clubs, authors, artists, students, and commercial exhibitors. All of these 'makers' come to Maker Faire to show what they have made and to share what they have learned."

Kinda like the Stark Expo from Iron Man 2, minus an army of evil drone robots controlled by a genius Russian hobo hell-bent on revenge. So in case you haven't worked it out; Toyota is envisioning folks who like to make stuff and haul it around using the Urban Utility.
Why not? The customizable shelf system and cargo rails are perfect for your next big cottage industry enterprise, or hauling sports gear to the trail (or a motorcycle to the track?).
Control center borrows heavily from Apple styling, maybe too much, but I love basically everything about the U² other than where you sit to drive it.
Anyway, some of the U²'s neat features you'll see at the Fair(e) and perhaps on future Toyotas:
Interior
Versatile utility rail system configurable to hold everything from baskets to bike stands
Ability to fold and remove the front passenger seat
Fold-up rear seating
Unique shifter design with intuitive switch for parking, drive and reverse mode
Reverse "mode?" What is this, a battle mech?
Choice among a selection of colors and materials to fit needs
Exterior
Roof panels that retract open
Called a "Sun-Roof" in some markets. Neat!
Rear glass that can slide into the tailgate
Already on 4Runner and Tundra, still awesome.
Tailgate that folds down into a ramp
Finally!
Protective, replaceable ridges on tailgate
Huh, ok.
Are you looking forward to your next Toyota looking like this? Or will the U² fizzle out like those wacky "youth oriented" concepts of the 90's it reminds me of just a little bit?
Images: Toyota