Nothing new here, just more evidence that's car insurance is sky high in the Motor City. According to some figures, Detroiters pay 165% more than the national average.
I've pointed out over and over and over again that you can't necessarily drive the car you want or even have a daily driver and a fun weekend car unless you pay out the ass for it. Practicality rules in Detroit; we need cars that are sturdy enough to survive tough winters, basic enough to not attract car thieves and cheap enough to put insurance on. Why do you think so many people drive Azteks?
G/O Media may get a commission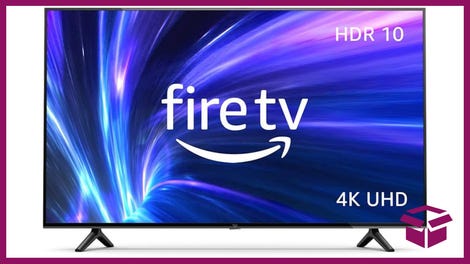 42% Off
Amazon Fire TV 50" 4K Smart TV
Of course, this is somewhat null and void if you live in the suburbs of Detroit where rates are cheaper, but for the 700,000 or so of us who don't want to (or can't, as many cases may be) up and leave, we're stuck with the higher rates. Per MLive:
Motor City area drivers' car insurance rates easily outpace the next most expensive metros, including New York City at 36 percent above the national average, followed by Miami at 34 percent and Los Angeles at 25 percent.

"One of the main reasons why car insurance is so expensive in the Detroit area is because Michigan is the only state where car insurance includes unlimited personal injury protection," Laura Adams, a senior analyst for insuranceQuotes.com, said in a release, citing an oft-repeated claim among industry experts and some politicians. "Also, Detroit has a very high percentage of uninsured motorists – as high as 50 percent by some estimates. That unfortunately raises rates for those who do have car insurance."
Obviously the quick-fix here would be to change the PIP liability so that people can actually afford insurance. (And just for the record for dismissive commenters, I have full coverage; shopping around helps, Geico doesn't save you 15%, and working one-on-one with an agent rather than going online is a plus.) But there are groups — and this time, you can blame those pesky liberal Democrats — who say it's Michigan's duty to protect drivers with the unlimited claims.
There are glimmers of hope for driving cheaper. Detroit Mayor Mike Duggan did propose a citywide insurance program, which I'm sure he'll get around to after knocking down the thousands of vacant houses, making sure all citizens have running water, taking back control of the police department and figuring out why firefighters use pop cans as an alert system.