Gran Turismo, the movie about the racing video game franchise, is scheduled to hit theaters next month. The movie's plot centers around GT Academy, its most famous graduate Jann Mardenborough, and presumably his subsequent career as a racing driver. A recent trailer has revealed that a fatal crash at the Nurburgring in 2015 involving Mardenborough will be featured in the movie.

GT Academy was a competition organized by Nissan and Sony which allowed Gran Turismo's best virtual drivers an avenue to race professionally in the real world. Mardenborough won the competition in 2011, rose through the racing ranks and was selected by Nissan as one of its factory Le Mans Prototype drivers for 2015. It's a story that has always been ripe for movie adaptation, even though the infamous Nissan GT-R LM Nismo has been absent from the movie's marketing material.

Also in 2015, Mardenborough participated in the VLN Endurance Series at the Nürburgring. During the season's first round, his Nissan GT-R NISMO GT3 went airborne, flipped over a tire barrier and a catch fence, and flew into a crowd of spectators. The massive crash at Flugplatz killed a spectator while several others were injured. The incident appears to be included in some form in the film despite taking place four years after Mardenborough's stint in GT Academy.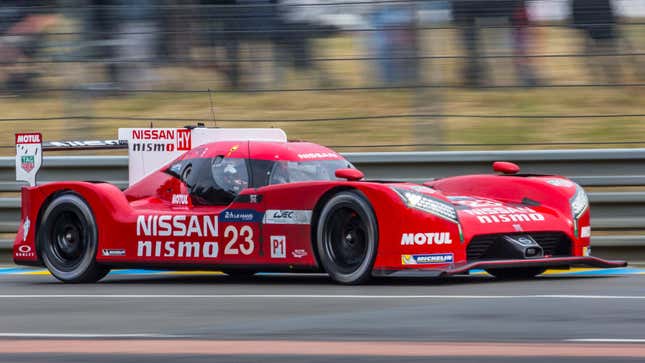 The Nissan GT-R LM Nismo program was arguably the zenith of Mardenborough's fame, and the unique front mid-engine sports prototype was even unveiled in a Super Bowl commercial. However, the GT-R LM Nismo was plagued with several significant technical issues and failed to finish in its only competitive outing, the 2015 24 Hours of Le Mans. The program was seen as an embarrassment for Nissan and was canceled in December 2015.
The only Nissan sports prototype seen in trailers for Gran Turismo has been a conventional Ligier LMP2 in a fictional white-and-black Nismo livery. Mardenborough raced at Le Mans in the LMP2 category twice before being called up for the LMP1 project, allowing the film to potential omit the failed project without leaving Le Mans out of the script.
The idea that a spectator's death was deemed acceptable to use to promote the movie but the GT-R LM Nismo was too embarrassing to revisit in a Nissan-backed film is disgraceful. Yes, the possibility of dying always haunts racing, but the chance of failing is much more likely and much more representative of modern motorsport. Many are eager to celebrate the gambles that pay off, but we rarely ever hear about when things go wrong, like the GT-R LM Nismo.