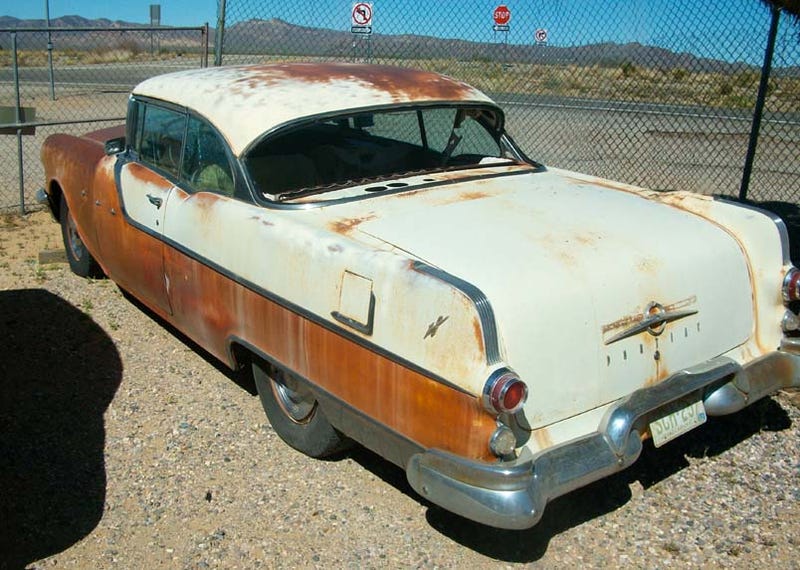 I shoot most of my Junkyard Find photos at high-turnover self-service junkyards owned by steel corporations, so the cars have usually been crushed by the time you see them. Not so with this yard!
57Sweptside was dodging neutrons in bomb-test country when he decided to drop in on a junkyard in rust-unfriendly southeastern Nevada… or maybe it was northwestern Arizona. Either way, these carcasses will likely still be there by the time you see the photos. Here's what 57Sweptside has to say about his adventure:
Along US-93, between Kingman, AZ and Hoover Dam is a pretty desolate stretch of road. Every time we pass this yard (2x for every trip between Phoenix and Vegas) we swear that we're going to stop. This time we actually did it. As we peeked through the fence and tried to snap pictures, the caretaker came out of his on-site motor home to see what we were up to. He invited us into the yard, but not until we paid $5.00 each. Since it was the RETURN trip from Sin City, we weren't burdened with excess cash, but we managed to come up with $10.00. My wife and my sister opted to stay behind, sensing some similarities to the plot of a horror movie they once saw. My brother-in-law and I had already made the decision for them, but gave very convincing apologies and promises about "next time". Of course the old "curator" said it wouldn't be any fun if the girls stayed behind and he waived the admission fee for them. It seemed reasonable, after all he was 81 years old, had been blinded during cataract surgery and couldn't keep up with Kevin and me as we climbed over the rows and piles for rare treasures. And the girls got to chat with him, or more accurately, listen to him tell stories of driving a wrecker and bringing in some of the hulks that still sat there, escaping a whiteout in Nebraska and winding up in Kingman after WWII, and a detailed account (down to make/model/year of each participant) of a drunk driver outrunning the police and wrecking at mile post 148. If we weren't in such a rush to make it home for dinner (and to rescue the 7 grandchildren my mother was "babysitting" for the weekend), I could have stayed for a couple hours just to listen to the old man's stories.

EVERTHING in the pictures is for sale. Most of the vehicles have prices on them, and I think the "collection" can be bought as a whole. The prices seem a bit steep for some of what's out there, but I imagine that money talks out in this part of the desert. A lot of this stuff is complete with trim and emblems, but the interiors are beyond trashed. I didn't ask about parts, but there were plenty of cars lacking powertrains.

I can't figure out what the pickup with the flat nose fiberglass is. Any idea?
You can check out the whole set of photos here when you're done with our gallery.