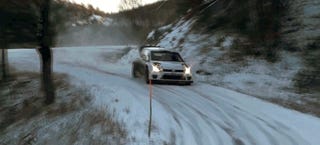 The Monte Carlo Rally is coming up. That means pre-season testing. And that means unbelievably spectacular driving.
Prepping for the Monte is interesting because 1) it's the biggest event of the year 2) it's the first event of the year so it's the first chance to test for the full 2015 season 3) it's a tarmac rally but there's snow and ice all over these mountain roads above Monaco so drivers end up on the wrong tires, always.
Hence the massive oversteer.
Here's reigning double world champion Sébastien Ogier in his all-conquering VW Polo sans any kind of sponsorship stickers.
He'll be going up against his mentor and possible greatest rally driver of all time Sébastien Loeb this year. It's gonna be a good rally.