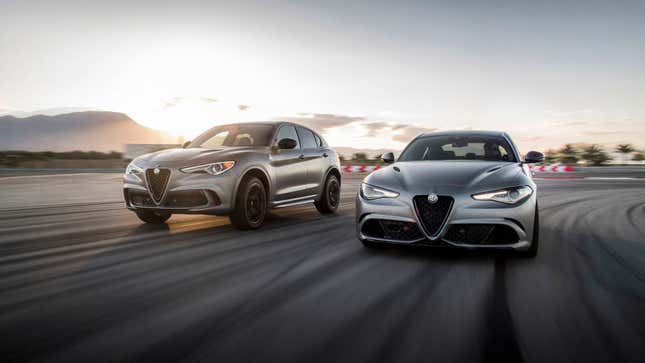 While today served as the official release of the ultra-exclusive Giulia and Stelvio Quadrifoglio NRING editions, it wasn't the first time North America had laid eyes on them. That happened last night at a party as exclusive as the cars themselves, of which only 110 total units will be produced. Bad news to all you car collectors in the general public—almost the entire stock of both Alfas are already reserved and accounted for.

This Is The New Mercedes-Maybach Night Series
While the Stelvio and Giulia Quadrifoglio NRING editions aren't brand-new (they were released in June of 2018 for just about everywhere but the United States), it's something of a shock to see them on North American soil. No one expected them to make it stateside.
These aren't the exact cars that were released in Europe and Asia, though. While you could get the previous versions in red, these come only in matte Circuito Gray with interior and exterior carbon fiber accents for both and a dual-pane sunroof for the Stelvio. Sparco racing seats come as an optional feature on both in case you're feeling extra race-y (and, really, who wouldn't be?).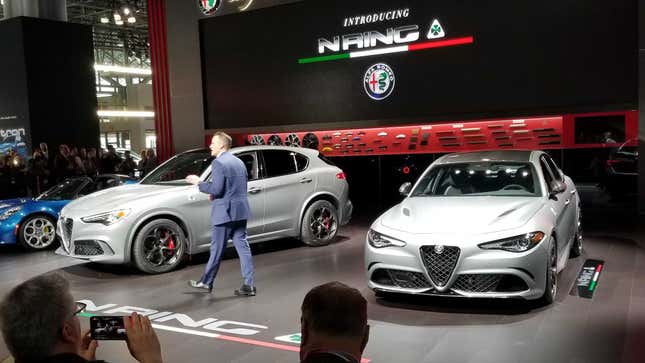 Alfa Romeo has listed the 2019 Giulia Quadrifolgio NRING at $91,485 with and the Stelvio NRING is $97,485, as reported by MSN. However, pricing doesn't really matter much here. Only 55 models of each car will be produced, and almost all of them were scooped up by avid Alfa fans before anyone even knew they'd be available in America.
And what did they scoop up? The same bone-rattling 2.9-liter twin-turbocharged V-6 as the non-NRING cars but with slick carbon fiber touches and an incredibly beautiful interior. Not too shabby at all.

UPDATE 04/17/19 6:16 PM: The press conference at NYIAS said that all 110 cars had been sold. That is not the case, Alfa Romeo tells us now, and this story has been updated accordingly.