This is the Morning Shift, our one-stop daily roundup of all the auto news that's actually important — all in one place at 9:00 AM. Or, you could spend all day waiting for other sites to parcel it out to you one story at a time. Isn't your time more important?
---
1st Gear: Ford UAW Workers Balking At New Deal
The early word isn't good for the UAW's attempt to strike a new four-year contract with Ford, as 54% of the workers who have voted so far saying the contract should be rejected. So far, no major Ford plant has approved the deal, and places like Ford's Chicago assembly which builds the Taurus and Explorer have overwhelmingly rejected it. The workers main beef: The contract doesn't restore previous cuts and makes no cost-of-living adjustments that salaried workers had been given back, relying on lump-sum bonuses and profit sharing instead. The UAW did walk back a comment Thursday that if the contract was struck down and the union walked out of Ford, the company might bring in replacement workers.
G/O Media may get a commission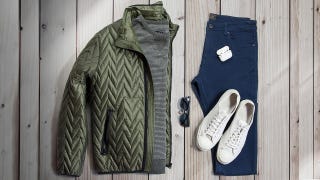 60% off
Jachs NY Fall Sale 60% Off
---
2nd Gear: Obama, South Korean Leader To Tour Detroit Plant Building Korean Cars
As part of a victory lap following passage of a new U.S.-South Korean trade deal, President Barack Obama and South Korean President Lee Myung-bak will tour General Motors' Orion Township, Mich., plant today. The visit doubles as an early campaign swing for Obama, who will inevitably talk about how his administration kinda sorta saved GM. President Lee can look forward to seeing production of the Chevy Sonic, a car designed by GM at its Korean Daewoo arm.
---
3rd Gear: Toyota Takes Prius Tech Racing At LeMans
Following more than a decade's absence from the top level of endurance racing, Toyota announced today it would run a gas-electric hybrid car at the 24 Hours of LeMans in 2012 against the dominating LMP1 cars of Audi and Peugeot. The unspecified engine-electric combo will be built by Toyota in Japan, while the race car chassis will be assembled by Toyota's motorsports unit in Germany. The Japanese company hasn't raced at LeMans since 1999.
---
4th Gear: NYC's Taxi of Tomorrow Runs Into Laws Of Today New York City's plans to standardize its taxi fleet around an ungainly Nissan minivan took a hit on Thursday when a U.S. attorney accused the city of violating the Americans With Disabilities Act by not having enough wheelchair-accessible cabs. Turns out only 232 of the city 13,000 taxis are wheelchair-capable today, and the new Nissan van isn't accessible either. Federal prosecutors want a judge to order changes; if only there were a vehicle designed for wheelchair passengers.
---
5th Gear: Is There A Kia GT In Our Future? Kia design director Peter Schreyer continues to pound the pavement in trying to make a case for Kia to build the sleek GT concept unveiled at Frankfurt last month. "Every company needs a halo car," Schreyer told AutoExpress. "The coupe market is dominated by German brands, and the GT is Kia's first step. It's like putting a foot in the door of the club." Should it actually make production, Schreyer hinted it would more likely sport some kind of smaller engine or a hybrid unit rather than the concept's 400-hp twin-turbo V6.
---
6th Gear: Suzuki, VW Driving Up Prices of Lawyers Who Speak German, Japanese
The divorce between Suzuki and Volkswagen keeps getting nastier, with Suzuki now accusing VW of breaching their contract to supply Suzuki with key technology and Volkswagen threatening legal action of its own. Suzuki Chairman Osamu Suzuki had previously said Volkswagen didn't have any technology Suzuki needed, and called the deal a "ball and chain." Maybe Suzuki should have listened more carefully to Kanye West.
---
Reverse:
⏎ First Fisker Karma sold in UK for $220,869 [Carscoop]
⏎ Judge approves $120 million in "old" General Motors bankruptcy fees [DetNews]
⏎ Republican congressman/car dealer says no demand for Chevy Volt [The Truth About Cars]
⏎ U.S. Transportation Secretary Ray LaHood leaving after 2012 [TPM]
⏎ Jerry Seinfeld co-grand marshals this weekend's Porsche Rennsport Reunion [9Magazine]
---
Today in Automotive History:
On October 14, 1857, engineer and inventor Elwood Haynes is born in Portland, Indiana. Haynes designed one of the very first American automobiles, the Haynes "Pioneer." He was also an accomplished metallurgist: He patented stainless steel, stellite and a cobalt-chromium alloy that was used to make sharp dental and surgical tools. Haynes died of influenza in 1925
[History]
Show us your tips!
Got tips for our editors? Want to anonymously dish some dirt on a competitor? Know something about a secret car? Email us at tips@jalopnik.com.
Lost in our new layout?
Click here for the Opposite Lock or Tips forums. Want a more "blog-like" look? Click the button up top next to "Top Stories."
Get more Jalopnik!
Want even more Jalopnik? Want to know which of your friends read us? "Like" us on Facebook and follow us on Twitter.
---
You can keep up with Justin Hyde, the author of this post, on Google+, Twitter or Facebook.