This is the Morning Shift, our one-stop daily roundup of all the auto news that's actually important — all in one place at 9:00 AM. Or, you could spend all day waiting for other sites to parcel it out to you one story at a time. Isn't your time more important?
---
1st Gear: Chrysler Gets Its UAW Deal At A Discount
The Detroit News reports this morning that the tentative agreement reached yesterday between the United Auto Workers and Chrysler is substantially less generous than the ones the union won from General Motors and Ford, but analysts say it was the best deal the union could get. On the surface, the new contract appears very similar to those negotiated with the other two Detroit automakers. But there are important differences. For example, Chrysler workers will get significantly smaller signing bonuses — just $1,750 upfront and another $1,750 next year, but only if the company "achieves financial stability." Ford workers will get $6,000 if they ratify their contract, while GM workers — who already approved their new deal — got $5,000. Apparently, the Italians are really good at negotiating contracts. Who knew?
---
G/O Media may get a commission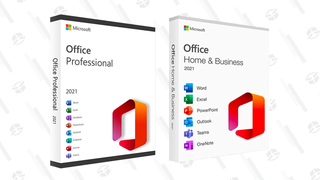 89% off
Microsoft Office Professional 2021 Lifetime License
2nd Gear: Hacker Gives GM Extra Dose Of Suckitude
Yesterday completely sucked for General Motors officials after software was found on a network at its headquarters programmed to insert a derogatory remark on computer browsers after any mention of Chrysler and other competitors. The Wall Street Journal reports that GM officials said computer technicians found an unauthorized software program installed on a wireless router, and the program was altering the way Web pages were displayed to insert the word "sucks" after any mention of certain rivals on computers linked to the network. Later in the day, GM said it had identified the culprit — a subcontractor who had helped set up the wireless network. GM didn't identify the company but said the subcontractor had admitted its role and intended the prank to be humorous. The word "sucks" appeared after mentions of Chrysler, Ford Motor Co., Toyota Motor Corp., and Honda Motor Co. on any searches or references to those companies conducted on computers using the GM network. Web references were not permanently altered because the word was inserted only onto the displays of computers using that one network.
---
3rd Gear: Most Successful Detroit Automaker Also One Closest To A Strike
The UAW said in a Facebook message that it will seek a strike if members vote against a tentative agreement with Ford and that union leaders expect the automaker would seek replacement workers. UAW members at Ford voted down a modified contract in 2009, and running tallies of the vote so far on this contract show it to be too close to call. At what point did we start using social media to negotiate union deals?
---
4th Gear: Saab Survives Again, But It's Only Thursday
Saab has received the first part of a 70 million euro ($97 million) bridge loan from China's Youngman, that could be key to the Swedish firm's short-term survival. "We are now confident we have the money we need during the restructuring period," said Gunilla Gustavs, spokeswoman at Saab Automobile. Saab is sort of depending on the loan to continue its restructuring process. And the Saab story continues...
---
5th Gear: Proton Says Bond With Lotus Remains Positive
Proton is dismissing news reports it plans a sale of a stake in Group Lotus. "Proton hereby states that the alleged moves between Group Lotus and Genii Capital are untrue and that the news are highly speculative in nature. Proton's relationship with Group Lotus "is as good as it has ever been," it said in a statement today. "Through this positive synergy, our priority now is to ensure that the Lotus Business Turnaround Plan is executed according to schedule and that both parties are committed to its success." Over the weekend, a British sports magazine ran a report that said Genii Capital will be buying into Group Lotus. The private investment fund is the owner of the Renault F1 Team (Lotus Renault GP), which has Group Lotus as title sponsor.
---
6th Gear: Porsche Explores New World Of Financial Engineering
Automotive News reports this morning that Porsche SE, the holding company that owns 51% of Volkswagen AG's common shares, said it's seeking a 3.5 billion-euro ($4.8 billion) credit line. Part of the deal will be used to replace older loans, according to Frank Gaube, a spokesman for the automaker. The two-year loans are being offered to lenders with an interest margin of 170 basis points more than the euro interbank offered rate, according to bankers with knowledge of the deal. The carmaker is seeking to pare its loan costs to capitalize on a rebound in spending on luxury brands, the bankers said. The new loans will replace the remainder of an 8.5 billion euro deal agreed in November 2009 that cost Porsche 400 basis points more than Euribor, according to data compiled by Bloomberg. A basis point is 0.01 percentage point.
---
Reverse:
⏎ Floods disrupt auto production in Thailand. [AP]
⏎ Granholm to host Current TV show. [Detroit Free Press]
⏎ Transportation chief LaHood to meet with Bing, Snyder. [Detroit News]
⏎ A Solution for a Vexing Question: Is This Cab Available? [New York Times]
⏎ Make most of hours spent in the driver's seat. [Detroit News]
⏎ Johnson Controls Rises on Forecast for Higher Sales, Profit. [Bloomberg]
⏎ Ford Resumes Passenger Car Production At Thai Plant. [Wall Street Journal]
⏎ A CAR reader's love-hate affair with his Peugeot 205 GTI. [Car Magazine]
⏎ Booster Seats Continue to Improve, I.I.H.S. Finds. [New York Times]
---
Today in Automotive History:
The world's first art museum on wheels-an "inspiration for the nation," says a representative from the Smithsonian—opens today in Fredericksburg, Virginia in 1953. It was called the Artmobile. At the dedication ceremony, the state's governor declared that the project "initiates something new in the cultural and spiritual life of the Commonwealth which has never been done before anywhere." [History]
Show us your tips!
Got tips for our editors? Want to anonymously dish some dirt on a competitor? Know something about a secret car? Email us at tips@jalopnik.com.
Lost in our new layout?
Click here for the Opposite Lock or Tips forums. Want a more "blog-like" look? Click the button up top next to "Top Stories."
Get more Jalopnik!
Want even more Jalopnik? Want to know which of your friends read us? "Like" us on Facebook and follow us on Twitter.
---
You can keep up with Ray Wert, the author of this post, on Google+, Twitter or Facebook.