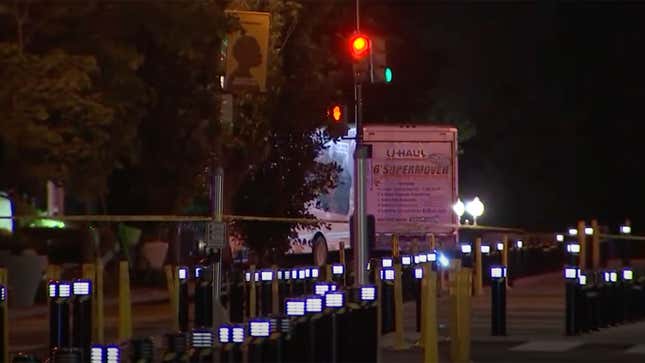 Police in Washington have charged a man with threatening to kill, kidnap or harm the president after he crashed a U-Haul box truck into security barriers near the White House. On Monday evening, a 19-year-old Missouri driver hit the security barrier at Lafayette Square; nobody was injured in the incident.

Following the crash, the driver of the U-Haul truck was taken into police custody, where they have been charged with multiple offenses, including threatening to inflict harm on a president, vice president or member of their family; assault with a dangerous weapon; reckless driving; destruction of federal property; and trespassing.
The Associated Press reports that officers searched the box truck following the crash and uncovered evidence including a Nazi flag in the vehicle. As such, investigators now believe that the driver "may have intentionally struck the security barriers at Lafayette Square," Secret Service spokesman Anthony Guglielmi told The AP in a statement.
The crash occurred on Monday night at around 9:40 pm. In a statement released by the U.S. Park Police this morning, authorities have identified the driver of the truck as Sai Varshith Kandula, 19, of Chesterfield, Missouri.
According to CBS News, Kandula is a U.S. citizen and, so far, they have not shown up "on any watch lists." The site reports:
After driving onto Lafayette Square, he made threatening statements aimed at President Biden and Vice President Kamala Harris, a law enforcement source said. There were no explosives in the vehicle and no weapons.
CBS News adds that the 19-year-old has no "significant criminal record."
If found guilty of threatening to kill, kidnap or harm the president, Kandula could face up to five years in prison. Charges of assault with a dangerous weapon could carry up to a further seven-year prison sentence.