Two F/A-18C Hornets collided today while operating as part Carrier Air Wing 17 aboard the USS Carl Vinson that is currently on cruise in the Western Pacific. Currently, reports state that one pilot was plucked from the water alive and was subsequently flown back to the carrier for medical treatment while another remains missing.
The jets belonged to VFA-113 'Stingers' and VFA-94 'Mighty Shrikes,' both squadrons are based out of NAS Lemoore in central California.

The cruiser USS Bunker Hill, guided-missile destroyer USS Gridley and helicopters assigned to Helicopter Sea Combat Squadron 15 and Helicopter Maritime Strike Squadron 73 continue to search for the missing pilot.
Often times carrier groups operate under 'blue water' conditions, far out to sea where land can be many hundreds, or even thousands of miles away. Under such conditions, search and rescue operations can be limited to the resources available to the carrier group alone.
G/O Media may get a commission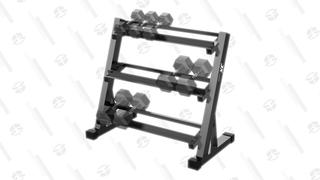 20% Off
JX Fitness Dumbbell Rack
Gains but tidy
Has a three-tier design to help store more weights more conveniently, can safely support up to 1000lbs of weight, which should be enough for most people, has a triangle base for stability, and also features anti-scratch feet which is great if you've built your own studio or workout in your garage.
On August 22nd, Carrier Air Wing 17 embarked aboard the USS Carl Vinson for a nine and a half month cruise that will see it deployed as the centerpiece of the Carl Vinson Carrier Strike Group which will operate in the U.S. 5th and 7th Fleet areas of responsibility.
This story will be updated as further information becomes available.
Photo via Tyler Rogoway (top shot of VFA-94 Hornet, and US Navy lower shot of VFA-113 Hornet).
Tyler Rogoway is a defense journalist and photographer who maintains the website Foxtrot Alpha for Jalopnik.com You can reach Tyler with story ideas or direct comments regarding this or any other defense topic via the email address Tyler@Jalopnik.com