TVR may be gone but not forgotten, and they also had the decency to go out with a bang: a violent, loud, and downright insane car called the Sagaris.
The sagaris was a Scythian battle axe which later became the weapon of choice of the Persians. It was popular at the time mainly because it could easily penetrate the enemy's armor. Its design was similar to modern ice axes.
The TVR Sagaris is well worthy of its name. The last TVR from the genius Peter Wheeler's era, this 4 liter, 380 horsepower fiberglass monster is, well, my favourite car.
The thing about TVR's is that they are unique. They make an unmistakeable noise with their insane motorbike-style exhausts.
G/O Media may get a commission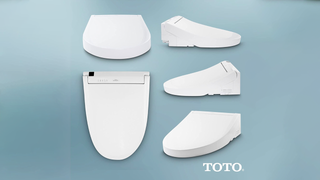 44% off
Toto Washlet Electronic Bidet Toilet Seat
If you are waiting in a bus stop in the UK, and suddenly see and most probably also hear a fast-moving object in the distance with an equally loud and proud paintjob,
you know it's gonna be a TVR. And you're happy, because what TVRs do the best is cheer people up.
The Sagaris catapuls itself to 62 mph in 3.7 seconds, and keeps going until 185 mph. It also looks like a spaceship. I mean, look at the rear spoiler, for example. Is it creating downforce? Sure. But no one cares because you just can't stop thinking that the great people of Blackpool nicked that piece of polycarbonate from a Protoss spaceship.
But it doesn't stop there. This is the start up sequence:
You may think TVR's are silly. A car with so much power yet no ABS, ESP, airbags or traction control? Well, Peter Wheeler famously ignored all the EU guidelines, claming
that these safety features only generate overconfidence in the drivers. I think he was on to something.
TVR's are also made of plastic, so how serious can that be?
Well, let me remind you that the two most iconic American sports cars—the Corvette and the Viper—are also made of fiberglass. Speaking of the Viper…if you think that is the only deadly reptile lookalike, think again:
The TVR Sagaris is the essence of the many great cars this tiny independent car manufacturer built since its foundation in 1946, but it couldn't save the factory on Bristol Avenue. Sure, they made mistakes. The Speed Six engine was ambitious, but unreliable. It also limited sales to the European market. The factory was everything but efficent. So they went down. The once busy halls are now empty, leaving 250 people unempleyed. Top Gear was there not too long ago:
There are rumours of 'vette-powered new TVRs being made in Germany, but we all now that's not gonna be the same. You need some malt vinegar on your chips to make TVRs. And sausage munchers don't know crap about fish and chips.
Máté Petrány is an editor and photographer at Stipistop, and Jalopnik's European intern. Photo Credit: Alexis Birkill, Sjoerd ten Kate (1, 2), Nick Foster, and Máté Petrány