There are all sorts of conspiracy theories that find our way to us. Virtually all of them consist of "My Turboencabulator gets 100 mpg on pure water, but Big Car doesn't want it to happen!" Virtually all of them are terrible hokum. Except one. It really did happen. Once. With the Tucker 48.
This isn't my own wild allegation, either. It comes direct from Tucker CEO and founder Preston Tucker, as he laid out in a full-length newspaper ad back in 1948, right when his startup car company was supposed to take off. Here's the text, courtesy of the Tucker Club (emphasis mine):
But there is another group-a very powerful group—which for two years has carried on a carefully organized campaign to prevent the motoring public from ever getting their hands on the wheel of a Tucker. These people have tried to introduce spies into our plant. They have endeavored to bribe and corrupt loyal Tucker employees. Such curiosity about what goes on in the Tucker plant should be highly flattering, I suppose. But they haven't stopped there.

They even have their spokesmen in high places in Washington. As a direct result of their influence, Tucker dealers all over the country—men of character and standing in their communities—have been harassed and grilled by agents of the government and Congressional Investigating Committees.

My associates and myself and the Tucker Corporation have been investigated and investigated, time and again. Millions of dollars of the taxpayers money have been squandered in an utterly fruitless effort to kill the Tucker, to bar us from needed raw materials, to keep us so busy defending ourselves and our efforts that the motoring public would tire of waiting for a completely new rear-engine car. But they haven't been able to stop us.

Wait, hold on. Let me back up. First we need to explain what the Tucker 48 even was, and why "a very powerful group" wanted it dead.
As the smoke cleared after World War II, and the conspicuously not-heavily-bombed United States came to dominate the global economy, American drivers needed some new wheels. It was a new age, but the first cars we got were decidedly old-fashioned. General Motors', Ford's, and Chrysler's lineups were all composed of holdovers from before the war began. They would come out with refreshed cars soon enough, and surely, the American populace would buy them.
But for Preston Tucker, this was not enough. He didn't think drivers deserved a refreshed car, or one that even suffered from the dreaded nadir of Old Ideas.
G/O Media may get a commission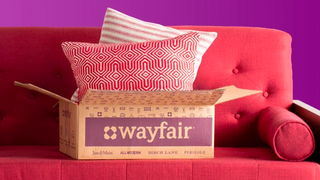 Big deals
Wayfair Surplus Sale
He wanted a revolution.
And since the Big Three weren't going to give Americans one, he decided to deliver it himself. His car was going to have its engine in the rear, for more efficient packaging. It would have advanced safety innovations like a padded dashboard, a headlight that turned around corners, and an integrated roll bar. But this wasn't just the 1940s equivalent of a rolling airbag; it had other, thoughtful features as well, like doors that were cut into the roof for easier entry and exit, and a separate key for the parking brake to help prevent theft.
It was, in short, brilliant. And very much the revolution the American car industry so desperately needed.
But as so often with the powerful and the smug and the well-entrenched, they didn't take so kindly to the revolution. In came the accusation that these bold claims were too bold. That they were too much to ever be real, for Tucker to pull them off, that he wasn't trying to change the world; he was accused of scamming.
Tucker himself alleged the aforementioned spies and congressional investigations. Eventually, the federal regulator in charge of making sure companies are on the up-and-up, the Securities and Exchange Commission, got involved. But instead of investigating Preston Tucker's allegations, they went after Preston Tucker himself, as the Smithsonian noted in 2016:
Preston Tucker's troubles with regulators persisted, and on June 10, 1949, he and seven other company executives were indicted for fraud and conspiracy. Simply put, the SEC thought Tucker should be able to back up all his optimistic advertising claims with a real working product.
Despite Tucker turning over all his records to the SEC, the indictment that came down primarily revolved around Preston Tucker's then-novel idea to sell Tucker-branded luggage and radios. He was using those sales of accessories to fund development of the Tucker '48 itself, as Preston Tucker's great-grandsons, Sean and Mike Tucker, told us in person when we were lucky enough to chat with them at a classic car meet. (Watch the whole thing in the video above.)
But nothing added up. The SEC refused to turn over its report to Tucker's own lawyers, saying it was "secret," and then the report was leaked to press critical of Tucker anyway. From a 2011 story in the Chicago Tribune:
But on May 28, 1948, the Securities and Exchange Commission began a secret investigation into whether Tucker really meant to build a car, or just line his pockets. The story was leaked to [broadcaster Drew] Pearson and the company stock plunged again. On June 10, 1949, as workers struggled to build the first 50 cars, Tucker was charged with fraud. He and seven associates were indicted on 31 counts, including fraud, conspiracy and violations of SEC regulations.

The government called witness after witness, desperately trying to prove that Tucker had swindled investors and would-be customers, that the Tucker 48 wasn't real, and Preston Tucker himself must be stopped.
The government rested its case. It was time for Preston to mount his defense.
And his lawyers called… no one to the stand, as friend-of-Jalopnik and Road & Track contributor Steve Lehto pointed out in 2016:
While researching my book on Preston Tucker, I came across a curious notation in an index to the Tucker files at the National Archives in Chicago. There was a "sealed deposition," with no other description. I spoke with an archivist who told me he would pull it and tell me more about it. All he could tell me was that it was a deposition of Joseph Turnbull and that it had been sealed by a Federal Court order. It would take another Federal Court order to open.

I knew who Turnbull was, of course. He was the "accountant investigator" who had been the final prosecution witness in Preston Tucker's famous trial. While the prosecution had promised he would be the final nail in Tucker's coffin, his testimony had not been as devastating as the prosecution had hoped. In fact, it was after Turnbull's testimony that the defendants all agreed to waive calling any defense witnesses and simply proceed directly to closing arguments.
"It is impossible to present a defense when there has been no offense," Tucker's lawyer said at the time.

In closing, he asked the jury if they wanted to try driving any one of the eight Tucker 48s outside the courthouse.
The jury returned a not-guilty verdict on every single charge.
But it was too late. The Tucker Corporation was dead. Only about 50 Tucker 48s were ever built.
Today the precious few left rest in the hands of careful caretakers like Howard Kroplick, who lovingly takes care of his Tucker 48, and very kindly let us borrow it for a short spin. And funnily enough, it came with Sean and Mike Tucker themselves.
The fascinating story of Preston Tucker and his incredible machine could fill a whole movie (it did), but just watch the vid above. It's one thing to talk about the car as a historical object, or as a David vs Goliath story at the dark heart of America's manufacturing golden age. It's another thing to see one of these machines on the road, and to hear its giant flat six, a helicopter engine, run like nothing ever went wrong.