In a tweet today, President Donald Trump threatened to impose tariffs on European cars in an escalation of rhetoric that, in recent days, has made the prospect of an all-out trade war more and more of a possibility. Trump's tweet came after he said Thursday that he planned tariffs on steel and aluminum, which prompted European officials to put Harley-Davidson in their sights.
A trade war would almost certainly raise the prices of cars for all consumers, not just European cars, since American companies would have an incentive to raise their own prices if they were competing with companies whose prices were forced higher by tariffs.
There's also the problem that the "massive tariffs and barriers" Trump says exist in Europe for American automakers ignores that the situation is a bit more complicated. Here's how The Washington Post describes it:
The U.S. imposes a 2.5 percent tariff on the import of foreign cars and a 25 percent tariff on the import of foreign trucks and commercial vans. The European Union charges a 10 percent tariff on the import of cars.
G/O Media may get a commission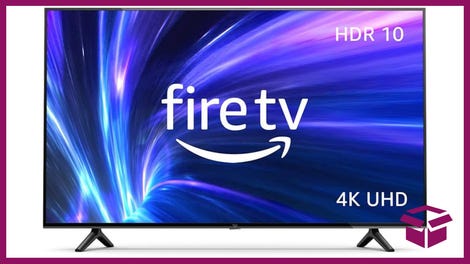 42% Off
Amazon Fire TV 50" 4K Smart TV
The Post also talks about how any potential tariffs would really just be an attack on Germany, the dominant player in the E.U. and a country led by Angela Merkel, who has a cool relationship with Trump.
Trump's new attack on European automakers is mostly a direct threat at Germany, which exported $23 billion in cars to the United States in 2016, according to data aggregated by the Massachusetts Institute of Technology. But large German automakers also have a sizable presence in the United States, with BMW employing thousands of workers in South Carolina and Volkswagen employing thousands more in Tennessee. Those manufacturers produce hundreds of thousands of cars in the United States each year, many of which are later exported to buyers in Asia and Europe.


[...]

Trump has been hammering the German auto industry since before taking office, incensed at their move to expand production in Mexico and threatening them with a 35 percent tariff on any cars brought into the United States.

One of Trump's top advisers, Peter Navarro, also holds the view that German automakers have stolen market share in the United States by importing cars but limiting the amount of U.S. cars sold into their country, two people involved in White House deliberations said. Navarro's stature within the White House has grown in recent weeks as Trump has turned towards advisers with protectionist views as he became frustrated that his trade agenda was floundering.
We've yet to see if all of this talk will lead to tariffs in the end. Hopefully, it's just another Saturday on Twitter for Trump, and the rest of us can go back to maybe being able to afford the cars.