After the administration originally denied a request to waive the Jones Act for Puerto Rico to make the shipment of food, fuel and other hurricane-relief cargo easier following devastation from Hurricane Maria, CNBC reports that the President Trump has now waived the act's shipping restrictions for the area.

Trump made the decision to waive the nearly century-old Jones Act, which says all shipments between two U.S. ports must be made with American ships in order to avoid taxes and penalties, at the request of Puerto Rico's governor, Ricardo Rosselló. Press secretary Sarah Sanders tweeted Thursday that the waiver will go into effect immediately.
The original denial of Puerto Rico's request to waive the Jones Act set it apart from Texas and Florida, which both got waivers after Hurricanes Harvey and Irma hit earlier this year to prevent widespread fuel shortages. But that same treatment wasn't given to Puerto Rico, which Trump tweeted Monday was "in deep trouble" while Texas and Florida were "doing great," going on to seemingly blame the island commonwealth for its own humanitarian crisis because of its "broken infrastructure & massive debt."
Carmen Yulín Cruz, mayor of San Juan, Puerto Rico, called Trump's comments distracting from the post-hurricane devastation in the area, where she said people were being transported "in near-death conditions" due to the lack of medical supplies and fuel.
G/O Media may get a commission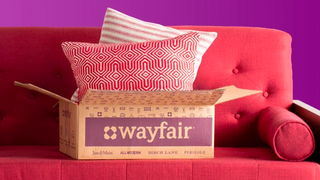 Big deals
Wayfair Surplus Sale
After the storm hit, eight U.S. representatives asked acting head of Homeland Security Elaine Duke to waive the Jones Act to help hurricane relief just as the country did for Texas and Florida. A government assessment determined that there was no need for the waiver, as Puerto Rico's ports were too damaged to handle increased imports.
Customs and Border Protection spokesperson Gregory Moore said in a statement earlier this week, which came before Trump's waiver, that "the situation in Puerto Rico is much different" than it was when the storms hit Texas, Louisiana and Florida.
Joint Chiefs Chairman Gen. Joseph Dunford followed the same rhetoric, saying the military would "do everything [it] can to help them out" but that the help would be dependent on securing and rebuilding Puerto Rico's airfields and ports. After saying the area needed immediate help, Dunford said the military was "looking around the corner to see what they might need next week."
After defending the administration's original actions, CNBC reports that Trump said Tuesday "all available federal resources" were being used to save lives and aid hurricane recovery in Puerto Rico.