Aside from Walter White, who is mythical, people involved in methamphetamine production aren't known for their smarts. But if you're going to go ahead an become one of the special few who cooks meth, don't write "Meth Lab" on the back of your truck like this genius.
If you need proof that meth rots your brain, look no further than here, folks. The 43-year-old man implicated in this little snafu was driving a mid-'80s Ford pickup, sporting antique vehicle license plates and, of course, the words "Meth Lab" scrawled in huge white letters on its back window.
If you were a cop, or anyone else for that matter, this would certainly grab your attention. Aside from the sloppy inscription on the window, police were concerned that the truck's driver was operating with antique tags, which can only be used during weekends and in parades and the like.
When they pulled the man over, they found out that not only was he driving on a suspended license, but he was on probation for manufacturing meth. And of course there were "shake 'n' bake" meth-making bottles and a few key ingredients rolling around on the floor of the truck.
G/O Media may get a commission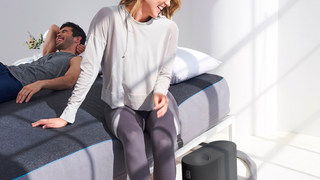 Eight Sleep Pod Cover
We'd imagine that boy is in a mess a' trouble.
UPDATE: The big, scrawly "Meth Lab" printed on the truck's back window may have been added by the cops. It's on both sides, which seems more cop-like than meth cook-like.
(Hat tip to Brian!)