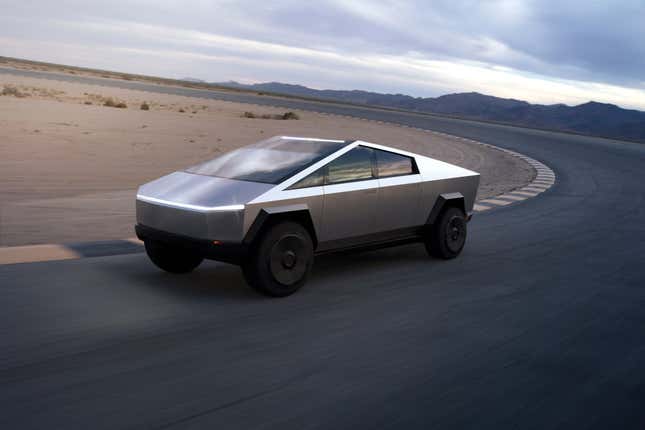 To call the development of Tesla's Cybertruck a rollercoaster since its public debut in 2019 would be an insult to rollercoasters. Those things at least stay on track (Good joke, everybody laugh, roll on snare drum, curtains). But really, if internal Tesla documents reported by Wired on Thursday are accurate, the Cybertruck's incubation period has been fraught with problems, some of which seem kind of stupid.
By stupid problems, I mean that it would seem that Tesla managed to bungle some basic mechanical engineering challenges during the alpha stage of the Cybertruck's development, ones that an experienced automotive engineer told Wired are "classic mechanical automotive engineering challenges that you have in pretty much any vehicle." These include poor handling and braking due to suspension designs, leaking and excess noise, vibration, and harshness (NVH).
That an alpha prototype is way off from being a production-ready vehicle isn't surprising. That's why there are revisions, iterations, and all kinds of quality checks, testing, and sign-offs before cars hit showrooms. It is surprising that Tesla wrote all of this stuff down and was so blunt about it. It's also worrying that we're still waiting for a vehicle that debuted in 2019 and which was planned to be launched in 2021, and we're now halfway through 2023 with no light yet at the end of the tunnel. Even with the pandemic thrown in, that's still pretty crappy project management.
Some of the issues with the Cybertruck alpha are classic Tesla problems. For example, engineers couldn't figure out how to seal the truck against water ingress short of doing it by hand, and even then, the truck didn't exactly pass the test with flying colors. "Normal car" Teslas are already bad at keeping water out, so this isn't surprising.
The braking issues that Tesla's technological terror is undergoing are way more harrowing than water ingress, though. Tesla's engineers noted excessive pedal travel, inconsistent power brake assistance and excessive body pitch during braking. Combined with other handling woes like an "excessive lateral jerk during low-speed maneuvering" and "structural shake," you have to wonder if the people designing the Cybertruck have ever actually, y'know, designed a truck before.
There will doubtless be people that say we're being too harsh on Tesla for the performance of an alpha test vehicle, but those people probably own Tesla stock and pay for blue checks on Twitter. That said, our genuine hope for the Cybertruck is that it not only comes to market in the next 12 months or so but that when it does go on sale, all these issues are resolved, and we look like jerks.
Of course, given Tesla's track record with timelines and build quality, we're not holding our breath.