Trapster, the app that let users share everything from speed traps to red light cameras, is headed to the great app store in the sky after mismanagement, neglect, and one ridiculously creepy privacy scandal.
Users were sent the following email, with the subject "Goodbye From Team Trapster" earlier today:
After evaluating our ongoing investments, we have decided to discontinue the Trapster service by the end of the year.

It is hard to imagine saying goodbye after 7 years but we want to thank you for using Trapster and your loyalty to the Trapster community.

Thank you,
Team Trapster
The app, which was launched in 2007 and boasted as many 20 million active users, was acquired by Nokia's mapping division in 2010. At the time, it was just one of a handful of apps that let users get more granular detail about traffic and police activity by crowd-sourcing information. Others were purchased by other tech giants – including Waze, which was acquired by Google – in a map app land grab a few years back.
After the Nokia acquisition, Trapster lived on, but usage and downloads fell through the floor, largely negating its usefulness. In 2011, it was forced to pull its DUI checkpoint-reporting feature and earlier this year the app was embroiled in a privacy scandal where users could track other driver's movements.
G/O Media may get a commission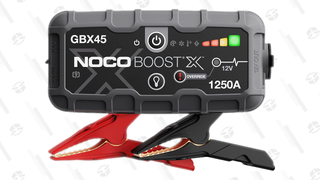 13% Off
Noco Boost X GBX75 Jump Starter
Nokia laid off the remaining Trapster staff about six weeks ago and isn't saying if some of the underlying tech will be incorporated into the company's existing Here navigation suite. But Trapster's creator and founder, Pete Tenereillo, is trying to convince Nokia to get his baby back, despite the irreparable damage to the brand.