If you've got an H2T but you're not happy with the gas mileage — finding it way too high — your options are limited. Sure, you could bolt on performance mods, but we'd suggest these elegant and subtle tracked belts to replace your efficient pneumatic tires. This H2 was spotted outside the Vegas convention center welcoming all who ventured out to see the SEMA fest, bedecked in two-tone green-and-black, ready to crawl to your favorite club. No word on top speed, but hey, it's not about when you get there; it's about what you crush on the way.

G/O Media may get a commission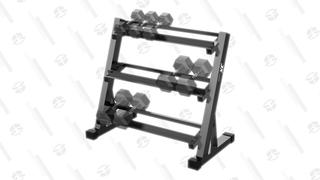 20% Off
JX Fitness Dumbbell Rack
Gains but tidy
Has a three-tier design to help store more weights more conveniently, can safely support up to 1000lbs of weight, which should be enough for most people, has a triangle base for stability, and also features anti-scratch feet which is great if you've built your own studio or workout in your garage.