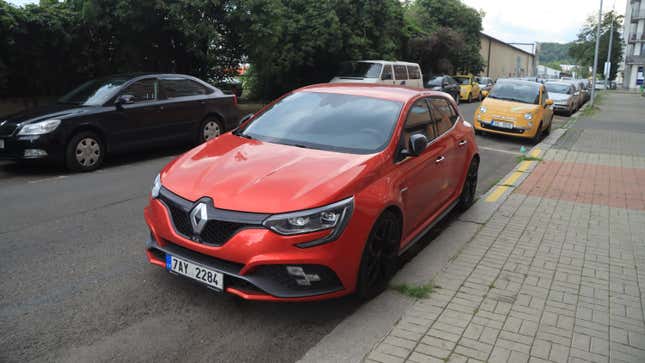 There are few driving joys that top a track day. It's a special opportunity to thrash around a circuit that you have probably seen professional drivers race on for years. However, there's also the chance that you could total your daily driver on a track. One father and son in Spain might have sought to lessen the financial hit of a terrible track day through less-than-legal means.
Steve and Andy Have an Idea to Save Pontiac and Saturn
According to Spanish news agency Europa Press, Spain's National Police arrested a father and son in connection to alleged insurance fraud. In late 2021, the son reported that a Renault Megane Coupe was stolen on a well-known street in Langreo, a town in the northwestern Spanish province of Asturias. The insurance company compensated the Megane's owner, the father, with $12,760 for the stolen vehicle. However, law enforcement began investigating the claim after noticing several inconsistencies in the son's story.
After a lengthy investigation, authorities have pieced together what they believed actually happened. The investigation suggests that the son crashed the Renault Megane during a track day at Circuito del Jarama, 287 miles away from Langreo. Track CCTV footage released by the National Police shows a coupe in a massive incident. The Megane is seen exiting a sweeping corner at high-speed. The coupe's rear end steps out, and it starts sliding toward the inside barrier. The Megane leaves the track and plows head-on into an Armco barrier. The Renault rolls before coming to a rest on its roof, virtually destroyed.
Jarama isn't a modern grand prix venue with an ocean of tarmac runoff or grass before a barrier. The circuit hosted Formula 1's Spanish Grand Prix nine times between 1968 and 1988. Leaving the racing surface at speed at a place like Jarama usually means a quick trip over grass or gravel before smashing into a steel rail or stack of tires.
Europa Press reported that the track day driver, believed to be the son, and a passenger both walked away from the crash uninjured. The Megane was not brought back to Asturias and allegedly sold for parts. If the story had ended there, it would have just been an unfortunate trip to the track. The father and son now face fraud charges.