The new 2019 Toyota Supra is currently the most-discussed car that we know almost nothing about (besides the mid-engine Corvette, of course.) We haven't seen the new Supra without camouflage yet, and we don't even know exactly how much power its twin-turbo, BMW-sourced engine will put out, to say nothing of exact performance specs. But we do know that whatever it can do, Toyota thinks it can still do better.
In an interview with Top Gear, Toyota's performance car chief Tetsuya Tada dishes that a "stripped-out, track-focused version" is something he's been thinking about and wants to do next:
"At some point I would like to make a track-limited Supra with less weight. We're already making a racing version so we know if you take out 100kg it's a completely different car – you don't even need any more power," Tada told us. Question is, will it be road-legal or a track-only toy? "We're investigating both avenues, there's always a trade-off because being road-legal brings restrictions."
G/O Media may get a commission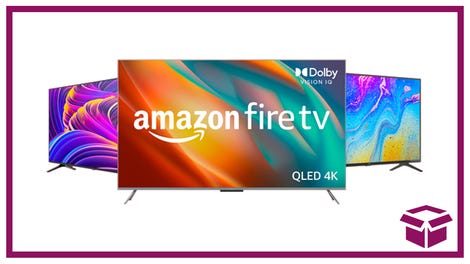 Ooh. stunning.
New Amazon Fire TVs
Emphasis mine here, because I could see Toyota going the same route it did with the 86/FR-S/BRZ: giving us a Supra with lighter weight and progressively better aero and suspension, but not more power. That's purely speculation on my part, though.
Of course, we don't even really know how much power we'll be dealing with from the get-go. The best bet is the Supra's platform mate, the new BMW Z4, which comes with the same 3.0-liter twin-turbo inline-six. There it's speculated to have 382 horsepower in the U.S., and zero to 60 mph supposedly happens in 4.6 seconds. Toyota has said the two won't drive like identical twins, however.
Tada also reiterates that the new Supra was benchmarked against the Porsche Cayman, something we've heard before but is definitely reassuring. If you're going for fun, feel and balance, the Cayman is extremely hard to beat. With any luck the Supra's price will undercut the 718 Cayman's base cost of $56,900, but that may be wishful thinking on my part.
Also from the interview: do you remember when it was speculated that Toyota's new sports car might be mid-engined? (I do, because I feel like I've been covering the new Supra since before my last crop of interns was even born.) Apparently that was in the cards, but Toyota's boss Akio Toyoda said nah:
"We stuck with front engine because of feel and control. We know how to control a front-engine car, we already have that capability. In the planning stages we suggested a mid-engined layout and BMW was happy to go with it, but I took the idea to Akio Toyoda and he told me off."
I hope you guys know what you're doing, and that this thing really will live up to all the hype.