This is The Morning Shift, our one-stop daily roundup of all the auto news that's actually important — all in one place at 9:30 AM. Or, you could spend all day waiting for other sites to parse it out to you one story at a time. Isn't your time more important?
1st Gear: When Will The Recalls Stop?
I don't wake up every morning thinking "Oh boy, I get to write about recalls!" I'm more interested in the Trans Pacific Partnership and Skodas. Alas, people are taking my "Recall All Your Cars While No One Is Looking" advice very seriously.
No one is taking that more seriously than Toyota, which just initiated a fucking 6.76 million-car worldwide recall over five vehicles including the Camry, RAV4 and Corolla and Yaris and some Scions.
G/O Media may get a commission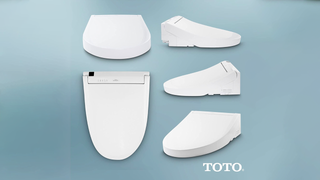 44% off
Toto Washlet Electronic Bidet Toilet Seat
And it's not like it's just one thing, as Bloomberg reports there are at least five separate issues that could present problems and rather than follow in GM's footsteps (or their own) they're instead just going to recall all that shit now.
In the U.S. it looks like they're recalling 1.3 million vehicles for a possible airbag failure and 472,500 vehicles (approximately) for seats that won't lock into place or, vice versa, won't unlock.
So far no injuries are involved which is why they're probably trying to get this over with.
2nd Gear: Ford Quietly Dropping Microsoft SYNC Badges
For good or ill, SYNC is a Ford brand and is going to stick around. The "SYNC powered by Microsoft" badges not so much, according to Karl Henkel.
That is, of course, because of BlackBerry's QNX taking over.
"We are beginning to introduce a simplified and more modern SYNC logo across the world that makes it easier for consumers around the world to identify and refer to the SYNC technology," said Susannah Wesley, Ford spokeswoman, in an email to The Detroit News. "This will debut in the 2015 global Focus, where we've moved from the SYNC silver 'button' to a simplified, more modern logo printed on the vehicle with a single branding message.
Makes sense.
3rd Gear: Speaking Of The New Ford Focus
Karl also has a take on that involving details on the refreshed 2015 Ford Focus and he's got ford insisting there's more than just the company's British maw.
To wit:
Don't call it a refresh, they've been working on it for years.
Upgrading the interior, putting suckas in fear.
Making gears change like the phases of the moon.
Listen to the bass go boom.
Suspension, 1.0-liter EcoBoost powering
over the competition, it's towering.
With a grille make that'll make Aston call the IP cops
Don't you dare stare, you beta move
Don't ever compare
Ford to a Cruze that'll all get sliced and diced
Buy the competition and you'll be paying the price…
It's gonna knock you out,
Mulally says knock you out
4th Gear: GM Investing In Volt Plant To Build… What Exactly?
In non-recall GM news, the company will put about $384 million in it's Detroit-Hamtramck plant and $65 million into lithium-ion battery production at its Brownstown Township plant.
What's curious about this, as Nathan Bomey rightly points out, is that the investment is for more than the Volt. It's for two seemingly unrelated cars.
The announcement comes as GM is in a competition with Silicon Valley electric vehicle maker Tesla Motors to produce an affordable pure electric car. Both companies have said they plan to deliver such a vehicle within three years.

Johnson said the next-generation Volt is targeted for 2016. He declined to say whether the new products would include a pure electric car.
I bet Mark Reuss knows.
5th Gear: BMW Wins This Round
The ongoing battle between Audi, Mercedes and BMW has one obvious winner: Customers.
While the glut of crossovery, wagon shit is getting a bit tedious, they're at least being clever and creative and cutting deals left and right. You know what, it's also good for them.
BMW, Audi and Mercedes-Benz all posted their highest monthly sales ever in March on surging demand in China and the United States, the world's two largest auto markets. The competition between the three is heating up after Audi briefly passed the BMW brand in sales at the beginning of this year, and Mercedes' new compacts have helped the automaker make gains. All three are targeting record deliveries in 2014.
Someone has to win though, and BMW X-vehicles led the company to a 17% March increase putting it up ahead of both Audi and Mercedes.
The battle has just started though and there's no reason to think Audi or Mercedes can't catch up by the end of the year.
Reverse: And Now Everyone Drives Hydrogen Cars!
On this day in 2009, the Honda FCX Clarity, a four-door sedan billed as the planet's first hydrogen-powered fuel-cell vehicle intended for mass production, wins the World Green Car award at the New York Auto Show.
[HISTORY]
Neutral: What's going on with all these recalls?
Is everyone just taking advantage of the focus on GM to get their shit out of the way or is there a larger issue here?
Photo Credit: Getty Images