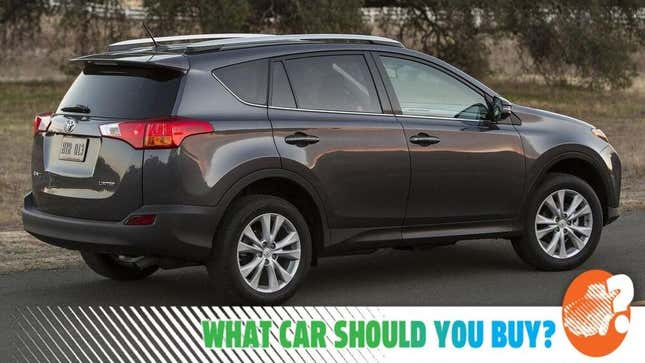 Carolyn is a teacher and thought she had a "forever car" with her 2015 Toyota RAV 4, but due to some chronic transmission issues, she has to move on to something else. She wants a similar crossover with good reliability, a decent amount of space, and a backup camera for under $20,000. What car should she buy?
Chase Elliott Explains the Challenge of Adapting to NASCAR's Next Gen Car
(Welcome back to What Car Should You Buy? Where we give real people real advice about buying cars. Do you want us to help you find a car? Submit your story on our form.)
Here is the scenario:
My current car is a 2015 Toyota RAV-4. I bought it used when it was three years old. Since last year, the transmission has been acting up and I was told that it needs to be replaced. Unfortunately, it will cost more than the value of the car so I need a new one. I want something similar but not a Toyota. I also drive a lot for work (I have a 35-mile commute each way) but I don't have to drive to work in the summer because I'm a teacher.

I want a car with lots of room for storage and seating because I foresee myself having kids within the next 3-5 years or so. I also want all-wheel drive and something that does well in the snow and rain. I'm also looking for something used with low mileage and a model that will last me the next 7-10 years at least. The difficult part about this is my budget is between $15,000 and $20,000.
Quick Facts:
Budget: up to $20,000
Location: Edison, NJ
Daily Driver: Yes
Wants: Reliable, spacious, rear camera
Doesn't want: A sedan
Expert 1: Tom McParland - Shopping the Car Is Only Half the Battle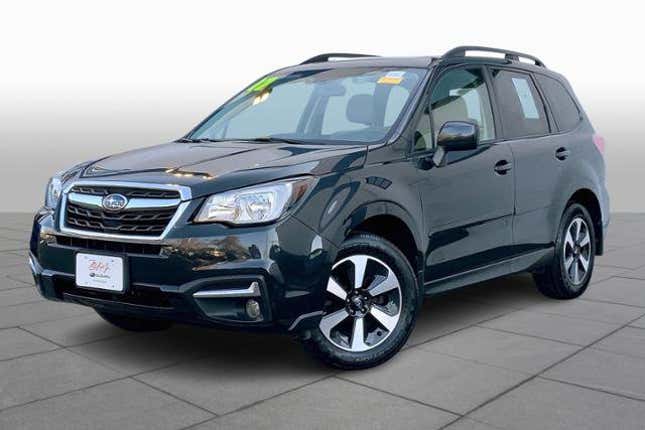 You probably thought you had it made with the 2015 RAV 4, which should have been a reliable and long-lasting car. Unfortunately, when buying a used car, the reliability is really dependent on how well that car is cared for. I've seen several cases where folks bought used Hondas or Toyotas thinking they would get a long life out of their rides, only to find out about issues like yours because the previous owner(s) didn't keep up the maintenance.

This is why it's critical to get a pre-purchase inspection done on any used car, because that can reveal signs of neglect or abuse that may not be obvious on a test drive.
Also, your area of North Jersey is rife with used-car lots that are selling what should be decent cars but are often sub-par quality. So it's not only important to select a model that has a reputation for longevity, but also to be very selective as to who you are buying from. In that region, I tend to filter out most of the stores that aren't franchised car dealers from major brands. Taking it a step further it probably pays to expand your net beyond the North Jersey market, as you are more likely to find something that hasn't been subjected to terrible bumper-to-bumper traffic on a daily basis.

You will have a decent selection of potential replacements, but a good bet may be this 2017 Forester with under 50,000 miles. It's well-equipped with all the safety tech and even has a power rear tailgate that definitely comes in handy. You already know Subarus can handle the elements just fine, and this crossover should give you several more years of stress-free ownership as long as you keep those maintenance logs up to date.

Expert 2: Collin Woodard - Not Technically a Sports Car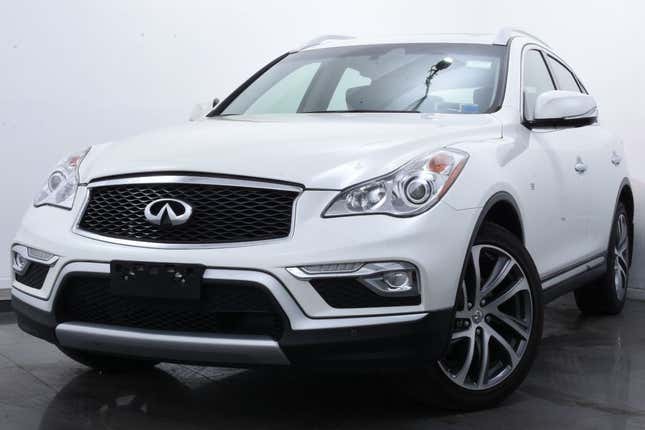 I'm sorry to hear about your Toyota, Carolyn. But hey, on to bigger and better things. Or similarly-sized and hopefully more reliable things. If you really are just looking for a RAV 4 that's not a RAV 4, there's a pretty obvious short-list of alternatives that pretty much anyone could suggest. The Subaru Forester that Tom suggested is one of them, along with the Honda CR-V, Mazda CX-5, Hyundai Tucson, Nissan Rogue and Kia Sportage.
But you didn't turn to Consumer Reports for buying advice, now, did you? You came to Jalopnik. So I tried to find something for you that's a little outside the box. Nothing too crazy, of course, and as Tom suggested, you should definitely get a pre-purchase inspection to make sure it's in good condition. But could I convince you to try a low-mileage, luxury crossover built on the same platform as a sports car?
This 30,000-mile 2017 Infiniti QX50 is right down the street from you and has the all-wheel drive that you're looking for, as well as a backup camera. Even better, it has a surround-view camera system that should make parking a breeze. And the seats should be nice and comfy for your long commute. Is it going to get the best gas mileage in the world? No, but it'll be quick and surprisingly fun to drive. You deserve to have some fun, Carolyn.
Expert 3: Andy Kalmowitz - Won't Get Fooled Again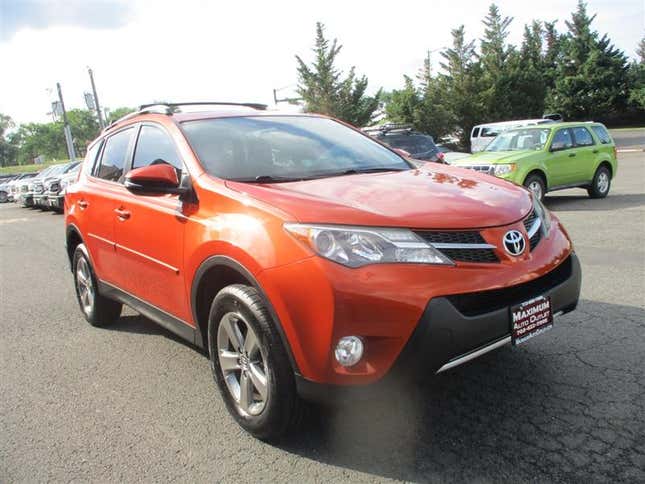 First of all, Carolyn, let's go New Jersey! Best state in the nation, and it isn't even close. (Please ignore the fact I don't live there anymore.) Anyway, the perfect car for you is a 2015 Toyota RAV 4. I know what you're thinking. You're leery of the RAV 4 because of reliability concerns, but that really shouldn't stop you.

The RAV 4 is one of the most reliable cars money can buy right now. Unfortunately, it seems you just got a bad one. It happens, and it sucks. But, don't let that get in the way of you getting the right car. Just make sure you get a pre-purchase inspection before forking over your cash. It could save you a lot of headache no matter what vehicle you decide to buy.
With that, I've found the ideal RAV 4 for you. It's a 2015, so you'll be right at home. It's got a backup camera, a nice lil' infotainment screen, a tick over 50,000 miles and a SICK orange paint job. It's the only way to make a RAV 4 really stand out, and it work. You'll never lose it in a parking lot of gray, black, white and silver CUVs. It also comes in right at your $20,000 budget. What isn't to love?
So Carolyn, you made the right choice when you bought your last RAV 4. It just wasn't the right example. Rectify that mistake. Buy this RAV 4... and get a goddamn PPI.
Expert 4: Bob Sorokanich - Envision Yourself in a Buick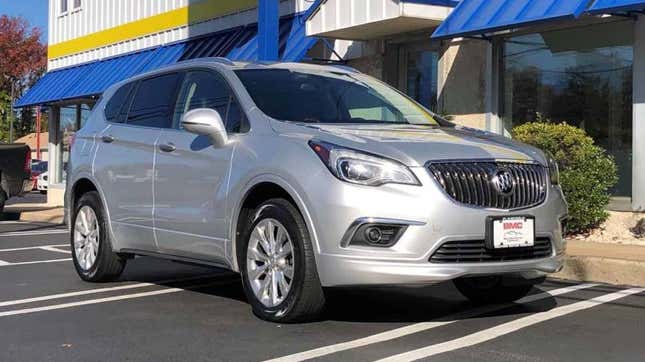 Carolyn, I'm sorry you've had so much trouble with your Toyota. It's a hard thing to buy a car from a company with a reputation for rock-solid reliability, and find out that company has kinda been slipping. Lately, that's been true for just about all of the import brands that took America by storm in the Malaise era. But you know who's quietly been climbing to the top of customer satisfaction surveys? Friggin' Buick.
That's right: Buick ranked number-one on J.D. Power's "initial quality" study in 2022. Granted, this kind of survey requires a little dash of salt — it's based on a survey of people who have owned a brand-new car for less than a year, meaning the problems that are being reported are more to do with assembly quality than durability. But still! Buick! Blowing the doors off the Japanese brands!
There's another factor in Buick's favor here, and that's demographics. Most folks who buy Buicks are, let's face it, old. As a used-car buyer, this is exactly what you want. Older folks drive less, and for the most part, they don't abuse their cars like young whippersnappers. Oh, and like most domestic brands, Buicks depreciate way more than their Japanese competitors, meaning you can get a screamin' deal on a Buick that was traded in (or turned in at the end of its lease) with barely any miles on the clock.
I bring you two examples. First, just for illustration, here's a 2020 Buick Encore with a shade over 21,000 miles, for right around $19,000. That's basically a brand-new car, available to you on your used-car budget.
However, the Encore is small, and you anticipate needing some more room. Let's step up to the comfortably midsized Envision. Here's one in Belford, NJ, a 2017 model with just 62,000 miles on the clock. It's comfy, it's all-wheel drive, it's got a backup camera. This should be everything you need in a family hauler. It's scraping the ceiling of your budget at $19,985, but the Envision is way more luxurious than the Subaru or Toyota my colleagues above recommended. Plus, this one has apparently been sitting at the dealer for almost six months. I bet you could work a deal.