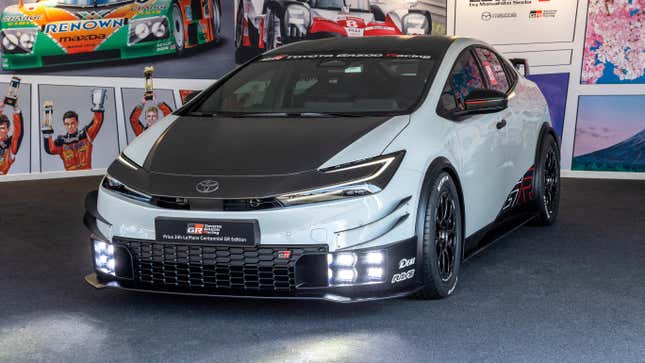 This year is a special one for the 24 Hours of Le Mans. The legendary French endurance race is running its centennial anniversary edition. To mark the occasion, Toyota unveiled the Prius 24h Le Mans Centennial GR Edition. The special edition hybrid celebrates the iconic event and Toyota's history as a competitor at Le Mans, but you won't be able to buy one in any showroom. It's only a concept, and it absolutely shouldn't be.
This NYC Garage Takes Vanlife To The Next Level | Jalopnik Visits
The Prius 24h Le Mans Centennial GR Edition reimagines the look of the venerable hybrid to make its connections to Toyota's race-winning hybrid sports prototypes more apparent. The concept features a carbon-fiber hood and bespoke aerodynamic parts including a new rear wing. The most significant modification is the wide-track suspension fitted to accommodate the 18-inch wheels similar to the ones on the GR010 Hybrid Le Mans Hypercar.
Also, fitting into the style of an endurance racer, the special edition Prius is fitted with multi-headlamps beneath the front canards, similar to the Le Mans top-class prototypes. The powerplant remains unchanged from the production Prius, but I'm still pining to see this concept enter production. Plenty of racing fans would love to drain their checking accounts and get their hands on this GR Prius.
The Prius 24h Le Mans Centennial GR Edition will be on display at Le Mans in the Manufacturers' Village at "Japan. Endless Discovery." exhibit. The showcase is a joint endeavor between Mazda and Toyota Gazoo Racing, Japan's two outright Le Mans winners. Toyota hopes to win its sixth consecutive 24 Hours of Le Mans this weekend with the GR0101 Hybrid. Though, the automaker better announce Prius 24h Le Mans Centennial GR Edition is entering production if the GR010 wins again.