---
1st Gear: Bailout Trash Talk from AIG's Former Chairman
Bloomberg reports that Harvey Golub, the former chairman at insurance giant American International Group, had some harsh words for the Obama administration's handling of the bankruptcies at General Motors and Chrysler. He says the president "violated every bankruptcy principle known to man" in deals concerning the United Auto Workers union. ""One of the major elements of a bankruptcy is that debtors similarly situated get treated the same," Golub said on Bloomberg Television. "They changed the rules and bailed out the unions, not the companies."
Now, AIG got a bailout that dwarfed what the car companies received. The government put up $182.3 billion (that's not a typo) in 2008 when the nation's credit crunch began. But since then, the government has recovered its money, and has reduced its AIG stake to 16 percent, from the original 53 percent.
It isn't clear why Golub would have a bee in his bonnet over the auto bailout EXCEPT that he gives money to the Republican National Committee, according to Bloomberg. He also thinks Mitt Romney is going to win the election.
---
G/O Media may get a commission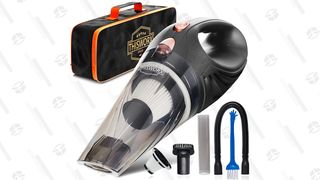 Save 50%
ThisWorx Car Vacuum Cleaner
2nd Gear: Stealing Cars Without The Keys
Channel 4 in England reports on the growing number of cars that are being stolen without their keys (no, it's not a rash of hot-wiring). Thieves are taking advantage of a technology loophole that allows them to copy electronic key fobs and use the copies to steal cars, sometimes right out from under owners' noses. Although car thefts have actually dropped in Metropolitan London, 39 percent of cars were stolen this past year without the owners' keys being present.
Channel 4 says BMWs appear to be particularly vulnerable, along with other high-end models. BMW, in a statement, said it changed its system after September 2011 so copies can't be made of its key fobs. But it says X5 and X6 models built before then seem to be a particular target for thieves. Owners of those BMWs are being contacted by the company and BMW is taking steps to mitigate thefts, the automaker told Channel 4.
---
3rd Gear: In Vegas, Toyota Looks Like It's Waking Up
The Detroit News says Toyota showed a whole bunch of new designs to its dealers in Las Vegas this week. They include a dramatically restyled Corolla, and a next generation RAV-4 that won't have a spare tire on its rear gate. The dealer meeting drew a slew of Toyota VIPs, including CEO Akio Toyoda, and Toyota Motor Sales USA Chairman Yoshi Inaba. Toyota's new tag line will be "Let's Go Places" (which sounds a little like Michelle Obama's "Let's Move" exercise program). The company will start using it in its advertisements in 2013.
---
4th Gear: Imagine The Party You Could Throw With All Those Little Liquor Bottles
The New York Times reports on a theft ring operating at New York's JFK Airport that focused on American Airlines — and miniature liquor bottles. Lots of little liquor bottles. Queens prosecutors said they arrested 18 people in the theft of 100,000 little bottles. Fifteen of the truck drivers worked for Sky Chefs, the folks that cater airplanes. The bottles were supposed to be stored between flights in an airport facility. Instead, investigators think they made their way into party stores and delis all over Queens. Now, these little bottles are lucrative business for the airlines. On American, you'd pay $7 a drink.
But the thieves were re-selling them at much lower prices. A bottle of Bailey's went for 55 cents, and a bottle of Courvoisier went for $1.25. The stores then sold them for about $4 a bottle. In order to get the bottles off the airport grounds, the truck drivers stashed them in garbage bags and gave them to security guards who were also arrested. According to the Times, the investigation, which the authorities named "Operation Last Call," included dozens of undercover buys in recent months involving tens of thousands of the miniature bottles. It seems like a cross between a Woody Allen movie and a Saturday Night Live skit, to be honest, but you can't make this stuff up.
---
Reverse: Oprah's Greatest Stunt: Free* Cars
On this day in 2004, Oprah pulled off her greatest stunt: she gave away Pontiac G6s to every one in her audience. The recipients screamed and shrieked and jumped up and down — and then did so all over again, when it turned out they had to pay federal and state income tax on the automobiles (Pontiac had covered the state sales taxes). Some recipients refused their cars and others later sold them. [History]
Neutral
In keeping with our new discussion system, here's a place for you to own the floor. We're asking each day what you think about an issue that comes up in TMS.
Today, tell us what you think of the car thefts in London. If you have a keyless car, are you worried about the safety of your vehicle? Or are the car companies keeping ahead of the problem? Do you like keyfobs, or should we just go back to keys? Remember there's no right answer or wrong answer. It's Neutral.
Show us your tips!
Got tips for our editors? Want to anonymously dish some dirt on a competitor? Know something about a secret car? Email us at tips@jalopnik.com.
Lost in our new layout?
Click here for the Opposite Lock or Tips forums. Want a more "blog-like" look? Click the button up top next to "Top Stories."
Get more Jalopnik!
Want even more Jalopnik? Want to know which of your friends read us? "Like" us on Facebook, follow us on Twitter, and subscribe to our newsletter.