There's apparently no stopping the Toyota recall as owners of "repaired" Toyota vehicles are claiming the "precision cut steel reinforcements" aren't doing the job, their cars are still accelerating and seniors are having "nightmares."
The complaints shown here, filed with the Department of Transportation's Office of Defects Investigations in the last two weeks, detail how the acceleration systems on fixed Camrys not working accorded to their owners. One report from February 17th claims this happened at low-speed while pulling into a parking spot. Another one from an 81-year-old woman claims:
I WAS TOLD MY VIN # WAS OK FOR NO PROBLEM WITH THE GAS PEDAL STICKING, BUT I SHOULD GO IN FOR THE MAT/GAS PEDALPROBLEM. I DID & WAS TOLD IT WAS DONE. ON 2/16, I WAS PULLING INTO A SPOT AT CVS. I TOOK MY FOOT OFF OF THE GAS PEDAL AND STARTED TO PUT THE FOOT ON THE BRAKE WHEN THE CAR SUDDENLY FLEW UP FORWARD OVER THE CEMENT CURB AND INTO THE DIRT AND BUSHES WHICH, THANK GOD STOPPED THE CAR.
While there does seem to be a bit of similarity with the conditions creating these incidents it's no proof this is happening, nor can we rule out media reports of the fix not working affecting how consumers feel. Remember, beige bites back and uninformed drivers prone to making mistakes are even more likely to do so when they're confused about how their "fixed" car is supposed to work.
This is actually the least disturbing part of the complaints. What we'd be worried about if we were Toyota is the way consumers feel they've been treated after complaining. Once again, from the same octogenarian:
I WAS TOLD TO TALK TO SOMEONE AT THEIR CORPORATE OFFICE IN CA AND THEY OFFERED ME NOTHING BUT A SLICK "YOUR WORD AGAINST MINE" NOTHING HELP. I COULD SEE THE WRITING ON THE WALL I WENT OUT THE NEXT DAY, BOUGHT A FORD FUSION AND DROVE AWAY IN MY NEW CAR."
G/O Media may get a commission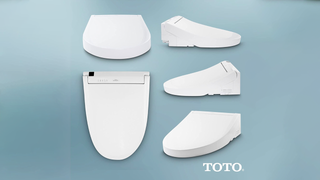 44% off
Toto Washlet Electronic Bidet Toilet Seat
According to a story in today's Los Angeles Times a Toyota spokeswoman contacted on these new complaints by saying "We very much would like to have any of those individuals who claim they've had unintended acceleration after the fix go back to the dealership. If there was an accident, we want to see the vehicle and the driver and the accident report."
Clearly, this isn't happening in every case.
Whatever they're doing to fix their complaints and pay lip-service to complaints, Toyota still seems to be searching for a way to address the complaints without completely capitulating to every disappointed driver or this will continue to haunt them. Like this woman:
"BUT ALSO I HAVE BEEN HAVING NIGHTMARES ABOUT THE THOUSANDS OF PEOPLE WHO WERE TOLD THEIR VIN # HAD NO GAS PEDDLE PROBLEM AS I HAD BEEN TOLD AND MAY FIND OUT THAT IS NOT TRUE - AS I DID."