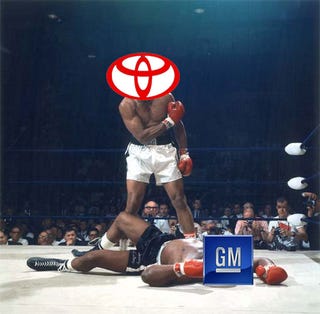 Moments ago, GM announced 2008 global auto sales. With 8.35 million vehicles sold, the automaker fell 620,000 short of Toyota's 8.97 million 2008 car and truck sales. Toyota is now officially the world's largest automaker.
Thanks to the global economic Carpocalypse, and despite a growth in sales in the Asia Pacific region of 3%, GM still managed to sell fewer vehicles last year than Toyota. It allows the Japanese automaker to wrest the global sales crown from GM it's held for 77 years. The General has reigned atop the global auto sales pyramid since snatching the crown itself from Henry Ford in 1931.
While many have argued Toyota bested GM last year when the Japanese automaker produced more vehicles than the biggest of the not-so-Big Three in 2007. But not so fast as the General doggedly held on to the title of global auto sales champ. Since the crown's been determined primarily on the metric one finds most important, the true "largest automaker" title's really been up in the air. However, with these new numbers, that last debating point is dead. Toyota is truly now the world's biggest automaker.
Full press release below:

GM Announces 2008 Global Sales of 8.35 Million Vehicles

* GM Asia Pacific sales volume grows 3 percent; Chevrolet sales in China grows 16 percent to nearly 200,000 vehicles; 1.09M vehicles sold in China sets record with 6 percent volume growth
* Third consecutive year of more than 2 million vehicles sold in Europe; Chevrolet sales breakthrough 500,000 mark with record share; Opel sets sales record in Central and Eastern Europe with volume up 13 percent
* GM beats the industry with more than 1.27 million total vehicle sales in Latin America, Africa and Middle East Region led by top-selling Chevrolet Corsa, Celta and Aveo
* GM continues emerging markets leadership with 2008 market share growth in 14 of 26 markets

DETROIT – Record-setting sales performance in GM's Latin America, Africa and Middle East and Asia Pacific regions, and a third consecutive 2 million vehicles sales performance in Europe during 2008, helped General Motors sell more than 8.35 million vehicles globally last year. GM's nearly 3 percent growth in both the Asia Pacific and Latin America, Africa and Middle East regions partially offset North America sales that declined 21 percent, and growing pressure in Europe that resulted in 7 percent fewer sales. Compared with 2007, GM's total sales were down 11 percent, reflecting continuing global economic pressures that include tightening credit, falling commodities prices and lack of GDP growth.

In 2008, GM sold 5.37 million vehicles outside the U.S., accounting for 64 percent of total global sales volume compared with 59 percent a year ago.

In the fourth quarter of 2008, GM sales of 1.70 million vehicles were down 26 percent compared with the same quarter a year ago. Most of that decline was reflected in 379,000 fewer vehicles sold in North America as the market yielded to a crushing lack of consumer confidence, and tightened credit requirements, in the United States.

GM Continues Growth in Emerging Markets

"GM's 2008 sales performance shows that we are continuing to take advantage of new emerging market opportunities and are meeting customer needs with fuel-efficient products that offer compelling design and great value – such as the award-winning Opel/Vauxhall Insignia in Europe, the Buick Excelle in China and the Corsa in Latin America," Jonathan Browning, vice president, global sales, service and marketing, said today. "We saw sales volume increases in the key four emerging markets of Brazil (up 10 percent), Russia (up 30 percent), India (up 9 percent), and China (up 6 percent)."

"The challenges in the global financial markets, including credit tightening, the drop in commodity prices, and economic uncertainty continue to negatively impact overall demand for new vehicles," Browning added. "For the total global industry, we saw about 3.5 million fewer vehicles sold in 2008 than the previous year." With these market challenges comes significant opportunity and GM is well-positioned with new products either on showroom floors or on the way in the near future.

Chevrolet sales in Asia Pacific grew 14 percent in 2008 compared with a year ago. Chevrolet sales in China (up 16 percent) and India (up 9 percent) powered much of this growth. The Wuling brand continued strong growth in China with sales up 17 percent in 2008 compared with a year ago. The Buick channel is very strong in China with the all-new Regal and soon-to-be-launched LaCrosse. The Chevrolet Cruze and Cadillac SRX also will play important roles in taking advantage of China growth in the months and years ahead.

In the Latin America, Africa and Middle East region – a traditional Chevrolet stronghold – 2008 sales grew 3 percent compared with 2007. Chevrolet accounted for nearly 90 percent of GM's sales in the region and Brazil remains the second-largest volume market for Chevrolet. Also, GMC, Cadillac and Saab showed impressive annual percentage increases in their sales volume – up 24, 22 and 16 percent, respectively, compared with a year ago. GM sales in the LAAM region beat the expected industry performance, with more than 1.27 million vehicles sold.

A large, relatively young population with a low car-per-capita ratio, hold promise for the market in years to come. Several new Chevrolet product launches are on tap for 2009 including the Cruze, Malibu, Traverse and Camaro.

Chevrolet sales in Europe also contributed to the brand's solid 2008 results, growing 11 percent and breaking though the 500,000 vehicle mark for the first time. Chevrolet is also performing strongly in emerging markets. It remains the top-selling import brand in Russia. In addition, Opel sales in Russia increased by 49 percent, while Saab increased 68 percent in 2008 compared with a year ago. The Opel Insignia won the prestigious European Car of the Year Award – a first for Opel in 22 years and a strong statement about GM's global midsize vehicle architecture. Important launches for GM this year in the region include the Opel Insignia Sports Tourer and Astra; Chevrolet Cruze; and the new Saab 9-3X and 9-5.

A highlight of GM's North America regional performance was the all-new Chevrolet Malibu sedan that achieved the highest percentage gain in annual sales volume (39 percent) of any of the top-20 selling vehicles in the United States. While GM's total North America vehicle sales volume in 2008 declined 21 percent, there were a number of bright future product opportunities highlighted at the North America International Auto Show in Detroit this month. They included the new Chevrolet Camaro and second-generation Equinox; the second-generation Cadillac SRX and all-new CTS sport wagon; and the Buick LaCrosse.

Sales of Cadillac outside of the United States were supported by strong growth of the brand in Latin America, Africa and Middle East (up 22 percent).

Note: Global sales results are based on preliminary numbers reported and have been rounded.

General Motors Corp. (NYSE: GM), one of the world's largest automakers, was founded in 1908, and today manufactures cars and trucks in 34 countries. With global headquarters in Detroit, GM employs 252,000 people in every major region of the world, and sells and services vehicles in some 140 countries. In 2008, 8.35 million GM cars and trucks were sold globally under the following brands: Buick, Cadillac, Chevrolet, GMC, GM Daewoo, Holden, Hummer, Opel, Pontiac, Saab, Saturn, Vauxhall and Wuling. GM's OnStar subsidiary is the industry leader in vehicle safety, security and information services. More information on GM can be found at www.gm.com.

Note: In this press release and related comments by General Motors management, we use words like "expect," "anticipate," "estimate," "forecast," "objective," "plan," "goal" and similar expressions to identify forward-looking statements, representing our current judgment about possible future events. We believe these judgments are reasonable, but actual results may differ materially due to a variety of important factors. Among other items, such factors might include: our ability to comply with the requirements of our credit agreement with the U.S. Department of Treasury; the availability of funding for future loans under that credit agreement; our ability to execute the restructuring plans that we have disclosed, our ability to maintain adequate liquidity and financing sources and an appropriate level of debt; and changes in general economic conditions, market acceptance of our products; shortages of and price increases for fuel; significant changes in the competitive environment and the effect of competition on our markets, including on our pricing policies. GM's most recent annual report on Form 10-K and quarterly report on Form 10-Q provide information about these factors, which may be revised or supplemented in future reports to the SEC on Form 10-Q or 8-K.

# # #