Good morning! Welcome to The Morning Shift, your roundup of the auto news you crave, all in one place every weekday morning. Here are the important stories you need to know.
1sr Gear: Toyota And Nutonomy Halt Public Autonomous Car Testing, Too
After a crash with a self-driving Uber vehicle killed a pedestrian identified as 49-year-old Elaine Herzberg in Tempe, Arizona, the company said it would temporarily suspend testing of its autonomous cars in Tempe, Pittsburgh, San Francisco and Toronto. Toyota and self-driving startup Nutonomy are doing the same, according to reports from Automotive News and Bloomberg.
It was a Volvo SUV that struck Herzberg on Sunday, but according to Bloomberg, Volvo and Toyota have ties to Uber's autonomous testing and both stayed quiet in the first few days after the crash. According to Automotive News, Toyota said it will halt public testing in the U.S. "out of consideration for the human drivers who sit behind the wheel with the duty of overriding the autonomous system if something goes wrong." It wasn't due to concerns about technology, a Toyota spokesperson said. Take that as you wish.
From Automotive News:
The pause in testing affects vehicles operating in chauffeur mode — Toyota's in-house term for fully autonomous driving — a Toyota spokesman said Tuesday.

The decision suspends only operations in the U.S. and was ordered by the Toyota Research Institute, the Silicon Valley-based unit researching autonomous driving and robots. Toyota did not say when it would resume public road tests.

"We are intentionally waiting to see what the investigation reveals," Toyota spokesman Brian Lyons said of the ongoing police probe into Sunday night's Uber accident.

"We just want to give our drivers time to reflect about how important their jobs are."
G/O Media may get a commission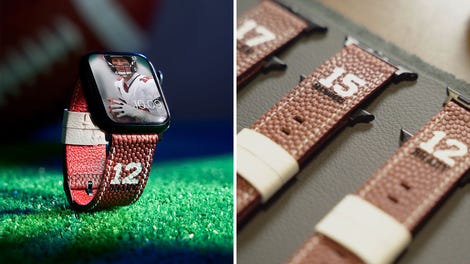 Official NFL PRODUCTS
Official NFL Apple Watch Bands
Automotive News reports that Toyota will keep testing autonomous cars in Japan.
Nutonomy will temporarily stop its public testing at the request of the City of Boston, according to Bloomberg. That was asked of Nutonomy and Optimus Ride, both of the companies testing self-driving technology in the city. Bloomberg reports that Boston Transportation Department commissioner Gina Fiandaca said the department will work "with both companies to review their safety procedures to ensure that each program can move forward."
2nd Gear: Arizona Doesn't Think Autonomous Cars Need More Regulation
Arizona isn't exactly of the same mindset as Boston. After the fatal Uber crash in their state, Reuters reports that Arizona officials don't think self-driving cars need tighter testing rules yet. According to Reuters, guidelines in Arizona are less strict than in states like California, well known for its autonomous testing.
Arizona Gov. Doug Ducey gushed over Uber coming to the state, and put out an executive order in 2015 to open Arizona up to autonomous testing. It set a path for companies to test self-driving vehicles without legislative interference, and Reuters reports that the governor's office claims more than 600 self-driving cars test on the state's roads now.
That attitude could explain why other Arizona officials don't seem think they should rush to decisions on this, according to Reuters:
On Tuesday, Arizona's director for policy and communications at the state's department of transportation, Kevin Biesty, said existing regulations were sufficient and that the state had no immediate plans to issue new rules.

"We believe we have enough in our laws right now to regulate automobiles," Biesty told Reuters. "There will be issues that the legislature will have to address in the future as these become more widespread."

During the early phase of self-driving vehicle testing, Arizona refrained from adding new restrictions on companies testing on state roads, Biesty said, adding they did not believe any new regulations would add to safety.

Biesty said his agency was waiting for federal safety regulators to conclude an investigation before drawing any conclusions. Arizona's self-driving vehicle oversight committee has not planned any meetings or actions, he said.
Reuters reports that Tempe Mayor Mark Mitchell said in a statement Tuesday that he supports Uber's halt on testing until the end of the investigation, and that his office said Mitchell hadn't asked other companies to stop their testing in the city. Cities are self-driving utopias, after all.
3rd Gear: More Diesel Probes
German prosecutors searched both Volkswagen and BMW recently in connection to the diesel scandals, with reports saying the VW search was in connection to a suspected underestimate of affected vehicles and that the BMW search was for potential defeat devices.
Here's the VW situation, from Reuters:
Prosecutors from the city of Braunschweig searched 13 offices at Volkswagen's (VW) headquarters in nearby Wolfsburg at the start of March, seizing documents and computer files that will now be reviewed, a spokesman for the prosecutor's office said, confirming a report by German magazine WirtschaftsWoche.

They were checking a statement issued by VW on Dec. 9, 2015 - about three months after its "dieselgate" scandal broke in the United States - over suspicions its contents were incorrect.

In that statement, VW said its own investigations found it had understated fuel consumption, and hence carbon dioxide (CO2) emissions, on no more than 36,000 vehicles.

That was much lower than its preliminary estimate of around 800,000 diesel and gasoline vehicles produced five weeks earlier, which caused VW to warn it could face a 2 billion euro ($2.5 billion) hit to profits from the disclosure.
And here's what's going on with BMW buildings in Germany and Austria over the suspected defeat devices to cheat emissions testing, according to Automotive News Europe:
Legal sources said the facility searched in Austria was BMW's engine plant in Steyr, where the company employs about 4,500 staff and assembles 6,000 engines a day.


Prosecutors said they had opened an investigation last month against unknown persons for suspected fraud.

"There is an early suspicion that BMW has used a test bench-related defeat device," prosecutors said in a statement.

Having long denied its cars are equipped with software designed to game emissions tests, BMW said the findings did not reveal a "targeted manipulation" of emissions cleaning.

The automaker said prosecutors were looking into "erroneously allocated" software in about 11,400 vehicles of the BMW 750d and BMW M550d models.
A perhaps worthwhile idea to consider would be to, maybe, um, try not to cheat emissions. Be yourself out there, automakers. Show us how much you pollute.
4th Gear: An Update On How The Takata Recall Is Going
Automotive News reports that at a Senate hearing on Tuesday, the independent person managing the NHTSA's Coordinated Remedy Program, John Buretta, said carmakers are doing a better job of repairing the potentially fatal Takata airbags that affect more than 100 million cars worldwide—you know, the ones multiple automakers knew were fatal.
They're doing better! Yeah!
Less than half of the affected airbags in the U.S. have been replaced, according to NHTSA numbers, but companies are using multiple communication methods to get car owners to come in for the recall: mobile repairs, door-to-door visits, websites and the like. Here's where a few different automakers are at with the recalls statistically, according to Automotive News:
Honda has completed repairs on 72 percent of recalled vehicles, according to the company and regulators.

Toyota's recall completion rate is 61 percent, while FCA has a 41 percent completion rate.

[Florida Sen. Bill] Nelson, who has frequently complained that repairs are being completed faster, criticized Ford for its lower percentage of fixed vehicles under recall, saying it was because NHTSA allowed the automaker to delay repairs on more than 1 million recalled vehicles.

NHTSA's website shows Ford's recall completion rate at 46 percent.
Do your Takata recalls.
5th Gear: BMW Risks Profit Growth To Invest In Electric Cars
BMW will risk profit growth this year for the first time in a decade in order to invest in electric vehicles and new car models, according to Bloomberg. The company expects deliveries and car revenue to go up slightly this year with all of those SUVs and crossovers, but the investments will be high too.
From Bloomberg:
Pretax profit will be "at least in line" with 2017, the Munich-based carmaker said Wednesday. That follows last year's 10 percent jump and would mark the first time in a decade that the figure hasn't gained. The world's second-biggest luxury carmaker, in the midst of a record rollout of new, high-end models, said it's still targeting an all-time high in earnings, and stuck to a long-held target range for its return on sales.

"Will this be a walk in the park in the coming year? No, it won't be," Chief Financial Officer Nicolas Peter said at a Munich press conference. "At the same time, I'm absolutely optimistic profitability will stay within that range."
Bloomberg also reports that BMW's goal is to "recapture the luxury-sales lead" from Mercedes-Benz by 2020. What an exciting battle to look forward to.
Reverse: A Woman Steps Up
According to the U.S. Department of Defense's website, not enough men were signing up for war in the spring of 1917. That's when regulations changed and Loretta Walsh stepped up, becoming the first woman to enlist in the military.
From the Department of Defense:
On March 19, 1917, Navy Secretary Josephus Daniels determined that women could be enrolled in the U.S. Naval Reserve Force and issued an order authorizing their enlistment.

A few days later, permission was granted to enlist one woman, with the idea that the enlistment of a woman might prompt young men to enlist.

Loretta Walsh was asked if she would enlist in the Naval Reserve Force as a chief yeoman. She immediately agreed. On March 21, 1917, after procuring and modifying a male chief petty officer's uniform, Loretta Walsh made history by enlisting in the Naval Reserve — the first woman to officially enlist in the military, and also the first female chief petty officer.
According to the website, thousands of women signed up soon after she did.
Neutral: Have You Done Your Takata Recall?
Have you done all of your recalls? Do them. We need you alive and well to read this website.