With Toyota lunching a fuel cell vehicle next March, Honda and the government jumped on board in order for Japan to become the leading force behind hydrogen power in the next 20-30 years.
After Toyota and Honda began leasing fuel cell-powered cars in Japan 12 years ago, the project came to a halt due to technological difficulties and bold predictions. But things have changed since then. And while Audi is working on synthetic fuels, the Japanese are betting on fuel cells big time.
Reuters reports that while Toyota's hydrogen car will cost about $68,600 when it goes on sale in Japan in March, both the carmakers and the government are determined to push prices down to an average of about $20,000 by 2025.
According to Ryuichiro Inoue, a professor at Tokyo City University and an expert on the auto industry, this is going to be a long-term investment:
Even after 10 years, fuel cell cars are likely to be less than 10 percent of the Japanese market. This isn't a strategy to talk about for the next 10 years, but for the next 20 to 30 years.
G/O Media may get a commission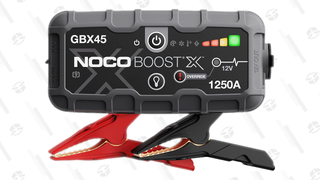 13% Off
Noco Boost X GBX75 Jump Starter
Toyota only expects tens of thousands of fuel cell cars to be sold annually a decade from now, but looking back at the first Prius, Managing Officer Satoshi Ogiso and Executive Vice-President Mitsuhisa Kato had this to say:
Unless you are willing to accept losses initially, it's not possible to increase sales.
This is the start of a long challenge to make hydrogen a standard feature in society and to make the fuel-cell vehicle an ordinary automobile
Brave statements indeed. With the Japanese premier of Toyota's car soon to be followed by US and European sales, the Japanese government pushing for ample subsidies and tax breaks while also aiming to create 100 hydrogen fuel stations by end-March 2016 in urban areas.
With Hyundai and Daimler also spending fortunes on hydrogen technology, can this be Japan's next big development that changes mobility forever?
If it's big in Japan, who knows? After all, who wouldn't want a zero emission vehicle with a massive range and quicker refills than what a battery powered car can ever offer?
Photo credit: Getty Images