Merely getting to the future will be painful, Trump tariffs mean jobs could be moved to Mexico, and unions could save some GM jobs. This is the Morning Shift for May 8, 2019.
1st Gear: This Is Why You Never Rest on Laurels
Toyota and Honda practically invented the idea of a mass-market pseudo-environmentally friendly car when they introduced the original Prius and Insight, respectively, two decades ago.
And they're still there, 20 years later. The Prius isn't wildly more efficient than it ever was. The Insight is now a hybrid version of the Honda Civic. Neither is particularly interesting, or notably efficient in a world where a hybrid option is a box to check off on a dealer order form for dozens of models across the industry. Honda and Toyota make plug-in hybrids, just like tons of companies make plug-in hybrids. The fully electric models they make are still compliance specials, nowhere near as advanced as anything from Tesla, let alone what may be coming down the pipe from Volkswagen.
Honda and Toyota, companies that make bread-and-butter cars for bread-and-butter people, focused too much on their bread-and-butter, and not enough on the out-there stuff that heralds the future. Not enough on stuff like the original Insight and Prius.
G/O Media may get a commission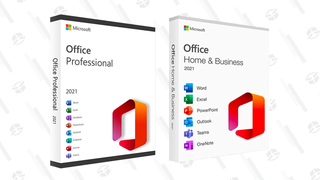 95% off
Cyber Monday - Lowest Price Ever - Microsoft Office Lifetime License
So now they're both cutting costs in an attempt to generate the cash necessary to develop that future, according to Reuters:
Toyota Motor Corp, the country's top automaker, said that higher costs to develop new technologies like connected cars was ramping up pressure to generate savings wherever possible, while Honda Motor Co said it would strip down its vehicle lineup to cut production costs.

"We still weren't able to improve our costs enough last year," Toyota CFO Koji Kobayashi told reporters, adding that mounting investment required for new technologies and other R&D costs was making cost-cutting efforts more challenging.

"We need to work to find new ways to reduce costs this year," he said, adding that penny pinching would apply to all aspects of the business, from producing lower-cost prototypes to limiting the number of pencils employees use at any given time.

Honda CEO Takahiro Hachigo said Japan's No. 3 automaker would cut the number of car model variations to a third of current offerings by 2025, reducing global production costs by 10 percent and redirecting those savings toward advanced research and development.

Honda and Toyota are so large that I'm not sure putting limits on the number of pencils used will really help develop cars with over 300 miles of electric range along with an international fast-charging network, but I guess it's the thought that counts.
2nd Gear: Welp, Those Tariffs Have Backfired
You would think having President Business would entail someone who understands the decisions businesses and capitalism make, but it's always been obvious to anyone not a complete rube that that's not the case. Trump's tariffs on goods from China, which are paid by American businesses and consumers (and not by China, as he loves to pull out of his own behind quite frequently) are backfiring spectacularly, as Scott Wine, the CEO of Polaris, explained to Bloomberg:
Tariffs, which Wine said have been just one of his top priorities over the last year, became his No. 1 after U.S. President Donald Trump tweeted early this week that the U.S. will boost levies on $200 billion worth of Chinese goods to 25 percent starting Friday.

Wine said that if Trump follows through on this threat, tariff costs for the maker of recreational vehicles, snowmobiles and boats would rise by $80 million to almost $200 million this year — an additional burden the company is unable to bear. The tariffs would make it more expensive to procure parts including wire harnesses, stampings and castings. Polaris makes about $450 million of profit a year, he said.

The end result of all these tariffs on the parts, made in China, that Polaris needs to produce its vehicles, is that American jobs look like they'll be moved to Mexico.
I know that seems like a bit of a leap, but here's Wine again:
"They do not pay tariffs, and I do," Wine said, calling it "lunacy" that Polaris will be penalized and foreign rivals including Valcourt, Quebec-based BRP will benefit. "I'm paying tariffs because I hired American workforce and I've invested in American plants. And I cannot stand for that."

What's happened here is that back in 2014, Polaris built a factory in Alabama to assemble snowmobiles and ATVs and whatnot. It hired 1,000 American workers for it, as well. But that meant that it had to source parts for that assembly from China to keep costs down.
But because the costs from China are way up, Polaris needs to cut costs elsewhere. Which means moving those American jobs down south, because Polaris itself refuses to absorb any more costs.
And that, my friends, is capitalism.
3rd Gear: Ford Takes Advantage of Elderly
No, Ford is going around running scams on old people, it's taking advantage of the fact that the elderly merely exist, and their numbers are only increasing due to the Baby Boomers finally aging out of society and advances in medicine. To that end, it's got a relatively new ambulette division, and is bringing it to a bunch of new cities, Automotive News reports:
The decision to expand GoRide Health comes several months after Ford shut down Chariot, the on-demand shuttle service it bought in 2016, because of low ridership.

Ford spun off GoRide Health into a separate limited liability company late last year. It operates about 60 Transit vans.

By year end, Ford plans to expand to Cincinnati, Cleveland and Columbus, Ohio, and Miami and operate thousands of rides per day. In 2020, it plans to expand to North Carolina, Louisiana, Texas and California.

I guess you go where the money is.
4th Gear: A GM Union Saves Some Jobs
A while back General Motors announced it was laying off thousands, and part of that was closing down its assembly plant in Oshawa, which had a part in building cars like the Buick Regal and Chevy Silverado. That immediately set off a series of labor actions, though the news went quiet as the company and Unifor, the union that represents the workers, negotiated.
But now we have the results of those negotiations, AN says:
Details of the agreement were not released, though increased stamping work appeared to be on the table during negotiations. Oshawa Assembly does stamping for GM's Detroit-Hamtramck assembly plant, which faces an unclear future with production due to cease in January 2020.

Unifor Local 222 President Colin James, when asked if Unifor had discussed stamping as a solution, told Automotive News Canada in April that there is "some work that would make sense just because we have the guys there and the stamping facility."

The agreement was not expected to save the jobs of all of the plant's 2,600 workers, as James conceded in April. 

It's better than nothing. Though we're still wondering why top-level GM executives aren't part of the thousands and thousands laid off. It's their fault, anyways, not the workers'.
5th Gear: But Ferrari Is Doing Well
Some among us like to crow about how the economy is doing really well, even as wage levels stagnate, and oh, did you not just see that thing just above about thousands of workers getting laid off while General Motors executives, a large portion of which have spent their entire careers making decisions at the company, are totally fine?
In an entirely unrelated note, the one car company doing extremely well is Ferrari, the Detroit News reports:
Ferrari NV served up more proof the Italian supercar maker can push through headwinds that have beset much of the auto industry, delivering a rise in first-quarter profit that beat the highest estimate.

The brand, selling sleek and powerful cars sought after by the megarich, has long sought a spot next to other luxury goods makers such as Hermes International or Prada Spa. On Tuesday, it delivered a 14 percent jump in adjusted earnings earnings before interest, taxes, depreciation and amortization.

Growth in deliveries from the entry-level Portofino model helped to offset the end of the sales of the $2.1 million LaFerrari Aperta. The shares rose the most in three months.

We covered this a bit last night, but it bears repeating.
We're all making money in this economy, you see, as long as we've already got money to make.
Robert W. Thomson of Adelphi, Middlesex, England was issued the first US patent for "Rubber Tyres" (No. 5104). His "improvement in carriage wheels" was the application of elastic bearings around the rims of carriage wheels. This was based on his British patent, issued 10 Jun 1846 (No. 10,990).

Neutral: Why Did Honda and Toyota End Up So Far Behind?
If you have any inside information, now is the time to spill the tea. We don't know the real names of people in our comments, so go nuts.