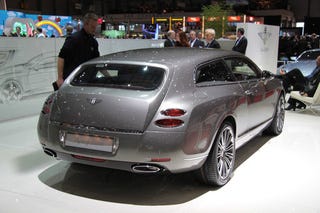 The Bentley Continental Flying Star wasn't built by Bentley, but rather Italian coachbuilder Touring Superleggera for a customer with exceptionally good taste and a need to haul golf clubs at 200 MPH.
Based on the Bentley Continental GTC convertible because of its re-inforced chassis and lower body, Touring Superlegerra grafted on the roof, elongated the doors and fitted a new electric-opening hatch. The rear seats were retained, but fold down to increase load space. The company says its owner will use the three-door 560 HP W12 to "join hunting parties" and go golfing.
After this first customer, Touring Superleggera plans to produce 20 more cars at the totally reasonable sum of $800,000. Don't want to have the same car as the Sheikh next door? They'll basically build anything you want.
Photo Credit: Máté Petrány