Many supercars are carbon wonders, dedicated to providing nothing but the best possible lap time. The Spyker C8 Preliator will certainly set your hair aflame if you let it, but it serves another purpose. It exists to bring aesthetic beauty and joy to the world. Take a tour of it now with Victor Muller, the man who created it.

Spyker seemed to be on the brink of death just over a year ago, and its exposed aluminum jewel boxes would follow it into the great beyond. Miraculously – and somewhat mysteriously – it survived, and we're glad it did.
We had an opportunity to go not only around, but in the car as well, with Muller, the CEO of Spyker, in a video we streamed live on Facebook from the New York Auto Show.
It suddenly became clear to us that Spyker does things in a way that no other car company does, but in a way every car company should.
Of the 31 examples it has sold, 29 of them have come with a three-pedal manual transmission. Each switch—even the interior light switches—are milled from solid blocks of aluminum, and cost the company (the company, not the customer) $50 each.
G/O Media may get a commission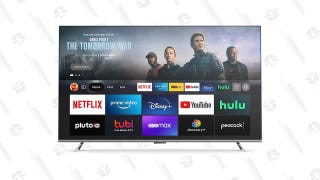 Save 46%
Fire TV 55" Omni Series 4K UHD Smart TV
It's nearly impossible to explain how badly I want to be back in that cockpit right now. It's nearly impossible to explain how good everything looks and feels, right in front of you. It's nearly impossible to imagine what it would be like to physically jump into the most unfathomably gorgeous painting there is, and yet now I can do it. Everything was heavenly, from those switches, to the instruments, to, of course, that perfect shifter which moved with a re-assuring clunk.
Oh, and speaking of manuals—that shifter, with the exposed gear linkage, feels even more euphoric than you think it does. It is that good. It's even better than any traditional gated manual.
The king of manuals is dead. Long live the king.