Holy crap, 20th Century Fox is making a movie out of Go Like Hell, the story of how Ford beat Ferrari at Le Mans. Also, some possibly-insane guy named Tom Cruise is probably going to play Carroll Shelby.
Yes, that man who likes jumping on couches as well as driving through smoke while looking constipated will be playing the infamous hammer-wielding chicken farmer, overalls-wearer, lawsuit-maker, and noted Texan Carroll Shelby in the movie adaptation of Go Like Hell.
Wait, they're making a Go Like Hell movie? Well, The Wrap reports that multiple sources within 20th Century Fox say the movie is going to happen, despite no formal deals being struck with Cruise or director Joseph Kosinski. Cruise and Kosinski released 'Oblivion' earlier this year with a gross of $286 million worldwide, The Wrappoints out. Edmunds expects filming next year for a 2015 release.
G/O Media may get a commission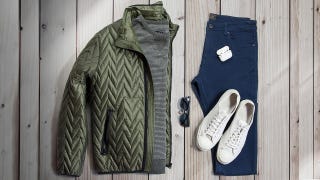 60% off
Jachs NY Fall Sale 60% Off
And what is Go Like Hell? That's A.J. Baime's book on the story of Henry "The Deuce" Ford II getting snubbed out of a deal to buy Ferrari, then writing a blank check to get a multinational effort together to crush old man Enzo at Le Mans. Baime wrote his book on a number of interviews with the people involved in the story, including Shelby himself.
It's hard to understand how big of a deal Ford versus Ferrari was back int he 1960s, with coverage around the world and the highest attendance rates for the 24 Hours of Le Mans in its history. The story itself is fantastic, with great drama for both sides, back-and-forth victories, clear heroes, and tragic deaths.
It remains to be seen if they will get the rights to film at Le Mans (and how they'll do it), and who will play the most tragic hero of all in the story, Ken Miles.
Photo Credit: AP (Shelby, receiving his trophy for winning the '59 Le Mans 24hr), Paramount Pictures (Cruise, in Days of Thunder)