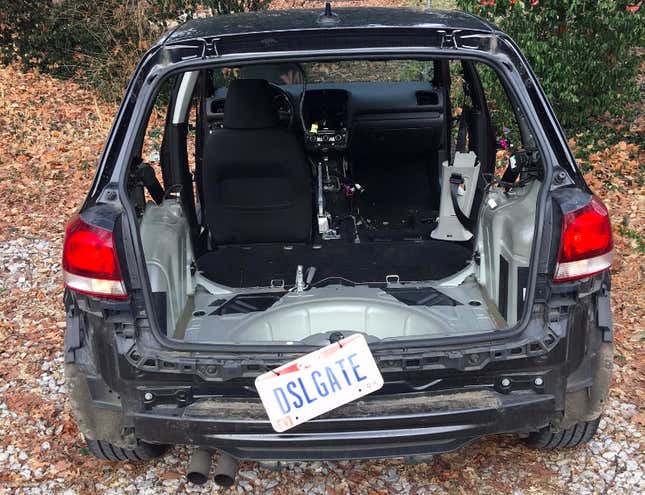 Joe Mayer, a Cincinnati car salesman, says he's turning in his 2010 Volkswagen Golf TDI as part of VW's court-ordered buyback, but not before stripping the car down to the bone, removing the doors, seats, hood, bumpers, hatch and a big portion of the interior. Just look at this naked carcass he's selling back to VW!
2024 Nissan Z NISMO | Jalopnik Reviews
We've heard about some VW diesel owners removing fascias and little interior pieces before turning in their vehicles for VW's buyback, but Mayer is—and these are his own words—"[taking] the whole partout thing a bit to the extreme."
I called him up to see how serious he really is about trying to turn this stripped-down hatch in to the dealership, and he told me this isn't a joke, and that he's read the court documents and knows that the settlement terms only specify that the car has to be "operable," i.e. that it can be driven under its own power.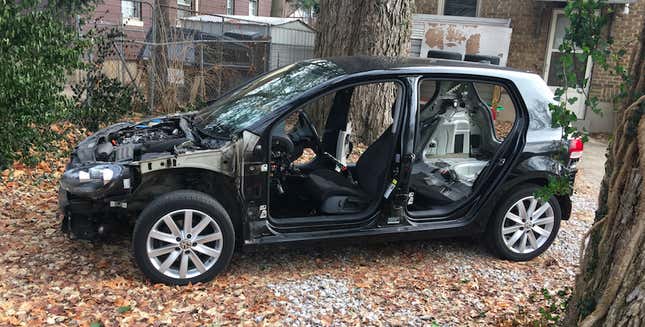 Mayer bought his little diesel manual hatchback in the fall of 2015, just a few weeks before Volkswagen's diesel scandal made headlines in September. In fact, he says he hadn't even plated the car by the time the scandal broke, so when the time came to go to the DMV, he chose the "DSLGATE" license plate you see above.
After the settlement terms came out, and Mayer read that the condition of the car doesn't affect the payout, he decided to remove a bunch of parts from his Golf, figuring "Why not make a bit of extra money?"
So he drove to a buddy's house this past Sunday, drank some beer, ate some pizza, and ripped a bunch of parts off his Golf without a care in the world if something broke.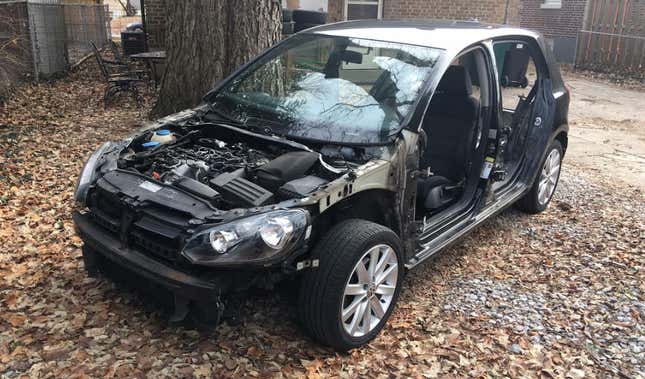 Mayer went all out stripping this thing, saying "Anything that could come off pretty much came off," except for the dashboard, because that would be a pain in the butt, and the rearview mirror, because he still has to drive the thing, and nobody's going to buy a used rearview mirror.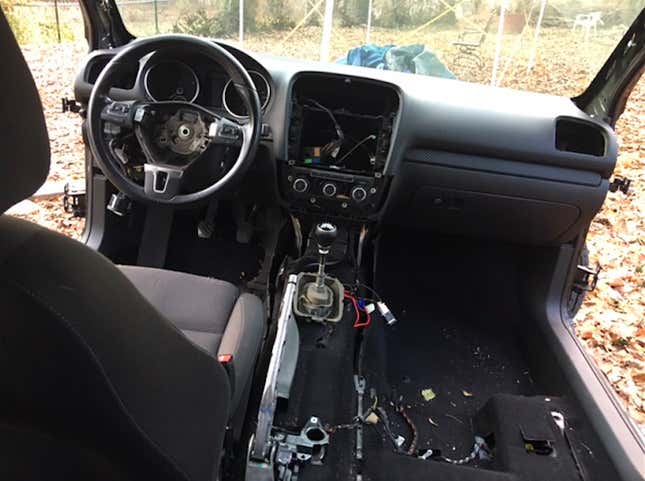 He said it was a "surprising amount of fun" removing airbags, doors, fenders, the engine cover, the shifter cover, bumpers, a bumper support, the radio, seats, interior trim pieces (he even removed the bezels for the AC vents!), the center console, the hatch, and a bunch more.
He says he'll "also be replacing the driver's seat with a milk crate," and that the headlights and taillights are "hanging on by one or two bolts," as he plans to drive within a block of the dealership, quickly take off the lights, and putt his little hatchback skeleton into the service center.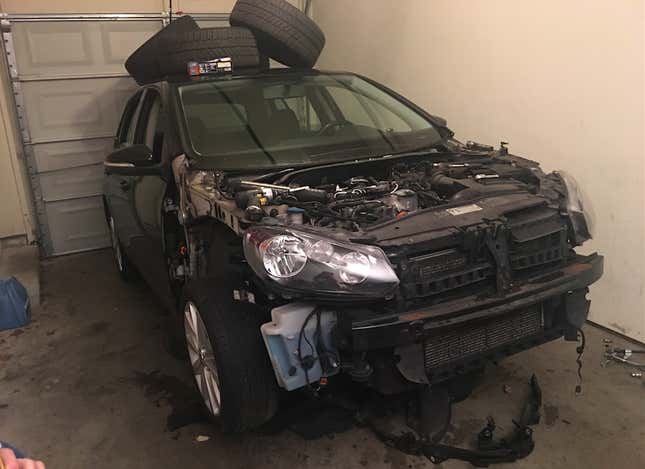 I asked him if he was concerned about VW not taking the car, and he told me he talked with three VW settlement representatives over the phone, asking them if removing the doors, hatch, hood, seats and interior bits would affect the buyback amount, and they told him something to the effect of "I'm not telling you you're allowed to, but the only thing required is that its drivable and operable."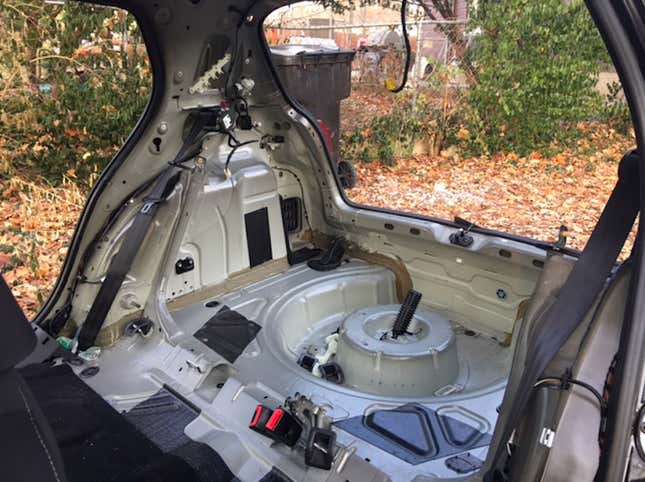 Many people will think of Mayer's actions as a bit petty, while others will think it's fine, since Volkswagen may be recycling these cars anyway, and since VW was the one who betrayed its customers.
I'm not sure what to think; on one hand, I can imagine how fun it would be to strip a car without a care in the world, but on the other hand, if VW does find a fix for these cars, and wants to sell them, stripping cars could hurt the company and, more importantly, send a car into a junkyard unnecessarily—a car that has the potential to look really good:
Mayer, a self-proclaimed car-lover and Jalopnik reader, says he hopes to buy a manual Toyota FJ Cruiser after turning in his Golf tomorrow. That is, if the dealership accepts it. We'll find out soon enough.
Some more images of the heap: