If there is ever a car that epitomized everything that's right with this world, it would be this 1967 Volkswagen Type 3 Fastback rally car. It is my spirit animal, and it calls to me.
Some of you may recall that I've raced a Type-4-engined Volkswagen Type 3 Fastback in the 24 Hours of LeMons, painted up like my purple Puffalump bunny rabbit. I loved it.
G/O Media may get a commission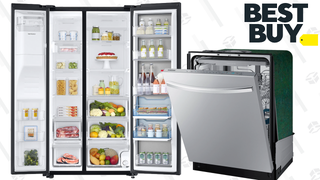 Up to 50% off
Best Buy - Samsung Major Appliance Sale
It was a rough example, but it was hilarious on pavement. Having the engine over the drive wheels gave it great grip, and allowed you to get on the gas quicker out of corners.
It was also hilarious on dirt. The rump end swings around like a bit like a giant pendulum, making sweet drifts easy to initiate, even for someone with limited experience in the loose stuff like me.
It was like a 911, but more hilarious. Floaty. Volkswageny.
I've needed one of my own ever since.
Up for sale on eBay right now, this car is its cleaner, more professionally done counterpart. It's real, and it's spectacular.
If it's anything like our Bunnywagen, it won't be the fastest car by any means, but it's reliable, hard to break and easy to fix. There isn't a whole class devoted to bone-stock Beetles in the Baja for nothin'.
Like my favorite LeMons car of all time, this VW has had its smaller, flatter Type 3 mill swapped for a Type 4 motor. Let's be honest, you weren't going to put any luggage back there anyway, and you've got a cavernous frunk in these if you really need some storage space.
This Type 4 powerplant has been significantly refreshed, pumping out 170 hp from 2,600cc of pure, flat-four, aircooled madness. Our car was a hoot with just 80 or so horsepower on a good day. This? This is cuckoo for Coco Bunnies right here.
An air filter has been added to the carbs to protect the engine from sucking in too much Baja dust, and the transmission has been updated to a close-ratio Berg five-speed unit as opposed to the original four-on-the-floor. A ZF limited-slip helps ensure it won't have as much one-legged wheel hop as our LeMon, too.
This ultimate Type 3 is street legal and currently registered in California, because rally car.
"Eligible for the NORRA Mexican 1000 Rally, Hemming's Great Race, and the Endurance Rally Association's long distance events." says the listing. Read: "race me."
This car has been racing since the early days of the Baja, originally campaigned in 1968 and 1969 by Don Pike. It has been mostly retired since 2002 except for the occasional rallycross, and I can tell that this gorgeous classic longs for its natural habitat. Just look at this adorable VW—it's pining to race again.
You'll likely need to update some of the safety items in this car to get it legal to race, but it would be worth it. My spirit animal must roam free through roads, valleys, splashes and crests. It cannot be contained in a life of hard parkin' servitude.
I've never encountered a car for sale on the Internet that I've longed for quite as much as this, the spirit of vintage Volkswagen rallying incarnate.
I dream of tackling the Baja in a Volkswagen someday, with Class 11's bone stock Beetles calling my name. This, however, feels more at home. It's bigger. It's shaped more like a giant killer rabbit. It's everything our LeMon wanted to be. It's what I need.
Buy it now for $15,000 so I don't, and you'll be my hero forever.
(I wonder if he'd take my utterly babied Lancer in trade?)
All photos belong to the original listing on eBay.
(H/T Nadja Pollard/Bring a Trailer)