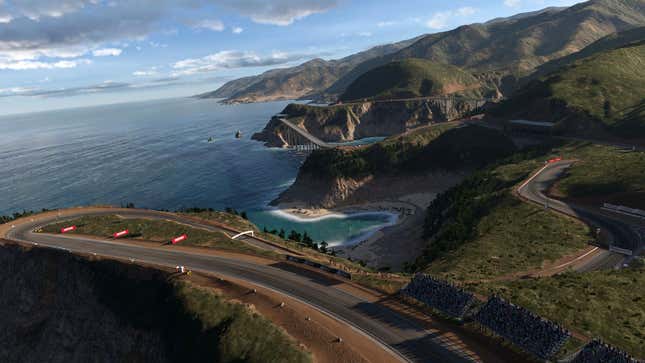 If you've been playing Gran Turismo since the beginning, you likely know Grand Valley Speedway like the back of your hand. That's why it's such a big deal that it's arrived in Gran Turismo 7 after an absence in GT Sport. But it's not just an eagerness to return to the track that got fans buzzing about the circuit's big comeback. For GT7, developer Polyphony Digital completely transformed the scenery around Grand Valley, recontextualizing it as a Greatest Hits of sorts alongside the California coastline.

It's proven a controversial move, with many fans preferring the original environment because, well, it came first and nostalgia's hard to beat. A new video from MotoGamesTV, YouTube's go-to source for side-by-side racing-game footage, has put this transformation into perspective, allowing us to compare the two renditions corner by corner.

Even though you don't have to look hard to see the stylistic differences, what strikes me about Grand Valley Highway-1, as it's now known, is what little has changed past what your eyes can see. OK, so there are a few reprofiled sections of track. The Turn 5 hairpin is more bowed out now, and the entire last sector has been shifted, though not completely scrapped. This has resulted in a longer bridge back straight, followed by a more compact right-hander taking the place of that long, long bend under the tunnel that never seemed to end.
However, the overall scale seemingly hasn't changed at all, so a lap around Grand Valley in GT7 doesn't take appreciably more or less time than it used to. Also, I have to say — as big a fan of retro GT as I am, the new track looks majestic and the old one was decidedly plain. For starters it had at least one too many tunnels, which really made sighting in Sector 2 harder than it needed to be. Plus, from GT4 onward, the towering mountains and iconic big blue bridge were reduced in size, while the jumbotron outside the first corner was removed entirely.
I think this makeover was a needed one, and the decision to couch it firmly in California was a thoughtful touch. At it's core, though, rest assured — this is the same Grand Valley you knew, loved and lapped for two hours out of desperation to randomly win Ayrton Senna's MP4/5B in Gran Turismo 3, instead of the other three cars you didn't want nearly as much. Yeah, I'm still sour about that, too.