You may not know what Accumoto Motorsport is. But you'll want to. And one day, I have a feeling everyone who loves Porsches will know the work they do.
Chances are you know what Singer Vehicle Design is. That's the California customizer that takes older 911s and restores and "re-imagines" them with new bodywork, bespoke interiors, upgraded engines and much, much more, until they become these sort of idealized super 911s—"greatest-hits Porsches," as Road & Track so perfectly put it when they got their hands on one.
Singer's 911s are as gorgeous as they are expensive. The one that magazine tested recently cost $575,000 in modifications alone. Most are at least north of $390,000.
Consider it a symptom of the now-mythical status of air-cooled 911s. These cars have skyrocketed in value and popularity in recent years. Collectors are gobbling them up at alarming rates. As Porsche makes their new 911s bigger and more high tech and now almost entirely turbocharged, the original has become exalted. And shops like Singer have seized the moment to make them into these ultimate, high-performance dream machines.
Singer is not alone in this. There are others, like PS AutoArt in the United Kingdom and Autoaktiv Motorsport in Germany.
G/O Media may get a commission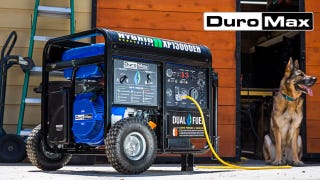 Black Friday Sale
DuroMax Generator Sale
And from an unlikely place—Wisconsin, right in the heartland of America—comes Accumoto. Their 911s have a different mission than the rest: dominating your next track day.
"We're a race shop first," owner Mark White told me by phone from his headquarters in the Madison suburb of Waunakee.
Accumoto started life as a shop that did race car development for Audi and Volkswagen and others, all while White himself started racing Porsches at the club level before moving into IMSA Lights and the Rolex Grand-Am GTs. He's also raced with Motor Trend hot shoe and ace driver Randy Pobst in the VLN Endurance Championship.
But White said success in racing didn't always translate to success for the shop, so as he too went back to the club level—which he said was more fun to race in anyway—Accumoto switched gears and began to focus on building race-prepped, air-cooled 911s for club racers in the Stock E class.
"We inadvertently built a brand," White said, gaining momentum and acclaim by building more than a dozen race-ready, old-school 911s with vintage liveries. Then they got a crazy idea: what if they built a street car?
That's what this white 911 is. Using the knowledge they accrued from racing, Accumoto set out with a goal: "the redemption of the driving experience." Putting the emphasis on driving, especially when it comes to on-track excellence, is what sets them apart from other air-cooled 911 customizers. While they are street cars, they are also designed for track use.
"I want a guy to go out and feel like he's wringing the car's neck, and to do that without ever having to dip his toes into asshole levels of speed," White said. Call it the perfected form of "slow car fast" syndrome, but in a world of extreme factory performance that can't be accessed on the street and only barely so on a track, Accumoto's goal was pure enjoyment.
So far they've built four road cars. This white one is the first, number 0000, and I got my hands on it thanks to Jeff Mosing.
Mosing is an IMSA Continental and Pro SCCA race car driver, a car collector and the owner of Mosing Motorcars. Mosing keeps this car and several of his cars at Petrol Lounge here in Austin, a place I can only describe as Texas' best candy store for speed freaks. (Any storage facility that has a Ferrari F40 and a pristine lime green Mazda RX-3 is a good place to be.)

Mosing also calls himself "a Porsche nut." He has a 996 GT2 and a 918 Spyder, among others, and when he got the chance to own Accumoto's first example he didn't hesitate. "They can get on track and bash it out with the best of them," Mosing said. Which is good, because he's a racer and this is the kind of old 911 he wanted.
This 911's name is Dirk, by the way. And that name comes from exactly where you think it does.
"He's big and white and has a huge package," Mosing told me.
Dirk started life as a 1980 911 SC. From there he was stripped of everything to a bare shell to cut down on weight and given a custom interior, a roll cage, a short-ratio gearbox, bespoke bumpers, Fuchs-inspired wheels made just for them, a tuned suspension and much more.

There's the custom fuel-filler cap. The perforated gear shift knob to save weight. The leather bag of tools under the hood. The retro door handles. One Accumoto 911 takes as much as a year and thousands of man-hours to build.
But don't let the beauty make you forget this is a track-capable street car. There is no power steering. There is no air conditioning. Under the rear hood Dirk is packing the SC's original 3.0-liter flat-six, here bored out to 3.2 liters and twin-plugged to reach about 300 naturally aspirated horsepower. Not bad for a car that weighs about 2,300 pounds.
"There was no money spent that wasn't toward making it a driver's car," White told me.
And then there's the heritage aspect of it. If you know 911s and you walk around Dirk, as people did at the Rennsport Reunion this year, and you'll notice racing seats from a 996 GT3 made to look retro; a 917-style steering wheel; a 997 GT3 roll hoop; 964 RS America-style pull-strap doors; you'll find bits and pieces from 40 years of Porsche history.
"I wanted the view Vic Elford had, that Hurley Haywood had," White said.
The result is glorious and beautiful and, if you have an eye for little details on sports cars, almost arousing.

I regret to inform you I didn't get to test Dirk in his natural environment, the track. (They don't just let me out on Circuit of the Americas anytime I want, much to my chagrin.) Instead Mosing and I wrung him out on a sunny afternoon on some good Austin backroads.
Even driving this car as conservatively I was—it's not mine, it's one of a handful in existence, and also a handful to drive—I can tell you it's quick, it's visceral, it depends entirely on the skill of its driver, and it holds nothing back.
If you want the clutch or the brake, you stand on those pedals with your full weight, and like any good classic 911, you have seemingly five inches between your face and the windshield. The gear shifter is short and tight, and moving it is like fitting a pipe into some kind of industrial machine. It's best when driven hard and angry.
Rev the engine and the flat six barks in your ear as if it were a German Army drill sergeant. That sound, that incredible, fearsome, penetrating sound, unburdened hear by insulation and deadening material, is a tremendous part of the thrill of taking the flat six all the way to redline before snapping off a fast gear change ahead of a corner. Each time we stopped to take photos was a dagger through my heart. I quickly got addicted to this machine. My body and my soul demanded more.
And yet in the corners it was not the tail-happy monster I feared it would be—at least, when you're not driving 10/10ths it isn't. Much of the time it's very balanced, very predictable. It will do what you tell it to do, but it assumes you know what you want. It's not going to help you along the way.
You want analog driving? This is analog driving.
This becomes readily apparent when Mosing asks to have his car back and slid back into the passenger seat. A talented driver who knows this machine, and Porsches in general, he had that flat six screaming a symphony of rage and the rear end out in a nice controlled drift around a corner. I can only dream of what this car can do on a race track where it was meant to be.
This, White told me, was the ultimate goal of the Accumoto 911: the pure enjoyment of driving. I'd say they nailed it.
Like Singers, these 911s aren't cheap—between $300,000 and $350,000, White told me. It's more a price on craftsmanship than anything else.
For now, Accumoto wants to keep their slow but steady pace of production, making sure each car meets their exacting standards and making sure customers understand mechanical works of art don't happen overnight.
"I don't want to turn cars out just to turn them out," White said. "I want us to make cars we're extremely proud of."
Cars, White said, for drivers who wear the rock chips on their hoods like a badge of honor. I can get behind that idea.
All photos credit Kurt Bradley
Clarification: An earlier version of this story said Jeff Mosing owns Petrol Lounge. He owns the building, not the business itself.
---
Contact the author at patrick@jalopnik.com.