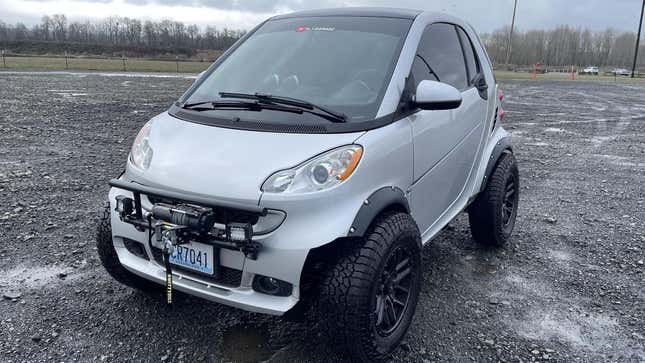 The Smart ForTwo was never cool in the same way the Porsche 911 is cool, but you've got to respect the decision to build a rear-engine, rear-wheel-drive city car that may as well be a Vespa with a roof. And if you live in a dense urban area with limited parking but insist on owning a car, it's a solid, practical choice. An off-road ForTwo? That makes no sense. It's just wrong. And yet, we can't help but love the idea.
This particular off-road Smart ForTwo is currently for sale on Cars & Bids and has a three-inch lift kit, 15-inch wheels, all-terrain tires, flared wheel arches, and a bull bar with a winch. Oh, and it's also the Brabus version of the ForTwo, which means it has a sportier exhaust than the regular car. If you're looking for the smallest off-roader that you can find, here you go. It's probably the perfect car for you.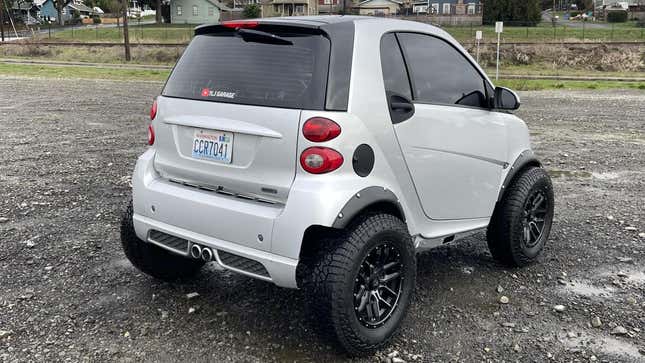 But really, the best thing about this car is how completely unnecessary it is. No one actually needs a rear-wheel drive off-roader that's less than nine feet long. Doing this to a Smart car is just wrong but in the best way possible. It's ridiculous. It's silly. Who wouldn't want to drive it if they were given the chance? I'd take the next week off and fly across the country immediately if a friend told me they bought this car and offered me the chance to get behind the wheel.
It's just fun. Certainly not fun in the way a Porsche 911 is fun. The entire concept is absurd, which automatically makes it fantastic. We love to see it, and we hope whoever wins the auction has a total blast owning such a weird, unnecessary off-roader. They deserve it.