About an hour in I called it quits. I was fairly sure that I knew what most of this car was, but I gave up any hope that I might find out its exact history from googling around. This mystery car, looking like a mid-engine Chevrolet Corvette prototype that never was, had stumped me. At least it had stumped everyone else, too. (UPDATE: We have a lead.)
Reddit user mikalanjavin posted this up on the popular r/Cars today with the captivating post "Potential prototype? What car did I see?"
He went on to clarify that, though it was on Iowa plates, he spotted it in a California retirement community. "Says EXP in a few locations," he added. "I stumbled up on this car and I have no idea what it is. Any ideas? Chevrolet Corvette Concept?"
G/O Media may get a commission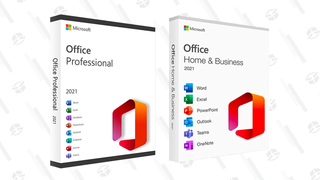 89% off
Microsoft Office Professional 2021 Lifetime License
Certain things were easy enough to spot: those are Pontiac Firebird taillights and that's an aftermarket Astrali steering wheel.
Other parts were less obvious, though that didn't stop the collective automotive superbrain of online commenters. Reddit user ilikesixtiesthings noted that this car has a lot of 1980s Corvette in it:
Firstly, this thing is C4 Corvette based. Uses C4 Corvette door panels and more importantly, a C4 Corvette roof and rear glass hatch. I have no clue what's going on mechanically with this think but it is no way Fiero-based due to size. Look how wide this thing is, Fieros are dinky. it also uses 3rd-Gen Firebird tail-lights and what appears to be a Cadillac Allante rear bumper. I like it, looks like a 1990 Chevrolet NSX.

Indeed, though there's a lot of Corvette in this car, it looks like it has a Chevy V8 mounted behind the driver, seen right under that Corvette rear hatch!

Those are Mickey Thompson valve covers, but that doesn't exactly help us with anything.
Nor does this strange badge on the side give us any real clue. It looks more handmade than anything else.
The dashboard, I will also note, doesn't match a C4 Corvette, nor does it match the Pontiac Fiero, the typical base for kit cars like this ought to be. The closest match I could find is a first-generation AW11 Toyota MR-2, but even that's not perfect.
While furiously googling different combinations of "small block chevy ferrari corvette kit car" I found this CorvetteForum post in which a kit car owner asks for some help with engine tuning and ends up explaining that the kit car itself is based on a fully custom Howe racing chassis with everything else being custom.
That's when I gave up hope that I might discover the car being a "Jowington Sports EXP" or a "Rarecar Nameijustmadeup XR-4." It could well be a one-off, made by one enthusiast and cherished with little else of an identity.
Nobody else on Jalopnik's staff was able to figure much else out about the car, only ID'ing its piecemeal parts.

Maybe you, out there, know this individual car's history. Maybe you know the person who built it, or remember when it drove through your town. Let us know. Please. It's tearing me apart.
Update, 12 a.m. Just after midnight, reader Derek Whitacre chimed in to say he knows someone who knows the owner/builder! A "master fabricator" who built this by hand from a 1969 Corvette using parts from, among other things, Lamborghini:
Little would make me happier than reconnecting with this car and getting it put back to perfect order. If you know the owner, please get in touch.