While cutting grass on Sunday, the old, rusting and generally terrible weed eater my husband and I got as a housewarming gift slash "giving this to you is better than throwing it away" yard tool took three tries to not cannibalize its own line. It was 101 degrees, and I was about to throw it at a fence and go buy a new one.

"You've got the Datsun 280Z of weed eaters and you want to go trade it for a new Camry," my husband said in response to my frustration, making the worst yet most accurate analogy I've heard in a long time. "You want to trade a classic for something that's new, reliable and boring. Shame on you."
That tormented me all the way through this morning until I read about a Minnesota dealer that makes over Chevy Silverados with decals and paint jobs inspired by Chevy pickups from the 1970s and '80s. It's a classic look that comes with non-classic parts so a buyer doesn't have to work hard to keep it running, and comes without having to wonder whether the thing is going to start or not—hopefully.
(It's also for the opposite of most of us on Jalopnik, who want the actual classics that likely sat outside, abandoned, for years, don't run, and have layers of rust that even the exquisite rattle-can paint job can't cover.)

G/O Media may get a commission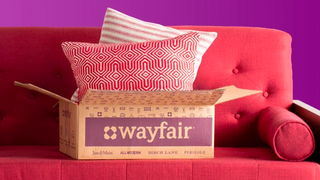 Big deals
Wayfair Surplus Sale
The dealership is Blake Greenfield Chevrolet Buick in Minnesota, which Car and Driver reports got the idea for all of this when the dealer accepted a trade-in truck that looked like it would be a hard resale:

When Blake Greenfield took a green, 70,000-mile, 2014 Silverado in trade at his small Chevrolet dealership in Wells, Minnesota, his salesmen razzed him that the truck would be tough to move. The color wasn't particularly desirable in the area surrounding the town of fewer than 2500 residents, and Greenfield figured they were right. Then he thought of two things: his own surname, and a 1973 Chevy truck that his father had owned when Blake was a kid growing up in Iowa.

[...] His cousin Ray owns a vinyl shop and wound up spending hours looking at trucks, taking measurements from photos of old two-tone "Squarebody" C/K Chevy pickups of the '70s and '80s, and figuring out how the classic scheme might apply to a modern Silverado.
In addition to the classic vinyl wrap and decals on the truck, Car and Driver reports that Greenfield added a lift kit, chrome accents and wheels that looked more period correct. It's like painting a new Ford GT in 1960s Le Mans colors, except a lot less expensive and a lot less niche.
Greenfield intended for it to be a promotional truck when the conversion was done in December, but told Car and Driver he started getting calls from all over the U.S. after someone posted photos of the truck online. Since then, the dealer has done at least 13 more like it for people in at least seven different states, with both vinyl wraps and actual paint jobs on the trucks.

This all truly gives me hope in my personal life. Maybe if I paint the new weed eater I'm still planning to go buy the same color as our old one—our classic one, I should say—my husband will never notice.
It's a tribute, not a replacement, dear.