In the crowded metropolis of Hong Kong lives a man who knows more about off-road vehicles than possibly anyone else on earth. He has raced the Dakar Rally, torn apart priceless vehicles just to see how they work, written a book called The 4x4 Bible, and taught off-roading skills to locals. His name is Victor Ma, and while you may not have heard of him before, he is the King of Off-Roaders.

Type his name into Google and you'll find the mysterious collector mentioned dozens of times in 4x4-related articles and forum threads, but you'll be hard-pressed to find anything more.
Despite being widely renowned in China as the foremost authority on all things off-road, Ma has remained largely a mystery to the western world. Until now.
Meeting The King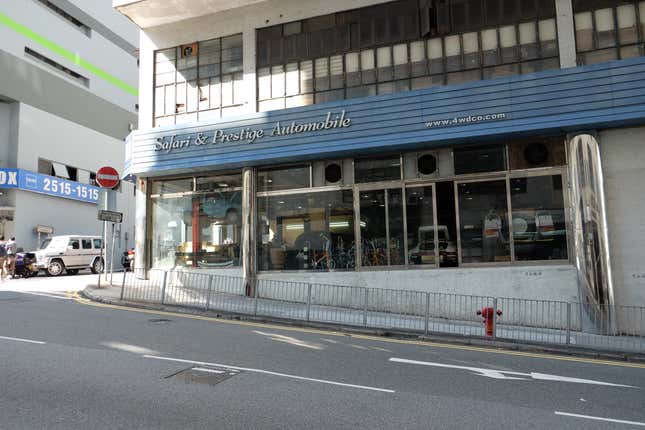 Last year, as my brother Mike walked to the subway, he spotted some cool vehicles in the window of a shop in Fo Tan, an industrial area in Hong Kong. Curious, he popped in and met a man whose enthusiasm for four-wheel drives impressed Mike so much that when I visited over Christmas, Mike told me I absolutely had to stop by. So I did.
That man was Victor Ma. His shop is enormous compared to most in Hong Kong, though it looks tiny in the shadows of buildings that seem to span high into infinity. From the sidewalk, the windows gave an early glimpse of the priceless gems that lay within; a Lamborghini LM002, one of only about 300 ever built, a Porsche 930 turbo sat in the corner, a retro Fiat 500 rested on a hoist, and a bunch of old-school banana bikes and a familiar black shadow filled in the gap.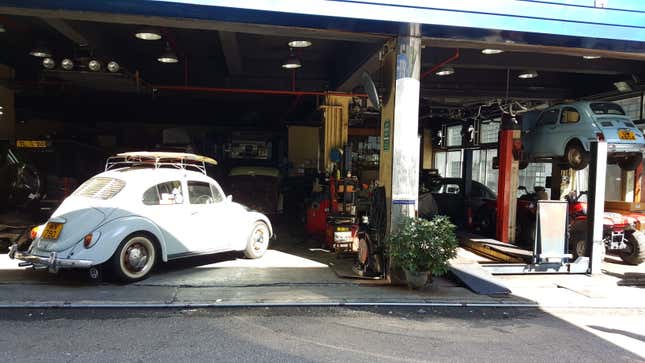 Modestly dressed, with a confident stride and a very deliberate way of speaking (to make sure his English conveys what he wants to say), Victor immediately showed an electrifying enthusiasm for our visit. We were there to talk with him about 4x4s, and it was obvious from the moment I met him, that there was nothing on earth he'd rather do.
Though I was keen to have a look at that black shadow I had seen in the window, Victor didn't immediately take us into his main lair. Instead, after a short chat, he walked us to his parking garage across the street, where Mike and I saw a handful of genuine off-road legends.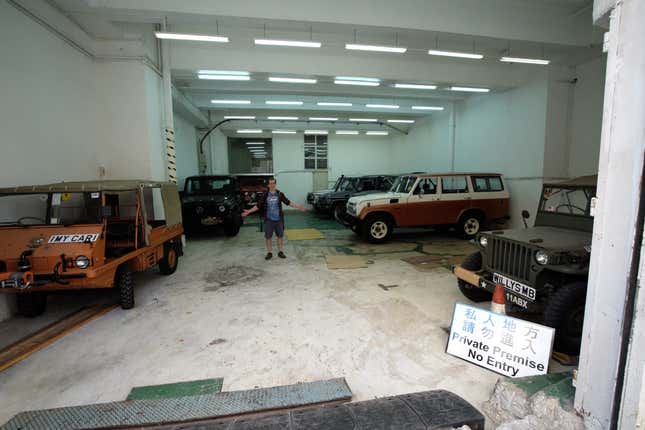 Among the gems (which were all right-hand drive): a couple of Mercedes G-Wagons, a Jeep CJ-7, a Toyota J50 Land Cruiser, a World War II Ford GPW and a Haflinger, the latter of which is one of the most interesting off-roaders ever.
It was assembled in Austria after World War II, and sports a rear air-cooled flat twin, portal front and rear swing axles, locking differentials, and a wild topless, cabover design. Victor says it may be one of the best 4x4s ever built, and though that's obviously hard to prove, I'm inclined to believe him.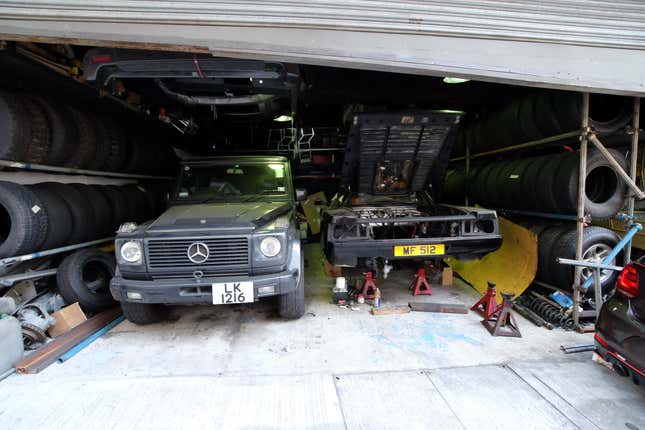 From the garage across the street, Victor took us to some small dark bays adjacent to the main shop, where we saw his Ferrari 512 TR Testarossa on jack stands.
It was when Victor discussed the Ferrari that I learned just how meticulous he was when it came to maintaining his vehicles.
He told Mike and me that he takes the supercar almost completely apart every eight years for maintenance, telling us later that lack of proper repair work—specifically not taking care of hoses and lines—is the reason you see so many supercar fires.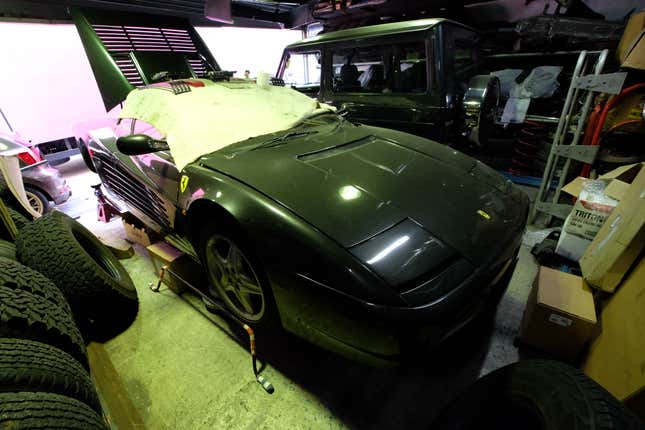 He went on, explaining that while he has the car apart, he changes the engine's piston rings (since the flat-12 tends to wear the bottom sides of its rings more than the tops), camshafts, all of the car's suspension bushings and every oil line.
Victor likes his cars to look good, but more than anything, he's most proud of is the way all of his vehicles run. This pride in his mechanical work became even more apparent when Victor showed Mike and me what sat in the other dark bay beside the Ferrari and G-Wagen.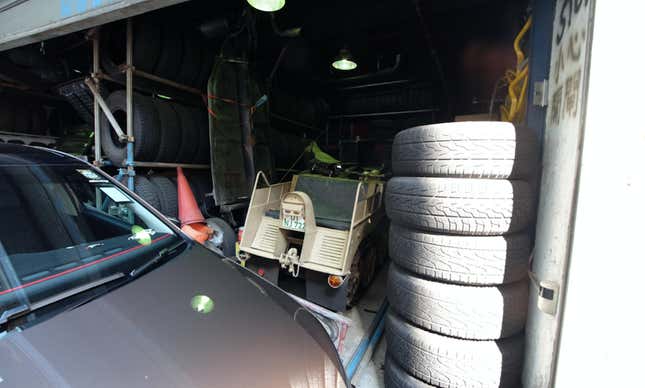 "It's a 1944 NSU Kettenkraftrad HK 101," he told us. He had rebuilt it himself. When I complimented the vehicle's impeccable condition, Victor—beaming with pride for his work—offered to fire up the old water-cooled Opel motor. "Sure," Mike and I said, as we got comfortable in our positions, expecting him to need some time to break out the starting fluid or pump the gas.
But no, he turned on the ignition, applied just the right amount of choke, touched the throttle and bumped the starter. Just look how quickly this thing fired up:
The engine sounded fantastic, and Victor even beeped the horn to show us just how well buttoned-up his machine was. "I actually took this thing off-roading in Yeun Long recently," he told us, at which point Mike and I looked at each other wondering if Victor was kidding.
"Does this guy really off-road a 1940s Nazi motorcycle tank in Hong Kong?" we asked ourselves. We abandoned the thought as this strange workshop tour continued.
After showing us the garage across the street filled with off-road gems like the Haflinger and Ford GPW, after telling us about his regular Ferrari Testarossa teardowns, and after showing off his beautifully running NSU Kettenkraftrad, Victor finally took us inside his main garage.
Once in the garage, I had to ask what the mysterious black figure was in the corner. Victor, almost as if anticipating my request, was already walking over to the vehicle; he snagged the tarp off the hood, and exposed the sheetmetal for my unworthy eyes to see.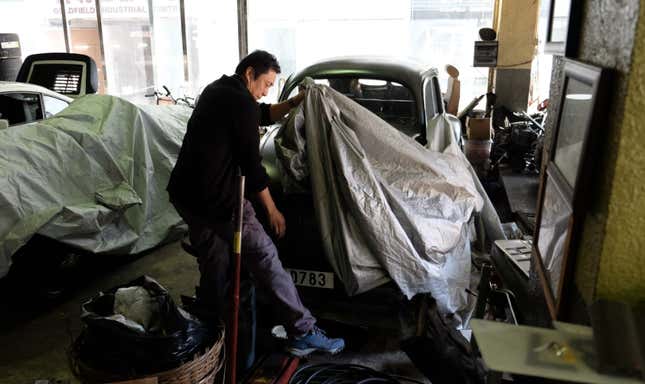 It was a Beetle. But, as Victor pointed out, this actually wasn't technically a Beetle, it was an ultra-rare 1941 Type 877 prototype built by Porsche. He showed a palpable enthusiasm for this little four-wheel drive World War II Kommandeurwagen, describing its history and features in so much depth, I frankly couldn't keep up.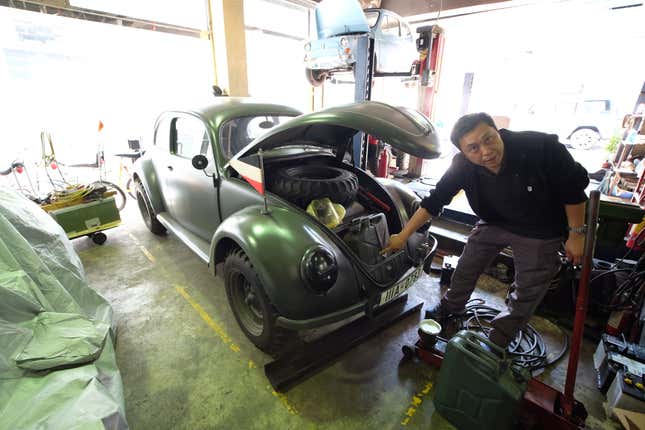 After his energetic tour of the One Of Five Left In The World, Kubelwagen-based 4x4, it became clear to me that of all cars in Victor's collection, German ones from World War II were his favorite. In fact, as Victor later pointed out, he's written a number of in-depth articles about the engineering behind these historic vehicles.
Victor, a man who's obsessive with making sure his machines run properly, decided to fire her up for us. This one did take a little squirt of starting fluid and some cranks, but once fuel got into that air-cooled motor, she ran great—like all of Victors machines:
After talking Mike and my ears off about the rare World War II prototype, Victor showed us this: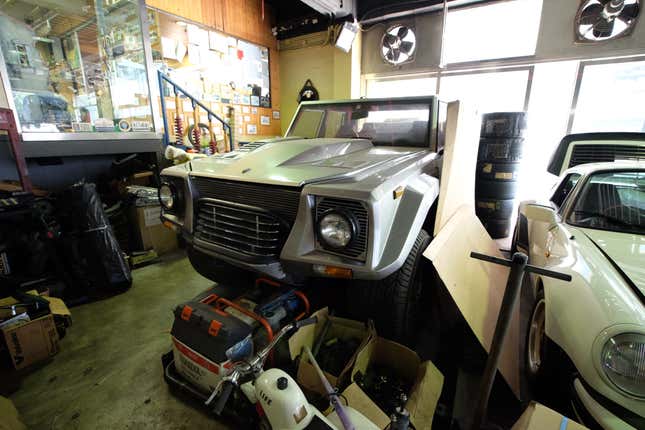 It's a rare Lamborghini LM002, which was based off of Lamborghini's Cheetah concept built by U.S. defense contractor Mobility Technology International in the late 1970s. The LM002 didn't go into production until about ten years later, after the U.S. Army basically told Lamborghini to pound sand with its rear-mounted Chrysler powertrain.
Lamborghini fixed that powertrain issue by putting a V12 Lamborghini Countach motor up front, but the SUV never saw any real military use. Instead, for some reason, the Italian car company put the SUV into production between 1986 and 1993, making it the first four-wheel drive Lamborghini ever.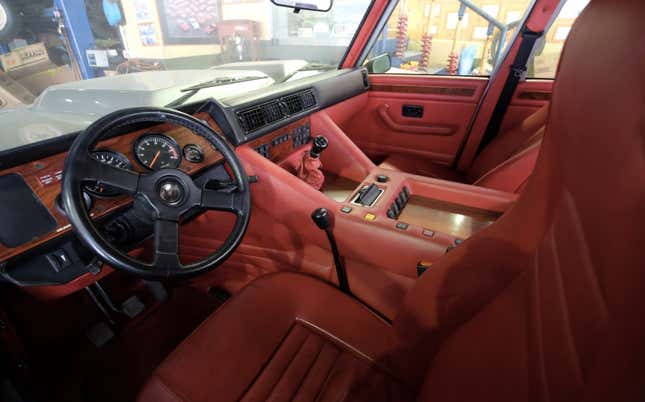 Why on earth did he buy it? To learn, he said. To take it apart and figure out how it ticks, which gears are inside it, and what kind of differential it uses. It was the only way, he said.
Mike and I glanced at each other, and our eyes grew wide with astonishment. Here's a guy who bought a priceless Lamborghini—a vehicle that most owners would probably be too scared to even touch—just so he can dismantle it and gander at its mechanical bits. This whole thing just seemed unreal. But then we walked into Victor's office.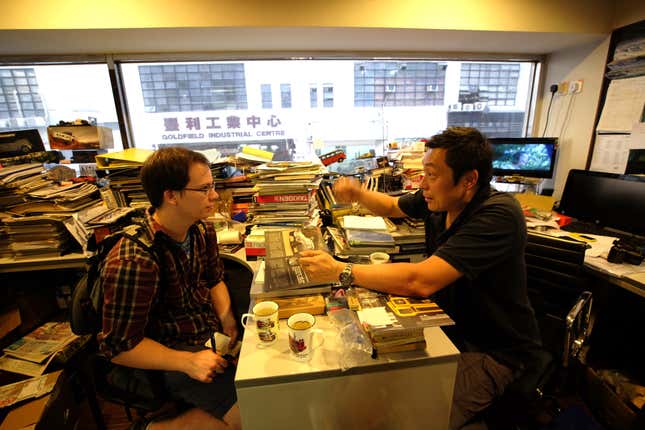 Victor's office is the workplace of a genius—someone who eats, sleeps, walks, breathes and lives off-road vehicles.
Zoom into that picture above, and you'll spot randomly assorted toy car models, dozens of history books about World War II-era 4x4s, assorted off-road parts, and repair guides for vehicles Victor doesn't even own (there's a Jeep XJ/MJ repair manual under that Takigen hardware catalog.)
I even spotted some CAD drawings up on the wall behind his computer of old 4x4 parts that Victor had to have made, since they are no longer in production.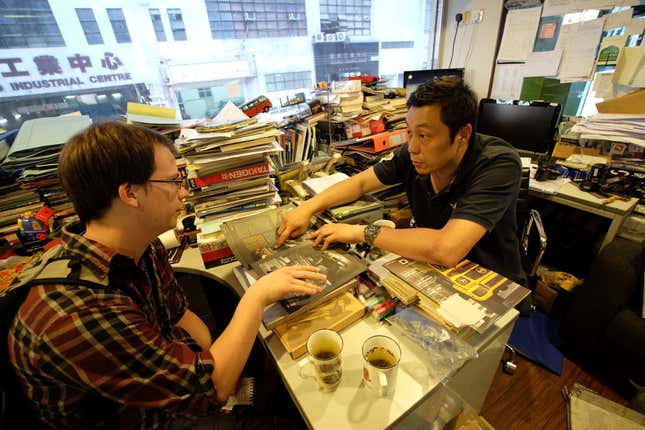 Mike and I sat down with Victor in his office for over four hours talking about Victor's rich background with off-road vehicles. He told us that, when he was only 17, his mother wanted to send him off to the UK to study engineering with his close friend. But Victor refused, saying he instead wanted to run a 4x4 shop.
Part of the issue was that, even at that young age, Victor had a lot of vehicles to take care of, including a Suzuki 800cc 4WD soft top, three Land Rovers (including one designed for firefighting), and several motorcycles. He couldn't go to the UK, he said; he had to make sure his cars didn't die.
Despite his mother's disapproval, Victor was determined to make 4x4s popular in Hong Kong, as at the time, he told me, off-roaders were really only a thing in Japan. So Victor opened up a shop in Yuen Long in 1987, and now, after 30 years and four moves, he's got a nice big shop in Fo Tan, and plenty of clients.
Building A Culture
Victor's contributions towards popularizing four-wheel drive in China and Hong Kong are nothing less than staggering. Though Googling his name in English may not turn up many results, if you type in his Chinese name, you realize the magnitude of his work.
The video above (and article) shows the "four-wheel drive king" fighting against the Hong Kong Transportation Department's strict laws like the one banning importation of seatbelt-less vehicles, no matter their age. Unwavering rules like this one, Victor recognizes, thwart old car culture in the Special Administrative Region of China, and Victor continues to fight to prevent that.
But more than just fighting to keep classic cars alive in a culture that, by and large, values modernity above all else, Victor's number one contribution to four-wheel drive culture in China and Hong Kong is his teaching.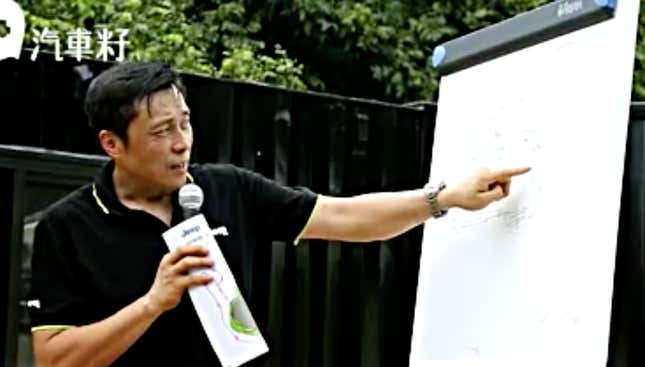 When Jeep opened up Asia's first "Adventure Zone" in Hong Kong to get locals interested in off-roading, who did they bring on as a consultant to teach off-road theory? That's right, that picture above shows Victor wearing Jeep brand garb, showing novices how to drive in the rough stuff.

Here he is walking a gentleman through how to drive a new Jeep Wrangler Rubicon through an off-road course: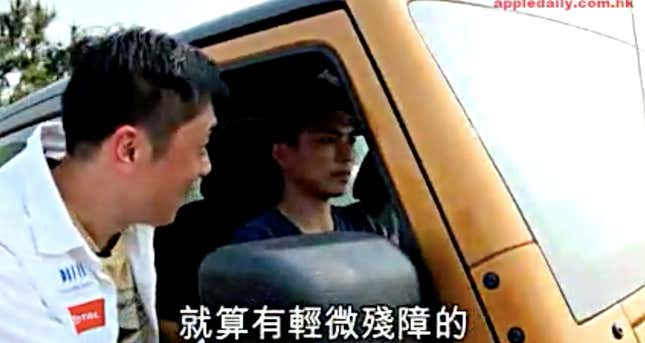 Googling Victor's Chinese name yields scores of articles in which he's either teaching people how to go four-wheeling, advocating for legislative leniency towards old vehicles, or trying to get people into 4x4s by showing off his collection at car shows and conducting off-road demonstrations.
In fact, even though Mike and I were initially skeptical that Victor actually off-roaded his NSU Kettenkraftrad, I just found this video showing him doing just that in his "eccentric off-road vehicle." And the photo on the desk in his office doesn't lie, either: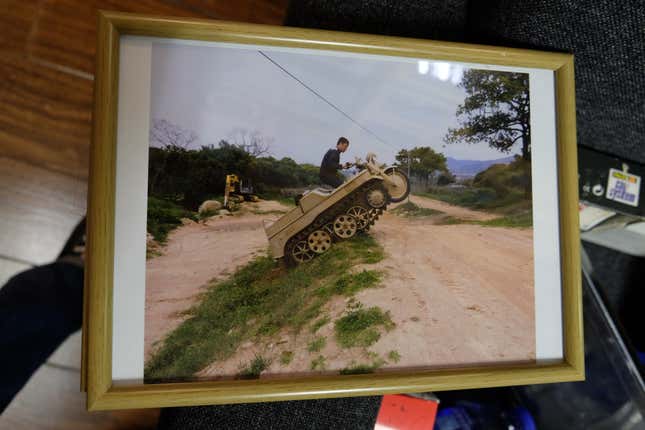 Tearing Apart Priceless 4x4s
But more than defending car culture against over-reaching governments and teaching people both theoretical and practical off-road skills, Victor has advanced off-road culture in China and Hong Kong by helping people learn how off-roaders actually work.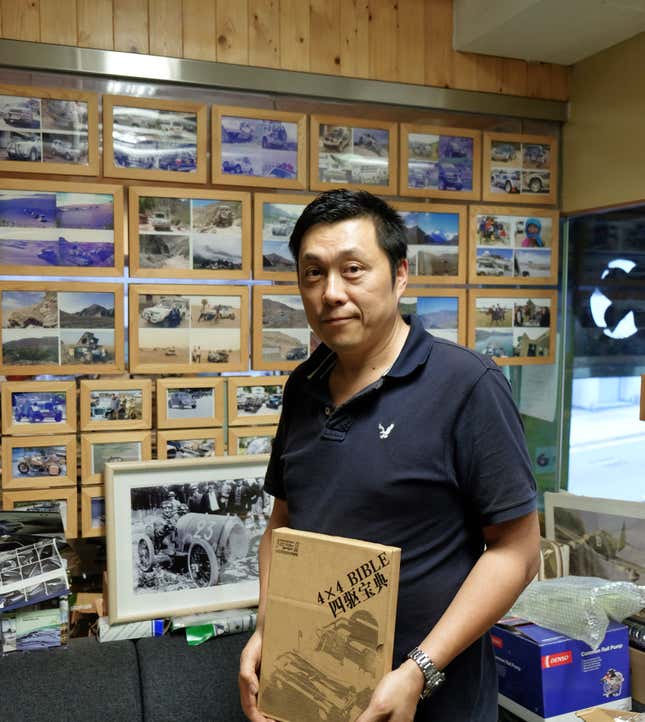 In 2003, Victor's book The 4x4 Bible went on sale in China. It's essentially an encyclopedia of 4x4 history, offering a thorough technical breakdown of each vehicle's important off-road attributes from the mind of a man who's actually owned and dissected them.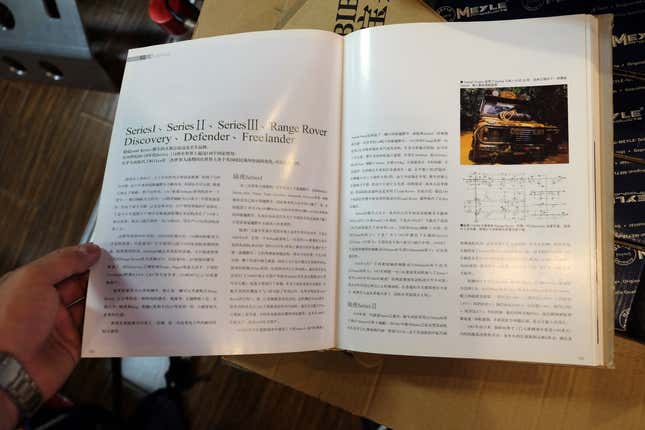 Victor told us that he went out and bought a number of priceless off-road vehicles just so he could dismantle them, learn how they work, and write about them in his book. One of the vehicles he bought solely to write about in his book was the Hummer H1. He calls it "big rubbish."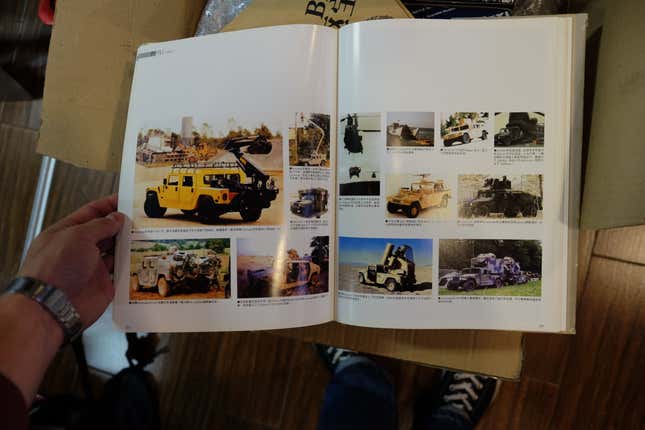 To Victor, small size and light weight are important attributes of a good off-road vehicle, which is why he always gushes about the Steyr Daimler 700AP Haflinger. Here's part of his writeup on what he considers is one of the greatest off-road vehicles ever built: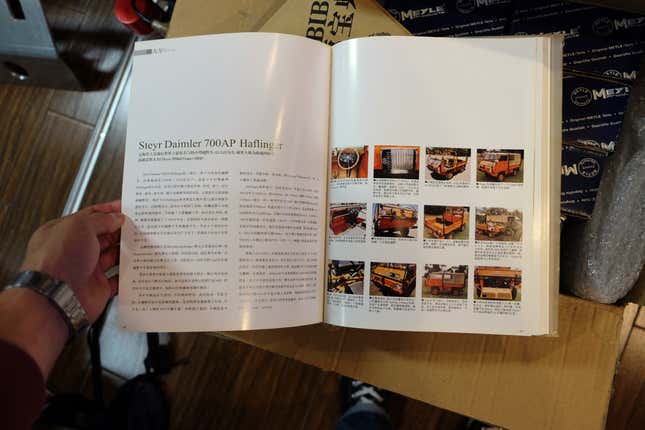 But Victor's mission to teach people how off-road vehicles work spans far beyond just his 4x4 Bible. He also instructs dealers and customers by using the coolest cutaway models I have ever seen. These German-built miniature models of various vehicle parts—like axles, differentials, and transmissions—link together to form entire drivetrains, allowing anyone to see exactly how it all works.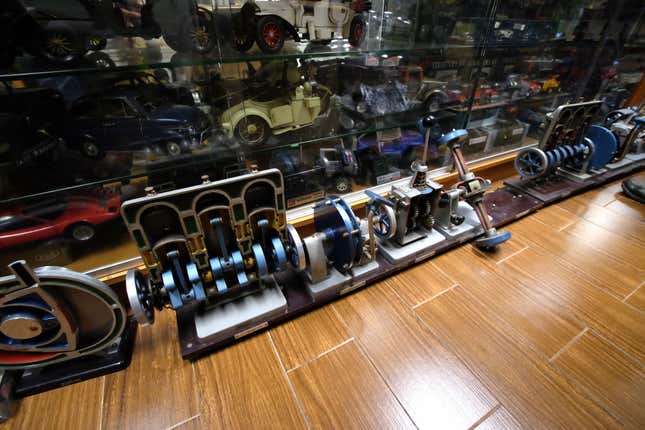 It's perhaps the best way to learn how cars function, and Victor's counters and floors were littered with the things. Here he is showing off his automatic transmission, recirculating ball steering and Kraftwagen rear axle models: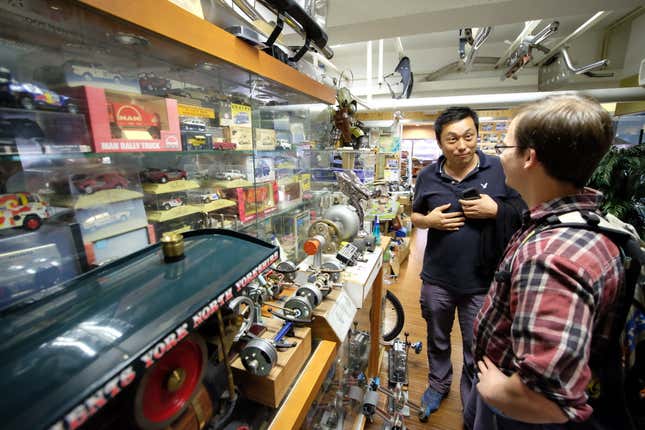 A closer look: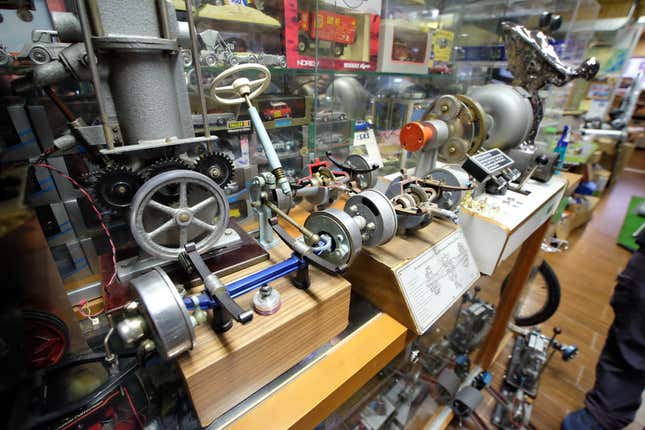 Dakar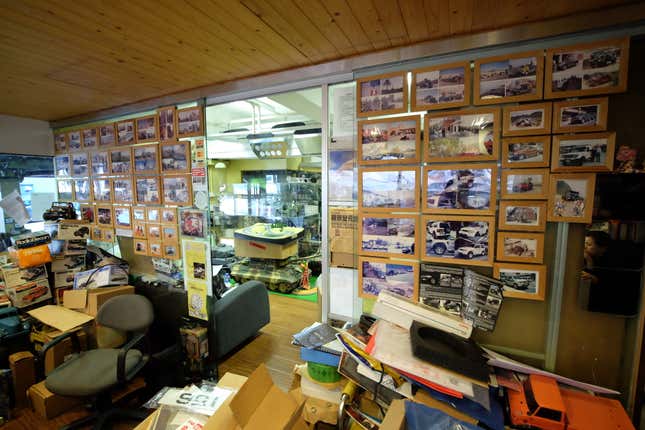 Just when we thought Victor couldn't get any cooler, Mike and I started looking at the photos on his walls, which not only showed the rest of his collection, but also his involvement in the Dakar Rally, a grueling off-road rally formerly starting in Paris, France and finishing about 3,000 miles away in Dakar, Senegal.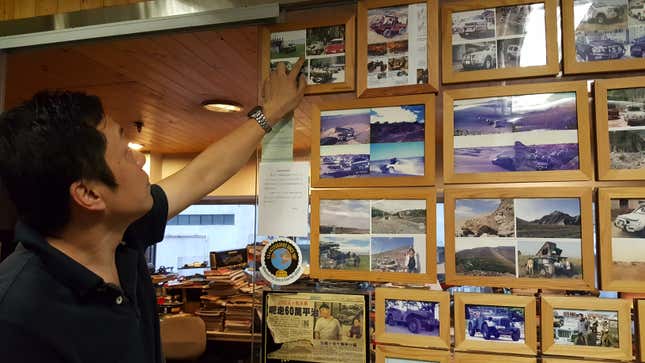 Many of the images show him driving through treacherous deserts, muddy grasslands or up steep mountain passes.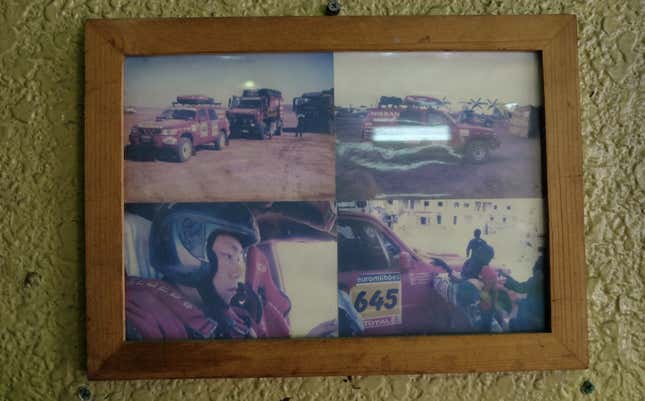 Victor says he's been involved in Dakar for decades, and that since 2004, he's been a team director and consultant.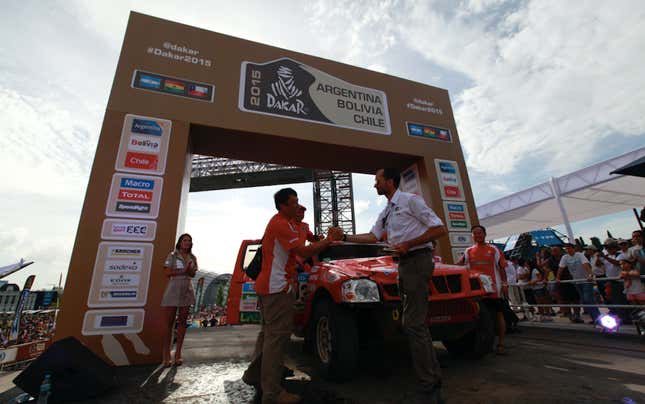 One particularly interesting photo showed Victor having a meal with Jackie Ickx, a legendary former racecar driver who won the 24 Hours of LeMans six times and who also won the Dakar Rally. Victor calls Jackie his "best teacher" and considers him a mentor.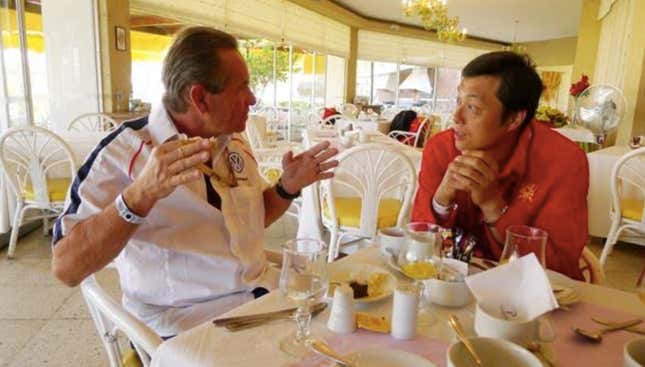 Victor's Endless Collection
After showing us his Dakar photos, Victor took out some pictures of vehicles that weren't at his garage for us to see, but that he considers his prize possessions. The first, which also had accompanying documentation, was a 1937 German Kfz PkW 4x4x4 Funkkrafwagen prototype, which Victor considers one of the most modern vehicles used before and during World War II thanks to its four-wheel drive, four-wheel steering, three self-locking differentials, coil-sprung fully independent suspension and five speed gearbox.
Compare that vehicle—built by Hanomag, BMW, Stoewer and Mercedes—to what Ford and Willys were cranking out for U.S. troops, and you'll see quite a huge gap in technology (The U.S. Jeep had only three gears, two solid axles, no locking diffs and only front-wheel steering). You can read all about the vehicle here, because—unsurprisingly—Victor has written an enormous article on it.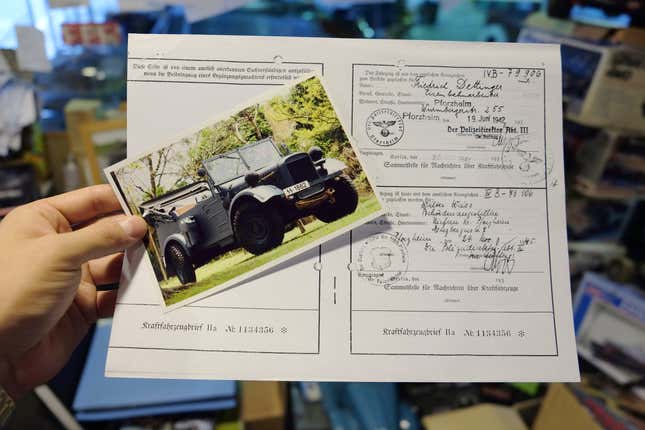 Victor's infatuation with mechanically quirky off-roaders continues with his other prized possession, a 1942 Type 166 prototype—a four-wheel drive amphibious military vehicle designed by Ferdinand Porsche. Just look at the propellor on the back of this loony VW: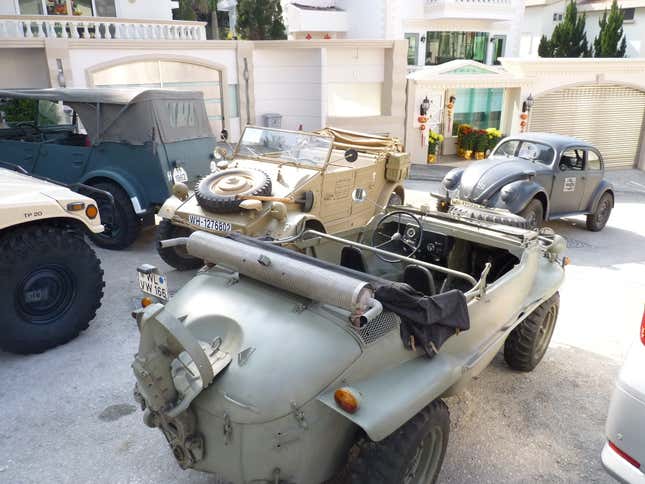 And before you ask, yes he actually uses it: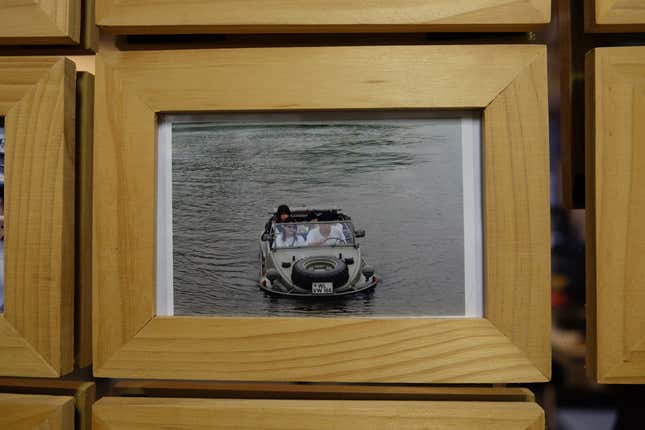 That's not the only amphibious vehicle in the collection, though, as in the garage, I spotted the most famous civilian Schwimmwagen-like car, an Amphicar, which Victor said he bought expressly to tear apart and see how it worked.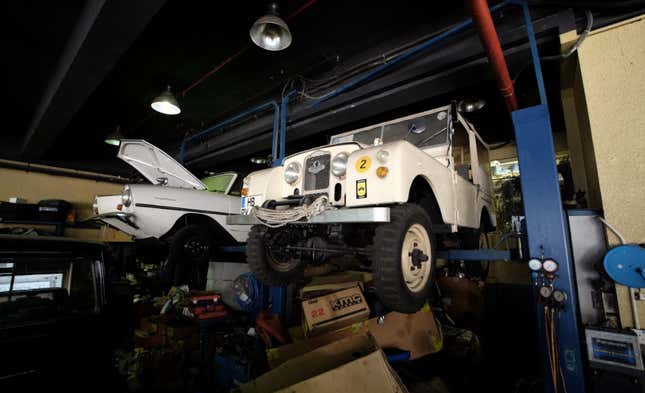 Though he can't list all of his over-150 four-wheel drive vehicles, he did tell me what he still owns today, and it's an incredible list:

1) 1923 Bugatti Brescia racing car
2) 1924 Valxhall LM

3) 1935 Rolls Royce shooting brake

4) 1937 Kfz2 Pkw 4x4x4 prototype.

5) 1941 Typ 877 prototype ( 4wd beetle )
6) 1942 Typ 166 prototype ( vw 4wd amphibious.)

7) 1943 Jeep MB ( few year ago i got a WC57 too many Jeep, MB x 3 more, CJ2A,M38,M38A1,CJ7,CJ7 x 3,CJ8 etc , but i sold it.)

8) 1943 VW82 ( few year ago i got a 1944 VW 82 , i sold it to UK )

9) 1943 VW82e x 2
10) 1944 NSU Kettenkard HK 101

11) 1947 Mercedes 170V

12) 1951 Mercedes 170S

13) 1953 Land Rover series I SWB
14) 1960 Mercedes 190SL ( one 220s semi aotomatic i just sold at 2 year ago)

15) 1962-1970 morris minor near all model, 4 door, 2 door soft top, woody,pick up

16) 1962 Amphibi car ( long time ago I got many mini cooper S and woody)

17) 1969 Nissan 60.
18) 1969 Fiat 500 x 2

19) 1970 Mercedes 280SE3.5 coupe.

3 year ago I sold many 60-70 sport car to other collector, such as 1965 mustang 289,240Z,260Z, Celica,Alfa GTV A etc.

20) 1974 Beetle semi auto matic
21) 1974 Haflinger 700 AP

22)1977 Land Cruiser 55

23) 1978 Land Cruiser BJ40

24) 1979 Beetle soft top
25) 1981 series III 1 ton ( many year ago i got most series II,IIA,light weight and 88 SWB and early Dfeender and FC 110,FC101 x 2 and most UK big 4x4 and 6x6 some can swimming)

26)1982 Porsch 930 Turbo ( just 2 month ago i sold my 1987 930 Ruf and 1969 Porsche 911 )

27) 1984 BJ40 and BJ45 ( long tine ago i got all Toyota Land Cruiser from FJ/BJ40,FJ70 x 3,LC80 x 3,LC100 and LX470 x 3 )

28) 1986 930 Turbo x 2
29) 1985 Toyota LC 60

30) 1985 USSR Jeep

31) 1988 Toyota LC60 ( long time ago got many Hilux all model and 4 runner etc etc )

32) 1991 LM002
33) 1991 Mercedes G ( one LWB and one SWB both manual gear box.)

34) 1993 512TR ( Ferrari I got some at many year ago, such as 208,355 etc)

35) 1994 Range Rover classic ( long time ago i got Ranger Rover 2 door and 4 classic Range Rover one is prototype and P38, Discovery I and II etc etc )

36) 1997 Trooper
37) 2008 Land Rover 110/90/etc etc total 6 unit some pick up some SWB some LWB now all sold just keep one 60th SWB and one 90 pick up for my kid.

38)2012 G350 ( before got a G500 just sold)

39) 2014 VW Amarok pick up.

...long time ago like Lotus...Lancia ,MG,Alfa and some US car like fire bird, Z28,etc etc.
After only expecting to stay at Victor's shop for a couple of hours, Mike and I hung out for seven hours total, listening to him tell us about old World War II-era German four-wheelers and Hummers and weird Jeeps. At no point did it ever get dull, and at no point did Victor run out of things to say. He's a human encyclopedia of four-wheel drive knowledge—he blew my mind when he mentioned a little plastic bushing in the transfer case linkage as a weak point on modern Jeep Wranglers—I had just learned about that the week prior, and I used to work at the company that designed it.
The visit with Victor ended in the most perfect way possible. The Four-Wheel Drive King fired up his 1943 GPW, and gave Mike and me a ride to the train station.

In a country filled with supercars, it's sometimes hard to make people turn their heads. But as Mike and I rode down the busy highways of Hong Kong, nearly everyone on every bus and street corner rubbernecked to have a gander of what Victor says is the only right-hand drive World War II Jeep in the whole of China or Hong Kong (he converted it himself, of course).
Spending a day with Victor—someone who has spent most of his life loving 4x4s and trying to spread the message of their magical wonder—was surreal. I'm convinced that with his years of experience running the Dakar Rally, learning from a six-time LeMans winner, teaching dealers about off-road tech, instructing novices how to off-road, attending car shows with his meticulously-maintained eclectic 4x4s, and tearing priceless cars apart for his 4x4 Bible and countless online articles, he has become the true four-wheel drive king of the world.
Show me someone who does it better.