One of my favorite custom bikes of the year was a Kawasaki ZX7 Ninja built by San Francisco-based industrial designer Bill Webb. It's not exactly your standard custom fare, but that's why I liked it. Now Webb is back with a kit that completely transforms the Honda CBR1000RR into a road-going mech warrior, and it doesn't require a single weld to put together.
Webb works at Huge Design in SF, and apparently the reception the Ninja garnered was enough for him to start looking for another bike to customize. That led him to a donor 2009 Honda CBR1000RR that, according to Webb, "has a beautifully engineered main frame" that was hidden away by the fairings. It also had the performance and tech he was after, including the 999cc inline-four putting out 160 horsepower and ABS.
After stripping off the plastic bits, Webb got to work designing a new tail section and seat assembly in CAD. A pair of machined aluminum brackets mount to the subframe, which is capped off with a plastic fairing sandwiching a thin line of LEDs for the taillights and turn signals. All of that was designed around a seat pulled from a Ducati Panigale (which isn't the most comfortable, mind you) to create the minimalist look and short overhang.
G/O Media may get a commission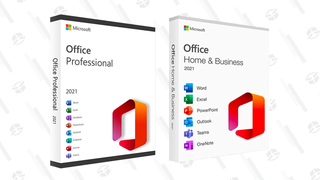 89% off
Microsoft Office Professional 2021 Lifetime License
Up front, the kit ditches the stock headlamp, speedo, and fork mounts in favor of more machined aluminum pieces. The stock instrument cluster slots into the new mounting and sits just slightly upright. Ahead of that is a mount for the quartet of vertically stacked LED headlights, with a tinted cover, and a machined ABS fairing covering it all.
The level of detail and quality of the fab work is ridiculously impressive up close – easily on par, if not better than, what Honda pushes out of the factory. But take a step back and the entire design congeals into something that's absolutely arresting and seriously sinister.
Webb is refining the design and fabricating parts for a black version that will shed even more weight, and since Honda hasn't made any major changes to the CBR1000RR over its current production run (2009 to 2015), everything should bolt right up without modifications. He's also considering making a similar kit for the 600RR, but for now he's focusing on what he's calling the Stoc RR, and hopefully he can offer it for sale without completely decimating bank accounts.
Oh, and if you think this is just an art project destined to live in a climate controlled garage, Bill begs to differ.