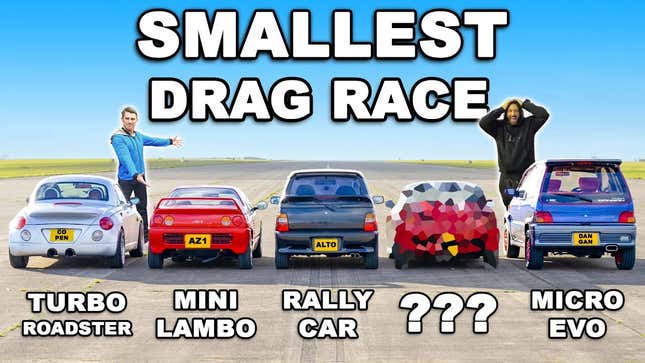 Kei cars are great. OK, so they may not all be objectively great, but we're still into them. They're just so tiny and adorable (and also incredibly rare in the U.S.). But since they all max out at 64 hp, there's no point in drag racing any of them, right? Wrong. Drag racing tiny, low-horsepower cars is always correct.
And recently, CarWow got its hands on several kei cars and did exactly that. Specifically, the race included a Daihatsu Copen, Autozam AZ-1, Suzuki Alto Works, Suzuki Cappuccino and a Mitsubishi Minica Dangan. Each one has a 660-cc turbocharged three-cylinder that's limited to 64 hp from the factory and a five-speed manual transmission. But that doesn't mean they all have the same amount of torque.
The Daihatsu Copen is the torquiest, making a tire-roasting 80 lb-ft. Most of the rest produce 63 lb-ft, but the Mitsubishi only makes 55 lb-ft. But while the Copen has the most torque, it's the only one in the group that's front-wheel drive. It's also the heaviest, weighing in at 1,764 lbs. The AZ1 and Cappuccino, meanwhile, are rear-wheel drive, while the Alto Works and Minica Dangan are all-wheel drive.
The AZ-1 and Minica Dangan weigh in at 1,587 lbs, and the Alto Works is the lightest at 1,543 lbs, but for some reason, the video doesn't mention how much the Cappuccino weighs. Regardless, it's clear that they're pretty different from each other.
So onto the racing, which starts at the 7:45 mark. I'm just going to spoil it for you, at least a little. The mid-engine, rear-drive AZ-1 was clearly the quickest in the quarter-mile with a not-so-quick 18 seconds, and the Cappuccino came in last with a time of 22.2 seconds. But they didn't just do one race. They also competed in a rolling quarter-mile, then did a rolling half-mile and a couple of other tests. If you want to find out how all the cars did, you'll have to watch the video below. Just hold on to your wallet because it's going to make you want an Autozam AZ-1 even more than you already do.