If you've been away from the internet for the last few weeks, you might have missed Connor's Day, a massive car show in England where more than a thousand cars of all stripes gathered at the request of a young boy grappling with a terminal cancer.
The father of 11-year-old Connor, a young car fanatic facing his last days, simply wanted to give his son a car show to brighten up his day. What started as his small request on a British Subaru forum exploded into a showcase of more than 1,200 cars after it went viral on Jalopnik and other news outlets.
The end result was not only a shining example of how the car enthusiast community can come together to take care of its own — it was also one of the best car shows of all time. If you went, helped spread the word or donated money to the cause, our hat is off to you. Also, donations are still being accepted at the official site, which will go to a children's charity of the family's choosing.
Many of you requested more photos from the event, so here are some of the best. You can check out even more at the official Connor's Day site, at Katie Bushell's Photobucket, Martyn Webster's Photobucket and other sources.
G/O Media may get a commission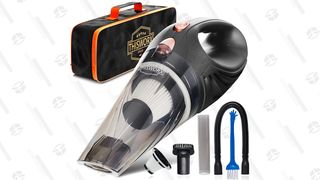 Save 50%
ThisWorx Car Vacuum Cleaner
As you can see, there are some truly fantastic rides here. As I looked through the photos we were sent, I wondered: What kinds of cars didn't show up for this? There were Hondas, VWs, BMWs, old-school rally cars, apparently every WRX and STI in the United Kingdom, muscle cars, an almost pornographic amount of Ford Focus RSes, Ferraris and Lambos, rare exotics, old roadsters and many, many more.
Car lovers are a diverse group of people, but this proves we're all part of a larger community that really steps up to the plate when one of our own needs a little help.
Tell us — what are your favorite photos?
Photos credit Connor's Day Official Site, Katie Bushell, Martyn Webster, Mariusz Staszkiewicz, Jonathan Bushell