[Editor's note: There's been a lot of talk about how Tudor United SportsCar's P2 class will look in the future. What kinds of cars will run in TUSC's highest prototype class, and how will P2s relate to LMP2s at Le Mans? This write-up from Racer is perhaps the clearest summary of what's being considered yet, so enjoy. - Stef Schrader]
IMSA and the ACO/FIA gave members of its technical working group (TWG) a first look at some of the key bodywork and engine regulations that are being considered for new P2 cars in 2017.
Last Friday's meeting at the Watkins Glen TUDOR United SportsCar Championship event was generally described as very positive by some of its attendees, is said to have featured strong engagement from the various auto manufacturer representatives involved, and covered many new (and known) topics related to the international (ACO/WEC) and domestic (IMSA) P2 solutions in play. The majority of the content coming out of the meeting is related to IMSA's version of the ACO/FIA's 2017 P2 rules.
Timelines

The timeline for the baseline ACO/FIA P2 regulations will drive IMSA's calendar regarding the different solutions its Prototype entrants expect to have to have in 2017.
G/O Media may get a commission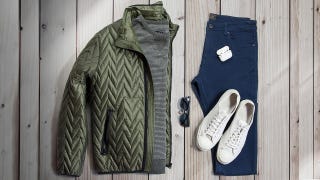 60% off
Jachs NY Fall Sale 60% Off
The four P2 chassis constructors will be selected by July 10, 2015, the ACO/FIA P2 technical regulations will be published by October 2015, the first P2 cars are expected to test by August 1, 2016, the first customer cars are to be delivered by Oct. 15, 2016, and the homologation process for those cars is set for December 2016.
IMSA's more expansive technical needs, which include the allowance of multiple engine manufacturers (in place of the ACO/FIA's spec 2017 P2 engine) and custom bodywork similar to what's found on IMSA's Daytona Prototypes (unlike the ACO/FIA's spec 2017 bodywork) does not have a finalization date in place at present.
IMSA's engine manufacturer homologation process is listed for July-December 2016, and its manufacturer bodywork homologation is targeted for August-December 2016.
IMSA-Specific Bodywork

Moving exclusively to IMSA's North American interests, the series made it clear to present and future auto manufacturers who produce custom P2 bodywork that "there will be no incentive to attempt aerodynamic development," and that "any aerodynamic advantage will be balanced within the aero targets."
Using a generic Lola/Multimatic chassis for reference images, the first item of note with IMSA's manufacturer bodywork is the rear wing, rear wing mount(s), and engine cover fin have been listed as restricted, meaning engine/body kit manufacturers must use those three components as they are supplied by their preferred chassis producer.
Beneath the car, the splitter, floor, and diffuser are also listed as stock components created by the four chassis suppliers that are not part of the custom bodywork plan.
IMSA included a summary of how custom bodywork manufacturers should treat the underside of the 2017 P2 car, adding, "as viewed from the bottom, all surfaces must remain as delivered by the chassis constructor."
A control zone for the splitter has been defined as 1400mm wide and 1000mm rearward from the splitter's leading edge to prevent splitter modifications behind the approximate front axle centerline.
Further restrictions at the front of IMSA's 2017 P2 bodywork would prohibit manufacturers from styling the outer regions of the nose – the area traditionally reserved for dive planes.
Additional restrictions also bar development in the region directly behind the front tires where manufacturers would typically open and extract air from the splitter and keel. That exclusion zone, which is only 300mm high at the moment, could be raised to 600mm if the manufacturers' recommendation on doubling the height is accepted.
With the floor already excluded from the custom bodywork menu, the last major restricted area is at the outer portions at the back of the car. A section 300mm tall and 1056mm long, covering the region just in front of the rear tires to the section containing the "cheese wedge" section behind each tire has been eliminated as a development option.
The nose and engine cover have always been the primary areas for manufacturers to add styling cues and develop in ways that benefit their engine installation and cooling needs. Sidepod development, which has not been ratified, is listed as "currently open for discussion."
The first approved bodywork development area to exploit is a 1400mm wide and 550mm tall box at the front of the car – the nose section between the fenders.
Above the 300mm-high outer nose exclusion zone (where the dive planes are located), a long 500mm wide and 430mm tall zone that runs front to back (excluding the floor) is open for fender development and, possibly, sidepod modifications.
Looking at the "free" bodywork zones to manipulate, the long 500mm wide/430mm tall box and the section between the front fenders present the greatest number of opportunities for auto manufacturers to create visual variety between their respective cars.
In a possible move to prevent IMSA's P2 bodywork from looking like IndyCar's wing-happy aero kits, the TWG has declared "wing profiles [are] not permitted inside the free volumes."
One conflicting piece of information can be found with the engine cover. The five spec areas for IMSA's 2017 P2s does not include the engine cover in the graphic below, but could be added.
Although it is initially listed as an item open for IMSA customization, it's also referred to as being "defined through FIA/ACO TWG" and that "dimensions of spec engine cover will accommodate all IMSA engines." Like the sidepods, IMSA's custom engine cover appears to be an area of ongoing discussion between the three sanctioning bodies.
A required link between the four official P2 chassis constructors and IMSA's auto manufacturers seeking custom bodywork is listed.
GM Racing partner Pratt & Miller could not, for example, independently produce Corvette bodies and apply them to a Ligier or ORECA on their own. Per the TWG guidelines, body kit manufacturers would first need to partner with one of the P2 constructors, and with that formal link established, a Pratt & Miller could then design and manufacture bodywork. In another approved scenario, GM could also elect to have a P2 constructor handle the entire body kit design and production process.
It's mostly a formality, but it does prevent engine suppliers from creating its bodywork in a truly autonomous capacity. Custom bodywork will be distributed on behalf of a engine manufacturer by their chosen chassis supplier.
As RACER listed in Friday's 3-part look at IMSA and P2 2017, three bodywork and engine combinations will be possible: Le Mans/WEC P2 (spec body and engine), IMSA P2 (custom body and multiple engines), and IMSA Le Mans P2 (spec ACO/FIA body, multiple IMSA engines).
IMSA-Specific Engines

Like the bodywork specs, some of the desired ACO/WEC/IMSA engine parameters are known. A goal of 600hp is targeted, and would represent a significant increase for ACO/FIA P2 teams. For IMSA P2 (and DP teams), the 600hp mark was surpassed at the beginning of 2014.
A big window into the desired engine dimensions, displacements, and weights has been documented, and it covers everything from small turbos to large naturally-aspirated motors.
A "length from 535mm (4-cylinder) to 685mm (V8), width from 370mm (4-cylinder) to 890mm (V10), height from 500mm (4-cylinder) to 752mm (V8)," and "crankshaft height from 77.5mm (V8) to 120mm (V8)" is listed, and within those dimensions, IMSA will have plenty to offer a wide variety of auto manufacturers.
Weights for 4- and 6-cylinder engines have yet to be defined, but V8s (150-180kg) and V10s (260kg) are noted. V12s, like the ones found in Aston Martin's GT3-spec Vantage, rotary engines, and diesels are not listed as options. Turbocharging is only mentioned as options for 4- and 6-cylinder engines.
Maximum engine displacements will also govern which manufacturers can participate in 2017. A 2.5L limit for 4-cylinder turbos, 4.5L limit for 6-cylinder turbos, 6.2L limit for NA V8s, and 5.2L limit for NA V10s is currently in place. Based on last two limits, Chevy LS3 V8 crate motor and Audi's R8 V10 could have prompted the respective 6.2L and 5.2L limits.
Production-based engines would continue as the sole format allowed in IMSA's P2 2017 plans, but a question has been raised by manufacturers whether bespoke engines would be permitted.
The use of anti-stall technology is mentioned as an item to remove from the regulations, and the ECU solution will be the subject of further discussion as it's listed as either the spec ACO/FIA unit or open, per IMSA's defined regulations. The use of sonic air restrictors would continue in IMSA for its NA motors in 2017, but in a change from current practice, turbo engines would operate without restrictors, and boost levels would be RPM-based to balance some acceleration advantages turbos have compared to NA engines.
With the 2017 P2 chassis selection date taking place next week, IMSA and its Prototype auto manufacturers will soon have a clearer picture on partnership options for their respective engine installations and bodywork solutions. The next TWG meeting is scheduled for Sept. 1.
---
Marshall Pruett is a U.S.-based motor racing reporter and photographer. This originally appeared on Racer.
If you want to see your story on Jalopnik, email us with the subject line "Syndication" at tips@jalopnik.com.