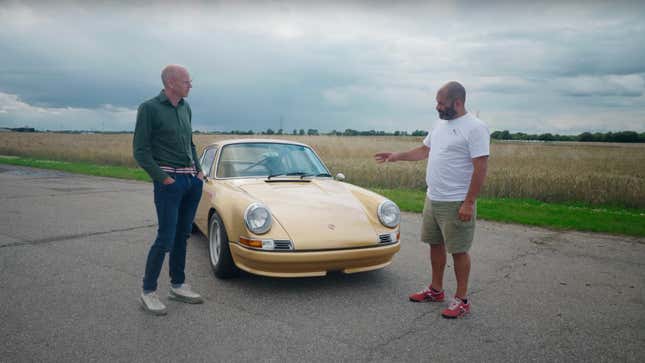 It seems like every year for the past 13 or 14 years, we've hit what appeared to be peak "old hot-rod 911," and each time that happens, we can't possibly get any more exotic, expensive, powerful or lightweight. Well, we might have actually hit the peak this time with the Tuthill Porsche 911K.
What makes me think that this time is truly the top of ze berg? Well, the 911K weighs just 1,865 pounds. That's not some dry weight either; that's wet weight, ready-to-drive. But lightweight has been done before, so that's not the end. But did I mention it also makes 350 horsepower from a 3.1-liter, four-valve dual-overhead cam engine that revs to 11,000 rpm, which is frankly absurd, as are the flames it shoots on deceleration. Oh, and it has a six-speed gearbox, but not the one from a 993. Instead, it's a highly modified version of the 915 gearbox from the 911 used from 1972 to 1986, and being a 1972 model, it's got a magnesium case. To put a reverse gear in, Tuthill had to make a super special, super small gear that's actuated by the old heater lever near the parking brake.
Oh, and there's a hydraulic handbrake. Tuthill does spend most of its days making rally cars, after all.
The whole 911K thing is bananas, and because the nerds at Tuthill built it, it's likely to be beautifully made and really robustly engineered. These are, after all, the folks who built a 997 GT3 for World Rally competition and then beat the piss out of it for several seasons. They know their business.
In this video, we see a hooting and smiling Chris Harris – formerly of Jalopnik (natch), Chris Harris On Cars, and, of course, Top Gear UK – flogging this featherweight 911 around what I assume is Wales and absolutely gushing over how much fun the car is, and what an assault on your senses it is. He also compares it to a superbike, which, given that Chris rides very fast motorcycles (Ducati Panigale comes to mind), we assume he knows what he is talking about and that the comparison is apt.
Tuthill is only building 33 of these cars, and I have no idea what the price is. However, given the amount of carbon fiber, titanium and generally clever engineering, I suspect it'll be considerable and also worth every single penny.