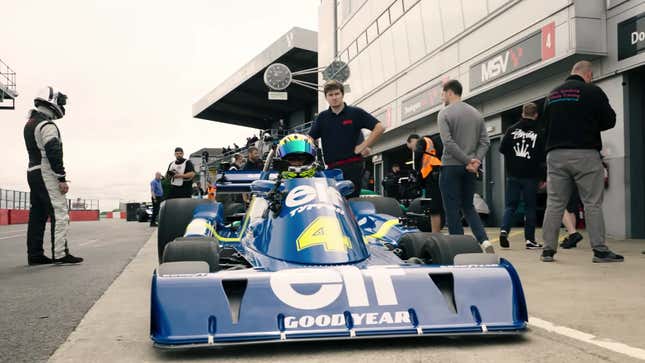 There was a time when Formula One was known far more for its wild engineering solutions than it was jet setting billionaires and celebrity grid interviews. In 1976, with new regulations coming in to narrow the front wings, Tyrrell set about building a wild new concept to take aerodynamic advantage of that.
The result was this P34 car with four "front" wheels to create more contact patch at the front and reduce the aerodynamic drag by reducing the diameter of those tires. It actually sort of worked, with Jody Scheckter and Patrick Depailler finishing 1-2 at that year's Swedish Grand Prix, and scoring twelve additional podium positions before it was replaced in 1978.
While the smaller front diameter wheels definitely helped the car to a higher top speed and increased front grip, the team didn't quite deliver what James Hunt, McLaren, Niki Lauda, and Ferrari did in 76 and 77. By taking a wild swing at the design and development of the car, however, Tyrell did fight on pretty level playing field with the top teams, scoring a variety of pole positions, fastest laps, and podiums. The 1977 season was plagued by failures and crashes, however, with Tyrrell drivers suffering 19 DNFs from 17 grands prix.
So what is this wild machine like to drive? Trust that work only to maybe the best test driver in human history, the original Stig, Ben Collins.
Being a car from the 1970s, his biggest complaint was with driver comfort. While I'm sure Tyrrell would have built their car around their drivers Jody Scheckter, Patrick Depailler, and Ronnie Peterson, the cockpit was cramped for Mr. Collins. Particularly the rollover hoop pressed firmly into his shins for the full extent of his drive. I know I'd suffer a few minutes of shin pain to drive this car, though, so maybe that's not a fair complaint.
"You have to man-handle it to extract the performance," says Mr. Stig. "On the limit under braking to make the most of what the little and the large tires have to offer. And you need an aggressive driving style to pitch those fat rear tires into a slip angle to generate cornering force."
This is one of those once-in-a-lifetime opportunities, and I sure hope Ben appreciates that. Based on his words in this video (above) it seems he does. And by god, if he doesn't say the right things, that Cosworth Ford DFV certainly does. There's a lap that starts at 11:55 in the video where there aren't any backing tracks or commentary tracks to distract you. I could listen to that section on repeat for at least the next decade. What a car.