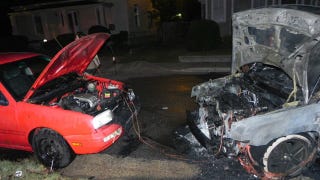 Positive to positive and negative to negative are two very important things to remember when jump starting a car. Otherwise you could end up with two very burnt cars, like the ones seen here.
Reddit user Quacktastic69 posted these pictures of the aftermath of a friend's attempt at a jumpstart gone very very wrong. It seems while jumpstarting the red Volkswagen "wires got crossed". First the battery caught on fire and then, as you can see, it spread to pretty much everything else.
Luckily no one was hurt in this failed jump start disaster. Whoever is responsible for this mess certainly learned how not to connect two batteries the hard way. Something tells us they won't be volunteering to help a friend with a dead battery anytime soon.
Hat tip to Rusty Van Horn!
[Reddit]