Autonomous driving is the future, and automakers are trying to barrel toward it as quickly as possible. But how the technology will function for everyday consumers, not just Tesla enthusiasts, is more of a question mark right now than the technology itself. Volvo wants to change that.
At the North American International Auto Show, the Swedish automaker made additional announcements about its Drive Me program, a pilot project that entails providing 100 motorists in Gothenburg an autonomous XC90 SUV to use, starting this year. Volvo used its time at the auto show Monday to introduce the first family that'll partake in the effort, the Hains. They seem stoked!
Initially, the Drive Me research program will be localized in Sweden, but the company says it'll eventually be expanded to China and the U.K, according to Automotive News. When it comes to autonomous technology, Volvo says it should be centered around the role of the driver, not vice versa. Along that line of thinking, it says to have its first autonomous car for sale by 2021, at Level 4 of the Society of Automotive Engineers scale, which means it won't require human intervention under certain scenarios.

But as we noted last year when this effort was first unveiled, this is still very much just an experiment. The 100 folks chosen by Volvo are from the company's home base in Sweden, and it's not exactly clear how the Hains or anyone else will be selected. And while the Hains seem excited, Volvo last year said there would be restrictions on where the autonomous functions can be enacted — objectively, a reasonable provision, at first — and that still seems to be the case.
G/O Media may get a commission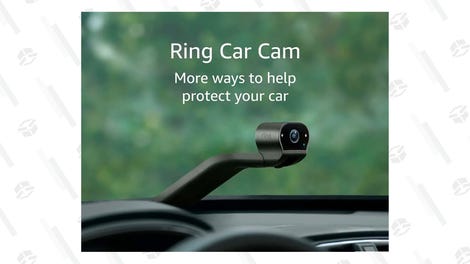 "In the early stages of the experiment it will be in designated AD areas - which are still public roads - but as it develops over the next 4 years it will expand significantly," a Volvo spokesperson told Jalopnik in an email. The route was clarified to be around 50 kilometers long, which seems to parallel what was announced last year that it only can be used on roads with no unprotected road users and no oncoming traffic.
So, 18 months after announcing this thing, Volvo now has a friendly set of faces to put to it. That's the new news here. When the other 96 individuals are picked, they'll also still only be able to enact the autonomous functions on a pristine highway.

Still, maybe this human-centric approach to autonomy is the way to go.
It seems like most automakers discussing technology are gung-ho and focused almost entirely on the technology itself, that motorists themselves occasionally come off as an afterthought. So it was somewhat refreshing to see Volvo say it's "most important ingredient" in delivering a self-driving vehicle should be based on the people actually using the damn thing. I'm not sure if any automaker is taking a similar approach, and Volvo says it's not aware of any.
Automotive News quoted Lex Kerssemakers, Volvo Car USA's CEO, as saying Drive Me won't be launched in the U.S., but Volvo engineers in California, again as reported last year, will perform public road tests.
The XC90s will be equipped with technology that'll eventually result in Volvo's IntelliSafe Autopilot feature. The pilot project is aimed at validating the technology inherent to the company's autopilot.

The company, meanwhile, is partnering with Autoliv on a joint venture called Zenuity to develop autonomous driving systems. There's also a separate collaboration with Uber, with Volvo providing the ride-hailing giant an XC90 created specifically for self-driving tests, and Uber is adding hardware and software updates to it. This follows the brouhaha Uber unleashed last month with the California DMV, after the ride-hailing giant refused to get a $150 permit to operate its self-driving vehicles on the road. Now, Uber's looking to try things out in Arizona.
Kerssemakers wants to maintain a "long-term partnership" with the company, Automotive News says, but he added that Uber has a responsibility to work with regulators on the self-driving tech. That, you may recall, entailed picking up the tab for a $150 permit. Nice.
But at the very least, it'll be worth watching to see how this test-run plays out, once things are up and running in Sweden.
Clarification: This headline has been updated because they are, in fact, an actual family.
Correction: An earlier version of this story conflated Volvo's new partnership with Uber and Autoliv. The joint-venture with Autoliv is known as Zenuity. We regret the error.