You might say Stelvio Pass, Highway 1 (The Big Sur), or The Tail of Dragon is the best driving road in the world, but Col De Turini has them beat by a long shot. I've never driven anything like it.
Sure Stelvio looks cool in the photos but you can't really drive it fast. It's basically one switch back after another. Col De Turini, on the other hand, winds up a mountain and back down through high speed corners connected by the occasional hairpin.
G/O Media may get a commission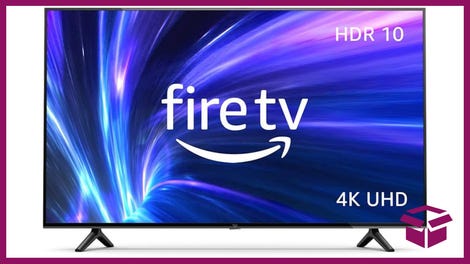 42% Off
Amazon Fire TV 50" 4K Smart TV
The road has been a part of the Monte Carlo Rally for as long as I can remember and so when I came to the Monaco Grand Prix, driving this stage was the first thing I wanted to do – after driving the F1 circuit. The cool thing was the skid marks left over from the rally telling you which corners were especially tight and required a serious reduction in speed.
And I was super lucky that Ford let me borrow a Fiesta ST for the trip as it might be the perfect car for driving a road like this. A proper rally car would be better I suppose, but man the little Fiesta ST did everything I wanted, every time I asked of it.
The Col De Turini is roughly 45 minutes north of Monaco and runs from Sospel, France to La Bollene. This is a screen capture of Google Maps from my Iphone. I knew right away this road needed to be driven while I was in the area.
It does cut back on itself like in this photo but its generally pretty fast unlike the other tight and twisty roads I've been on. And the terrain is beautiful. It's almost like they build the road to race on!
I definitely drove faster than I probably should have, and eventually I started to cook the brakes from all the left foot braking. They never faded or gave up but the pedal did get a bit soft and with the massive drop-off's it seemed smart to relax a bit.
I also didn't cut the corners that I couldn't see through. But man did I have a ridiculously fun time ripping the Cul De Turini.
Normally I would turn off the traction control, but I don't know this car all that well and I promised Ford I would bring it back in one piece. The cool thing is that I never really even noticed it!
It did interfer on one hairpin where I went to the gas too early, but that's it. I could see the light flashing like mad most of the run but it never cut power other than that hairpin. I think it was helping me with turn in, or maybe braking a caliper here or there to control wheel spin on the open differential. Or something like that. All I know is that it didn't feel like it was slowing the car down or changing the handling dynamics.
A few notes about Col De Turini. It starts relative low and climbs a roughly 7% grade to 4,827 feet. It doesn't sound like a lot of elevation, but my water bottle was sucked in from the pressure change – like what happens on an airplane. The temperature also dropped from a nice spring day to a a little above freezing. I turned on the heated seats and kept going.
At least it's May and not January when they run the Monte Carlo Rally. During the race, drivers reach the elevation to find the road covered in snow and ice – sometimes put their by spectators! And they also run it at night some years! Check out this video from the 2012 WRC event! The night stuff starts around 6:30.
My run through the road was during the day and it was nice and dry. There were some damp areas but nothing to be concerned about.
The in car photos are screen captures from a GoPro I wore on my head while driving the stage. The moment I find a modern internet connection I'll drop the highlights on YouTube.
If you're ever in the south of France and have a car, you need to go drive this road!